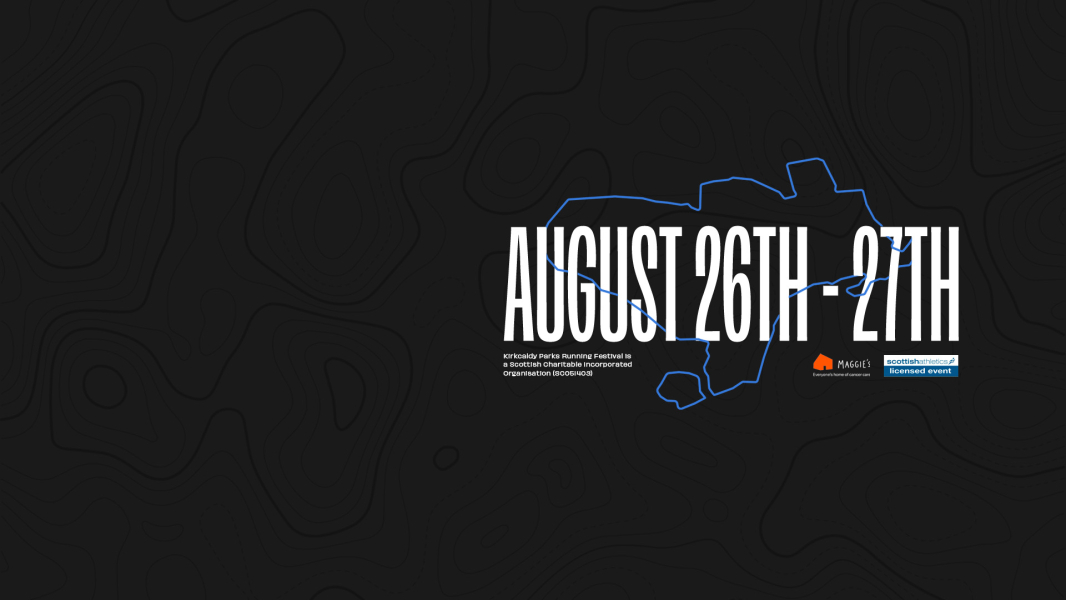 Kirkcaldy Parks Trail 2023 has now closed and you will not be able to sign-up for it. Please check the Organiser's Description for any organiser updates.
This event is in a testing state, and is not open for public sign-ups until the organiser has launched it.
Organiser's Description
KIRKCALDY PARKS RUNNING FESTIVAL 2023
TRAIL RUNNING RACE
Sponsored by Premier Linktown
We're back! and raring to go with the 2023 Running Festival.
Important - Due to supplier lead times, entries made after 9th July will not have the option to order a T-Shirt and consequently, will be priced at the reduced cost of £10 (same as selecting 'No T-shirt' previously). KPRF Running Vests can still be ordered directly from our merchandise range here.
Alongside the Half Marathon that started us off in 2019, we've also had a terrific response to our trail events in the last few years and we're delighted to be doing it all over again in 2023 with both events happening over 2 days on the same weekend and Fife AC running a mile race along Kirkcaldy Prom on the Friday night as well!
Our idea is to encourage people to the explore and enjoy the parks around Kirkcaldy and, in keeping with that concept, we are moving this year's event to Dunnikier, so Race HQ and the start will be within the grounds of Dunnikier Park, Kirkcaldy.
The route will be approx. 5 miles starting in the grounds of the park before heading out through the gently undulating surrounding woodland areas and the tracks around the outside of the golf course, finally returning to finish in the park itself.
The route will be a mix of grass, tarmac, gravel, soft trail and field edge so consideration must be given to the appropriate footwear.
The race will be run under UK Athletics Rules and will be a Scottish Athletics permit event, minimum age on the day is 16.
As you should know, we are a non-profit organisation and one of our key aims is to make the running festival as inclusive as possible.
This relates to a lot of aspects of course but financial inclusivity is one of them.
Our key sponsors wholeheartedly agree on this and their generous contributions help to cover as much of the costs as possible, keeping the entry fee as low as possible.
START
The race will start at 1pm within Dunnikier Park, Kirkcaldy.
We ask all runners, marshals and helpers to NOT park in the Council, Golf Club or Oswald House car parks, but to leave these free for other park users. Please follow the instructions of marshals on the day.
There will be ample parking on the day at the nearby NHS Overflow Car Park at Whytemans Brae. More parking information will be shared soon.
There are also plenty of bus links nearby, so please leave plenty of time to arrive for the race start.
Please check with the park and/or Fife Council regarding access to facilities/toilets in or around the park on this day.
ENTRIES
Entry opens on Sunday 5th March at 7pm.
TRANSFERS
Transfers must be agreed by the runners and details changed using the original sign up. Transfers are available up to the closing date, but it may not be possible to alter t-shirt options, depending on the date of the transfer. Please follow our Facebook page for up to date news.
Runners will have to sort out payment between themselves; this is not a function of KPRF or Entry Central due to banking privacy laws. We hope you understand.
REGISTRATION
Information on collection of race numbers will be posted soon.
HEALTH AND SAFETY
Safety of the runners and the public is paramount to us; therefore, runners must adhere to marshal instructions at all times.
There will be a time limit of 2 hours for the race (approx. 19 minutes per mile).
Runners who expect to take longer than this are still welcome to attend and will receive t-shirt and medal upon completion; however, we cannot guarantee an official time after this point.
Any questions regarding any of this should be directed to kphalfmara@outlook.com where we will respond asap.
Important Note:
Maggie's provide free emotional, psychological, and social support to those with cancer, and their loved ones. Their centre here in Kirkcaldy welcomes visitors from across Fife, with no need for referral or appointment.
On average, it costs £2,400 per day to run this incredible service and we hope to help by raising funds and awareness to support the vital work that they do.
You can help us turn the Kirkcaldy Parks Running Festival orange by representing Maggie's and ordering your FREE Maggie's running vest to wear on the day, just tick the box during the event signup to give us permission and we'll pass your contact details on to them.
Should you wish to use your space to help raise funds you can do so by setting up your Just Giving page.
Kirkcaldy Parks Running Festival is a Scottish Charitable Incorporated Organisation (SC051403)
Proud to support our official charity partner, Maggie's Fife
Prices
| Until | Discounted* | Standard |
| --- | --- | --- |
| 31 Jul 2023 23:59 | £8.00 | £10.00 |
*Discounted for members of any of SA EA WA
To sign-up for this event, the Service Fee is 4% (min 50p) for each sign-up
Dates and Status
Date: 26/08/2023
Status: Closed
Total Places: 200
Places Available: ??
List
Dunnikier Park Dunnikier Way Kirkcaldy KY1 3LP