About EntryCentral
EntryCentral is an online entries and club memberships system based in the UK, for any mass-participation event or club. Launched in 2003, we have securely processed millions of sign-ups and memberships for thousands of events and clubs.
For organisers
Simple. Secure. Low cost
Providing secure and simple low cost online entry for entrants and organisers is what we do best. We securely manage over twenty thousand event registrations and club memberships every month, from triathlon to motorcross and from Orkney to Cornwall. We continually improve our service based on feedback from you.
EntryCentral is ideally suited to any event or organisation seeking public sign ups. We offer competitors and you the organiser an easy to use, secure and industry-beating low cost online entry system for races, club memberships or indeed for anything requiring the applicant to fill out a form with their personal details.
With hundreds of events available to choose from, visitors to EntryCentral entering one event often enter several in one transaction.
Simple Setup
Our easy to use system removes the bulk of your administration with a simple set-up process and features designed to help you manage your data.
Signup information: Organiser contacts EntryCentral with information about their event or membership, ideally with links to any existing forms (current or previous). Email us
Organiser login: EntryCentral sets up a login for the new organiser, and an online form in a testing state.
Testing: The sign-up form is tested and refined until the organiser is happy.
Launch: Organiser launches the form for public sign-ups.
EntryCentral key features
We offer the following management features as standard.
Data management features:
A database for all sign-ups, not just online sign-ups. (See Paper Forms)
Organisers control their own events and memberships at EntryCentral, through their own personal organiser login.
Set up teams of organisers
Configurable sign-up forms. You may ask any number of additional questions specific to your event, over and above the usual name, address etc. required for all events
Customised sign-up process including: event logos, early-bird pricing, and optional charity involvement
Series – filling in one form allows one-tick sign-up to other identical events in a series, instead of filling in a form for each one.
Festivals - groups of sub-events in the same location on the same day that can optionally share one allocation of slots.
Callbacks - If you have your own database we can notify a URL of your choice about new signups and any subsequent changes to them.
Weekly financial settlement, paid directly to your nominated BACS details, with an accompanying statement of activity.
Social media integration - your event launch is posted on Facebook, Twitter, Mastodon, Bluesky. If you have suggestions, we'll consider anywhere else that we can use code to post clickable links.
Sign-up features:
Waiting Lists for events that have reached their limit
Pay-by-cheque (See Pay-By-Cheque, below)
Tracker-free sign up process - we respect our users' privacy and we do not expose your customers' data, browsing and typing activity to Big Tech
Shopping basket for buying many sign-ups with one card transaction
Shopping Basket Discounts - where buying two or more sign-ups together qualifies the customer for a discount
Social media integration - customers can post pre-baked "I've signed up for..." announcements
Application sign-ups - you can review the application before payment is collected.
Organiser Questions - In addition to standard personal information you can setup and manage the following question types:

Simple Text with format checks
Multi-line Text (e.g. 'Please list your medical conditions')
Selection Lists
Reusable and Unique discount codes
Dates and Times
Checkboxes and Checkbox Groups

Early-bird sign-up fees e.g.:

£10 until 1st May, £15 until 1st June, £20 until closing date
First 50 places £10, £15 for the next 100, £20 for the rest

Payment Plans - spread a larger value ticket over a number of smaller instalments
Team signups

Relay Teams - one person signs up the whole team, assigning a person on their account to each stage of the event
Team Names - each team member signs up individually, identifying their team by name in your Organiser Questions

You can decide whether customers with accounts can review/manage their own sign-ups, with an optional Organiser approval step and optional Organiser Admin Fee:

If they change their minds about one or your organiser questions e.g. an event t-shirt
Change Person for the sign-up
Transfer sign-up to another of your events

Full compliance with British Triathlon Race Pass, new for 2024 BTF events
For virtual events, customers with accounts can manage their activity log with evidence towards your virtual challenge
Direct Debit subscription club memberships
Bulk withdrawals and payment card refunds, processing around a thousand refunds in a minute
Route Mapping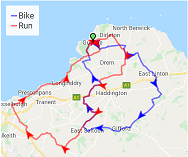 Illustrate your routes with one or more, directional, coloured map routes.
Routes can show different sub-events (e.g. 10k and fun-run) or different stages of the same event (e.g. swim, bike, run).
Upload your GPX files from Strava, Garmin etc, then label and colour them as you wish.
Customers can download your GPX for their own purposes... so they won't need to ask you for it
XCover
XCover is the new name for Booking Protect
Event participants sometimes face unavoidable reasons why they can no longer take part in your event: illness or injury, vehicular mechanical breakdown en route etc. Sometimes sign-ups can be expensive, or far enough away on the calendar, that participants want to insure themselves against the risk - or perhaps think twice about signing-up.
Event Organisers can sometimes feel obliged to refund people who become unable to participate, despite having no legal obligation to do so.
EntryCentral has linked up with XCover to offer refund protection as part of the sign-up process. The insurance step is largely transparent to organisers - EntryCentral will collect the premium and forward them to XCover, and in the event of a claim the participant will contact XCover. If you allow it, you'll see the refund protection step while you are testing your event and in the email receipts, but that's about it. If you allow it, EntryCentral will offer this to your participants at 8% of the sign-up value.
Organisers using XCover can get rid of most of their own refund policies, retain their revenue, and decrease the associated administration.
Card Payments
EntryCentral uses the established payment clearance house Stripe to handle customers' payment card details. The following card types are accepted:
VISA
VISA Debit
VISA Electron
Mastercard
Maestro
Stripe implements Verified By VISA and Mastercard SecureCode for added protection on cards that are registered with these schemes.
In addition, we use Stripe's implementations of following intermediary payment methods. These allow customers to e.g. pay with their thumbprint
Service charges for card payments
We offer a low-cost service charge. 4% or £0.50 (whichever is greater) on payments, VAT-inclusive. So items or £12.50 or less have a 50p service charge, and items more than £12.50 have a 4% service charge.
Examples:
£5 entry fee, 50p Service Charge
£10 entry fee, 50p Service Charge
£30 entry fee, £1.20 Service Charge
EntryCentral charges can be surcharged directly to the customer, or paid by you the organiser later, or split between competitor and organiser.
For low-cost events the Service Charge is less than the cost of sending a cheque with second-class postage.
The Service Charge to the organiser for a refund is 50p, for any refund amount.

Direct Debit payments
Club Memberships
Clubs offering rolling monthly memberships can use EntryCentral to administer their subscriptions.
Members create, review and manage their subscriptions and payments through their EntryCentral customer account
Organisers can get an automated list of current subscribers, and manage their membership list
Members can choose to pay on 1st or 15th of each month as they prefer, perhaps to match payment of their wages
New members can pay an initial payment on the joining date to bring them up to the first subscription date:

Full subscription amount
Pro-rata subscription amount based on number of days remaining
Another amount (including zero)

Organisers can choose to review each membership application before any payment is initiated
Service charges for Direct Debit club memberships
3% + 25p (VAT inclusive) per payment, payable by the organiser
Other payment methods
EntryCentral acknowledges that some customers will not want to enter their card details onto the internet, no matter how secure the system. As alternatives to card payments, we support two other ways for your customers to sign-up:
Pay-by-cheque
The customer fills in a sign-up form at EntryCentral, but at checkout time chooses to pay by cheque rather than by card. The customer is given a unique number to write on the back of a cheque, and the address of one of your organiser team to whom it should be posted. This feature is optional for each event or membership.
Service charges
Organisers can choose not to support pay-by-cheque for each event or membership. The customer types in all their details on EntryCentral, has decided to pay-by-cheque, and has sent you a cheque with a unique reference. Confirming receipt of the cheque completes the sign-up.
£0.50 per confirmation is charged by EntryCentral to you the organiser.
Paper forms
Organisers can distribute paper forms, and when they are returned, the organiser can log on to EntryCentral and type in the entrant details from paper forms. You don't have to do this if you don't want to, but it helps to keep all your data in one place, and if there's an email address we'll send an email receipt so you can acknowledge the sign-up for free.
EntryCentral can replace any existing database you have.
Secure
Security is paramount at EntryCentral.
The EntryCentral Guarantee
Our charging structure allows you financially risk-free use of EntryCentral. If you choose to surcharge the EntryCentral charge to the customer, don't do any refunds, and switch off pay-by-cheque, your use of EntryCentral costs you nothing.
Settlement
EntryCentral will issue a statement of financial activity every Monday for the previous week's activity, and will settle directly to your nominated bank account on the following Friday using BACS. The statement details income and charges for each of your events/memberships. We don't require you to manage another costly relationship with any third-party services such as PayPal or Stripe.