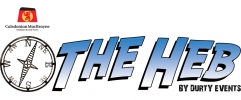 The Heb - Race on the Edge
04 Sep 2021 - 05 Sep 2021
This Festival is in a testing state, and is not open for public sign-ups until the organiser has launched it.
Organiser's Description
Welcome to the entry pages for THE HEB - RACE ON THE EDGE an exciting, engaging, truly adventurous and absorbing multisport race through the most spectacular, wild and remote landscape the UK has to offer - the Hebridean Island chain off the west coast of Scotland!.
We are proud to have Caledonian MacBrayne Ferries on-board (ha ha!) as our Race Sponsor and Partner - www.calmac.co.uk/active
RACE DATE: 4th & 5th September 2021. However, you should also allow Friday 3rd September and Monday 6th September as travel days.
LOCATION: The Outer Hebrides, Scotland - specifically the incredible, culture-steeped, wild, beautiful and remote South Uist, Benbecula and North Uist.
We will advise you in due course of the race meeting point - this is likely to be Mallaig (on the Scottish mainland, approx. 3.5hrs drive from Glasgow). You will leave your cars on the mainland, and travel across on the ferry as foot passengers.
WEBSITE: The race website is www.theheb.org - race details will be updated and posted there (not here on Entry Central). Please make sure you keep checking the website.
RACE DESCRIPTION: The Heb is a multi-discipline, two-day Adventure Race. You will find yourself running, on a mountain bike or hybrid, kayaking (pretty straightforward stuff using Sit On Top boats, paddles and bouyancy aids provided by the organisers as part of the entry fee), and navigating (a bit - if you seek optimal wriggles through the complex terrain).

The Heb will be easy to take part in, but still a tough challenge with all the adventure, excitement and fun. Perfect for hardened adventure racers, newcomers to the sport, and everyone in between.


Some checkpoints might have a longer 'follow-the-arrows' route, and a shorter (but riskier) 'navigate' option - you choose depending on your skills. We want everyone to have a great journey through the best of the Hebrides, finish at a reasonable time, and bite off as much as they can chew (and hopefully a little bit more!).

Expect to be racing for 2 long days, however, you will stop each night and there will be camping facilities, water etc. at the overnight. Campervans are allowed on the campsite however if you intend to bring a campervan you will need to contact both campsites yourself to inform them.


RACE ENTRY & CATEGORIES: You can enter The Heb - Race on the Edge as a Solo (£290, lower cost for 'Early Bird' entries) or a Pair (£580, lower cost for 'Early Bird' entries) - please click on the appropriate blue 'Sign Up' button above.
WHO ARE THE ORGANISERS?: The Heb- Race on the Edge is brought to you by Durty Events and course planner Gary Tompsett of various Adventure Racing infamy!. Our water safety team is led by Tim Pickering - one of the authors of the sea kayaking guide to the Hebrides.
WHAT'S INCLUDED IN THE ENTRY FEE?
- Custom T-Shirt
- Calmac Ferry Fares (Foot Passenger + Bike) from Mallaig to Lochboisdale (Friday 7th May) and from Lochboisdale to Mallaig (Monday 10th May)
- Free camping – Friday, Saturday and Sunday nights
- Hot meal at campsite on Saturday and Sunday nights
- Breakfast on Saturday and Sunday morning
- Free bag transfer during race
- Bike transfer from Lochboisdale ferry to Race HQ in Benbecula on Friday
- Coach transfer from Lochboisdale ferry to race HQ in Benbecula on Friday
- Electronic timing with stage split
- GPS Tracking – publically viewable
- Post event party
- Provision of kayaks, buoyancy aids and paddles for all kayak stages
- Water safety crew
- Event safety crew/1st Aid
- Race Maps – printed on waterproof paper
- An amazing weekend in one of the most spectacular locations on the planet - lifetime memories guaranteed!.
REFUND POLICY:
Please see http://www.durtyevents.com/terms-and-conditions for details of the full Terms & Conditions associated with event entry, including refund, cancellation, withdrawal and transfer policies.
Entries are not transferable. Photographic ID may be requested at race registration.
Entrants wishing to withdraw must inform the organiser by email. Entry fees will be refunded or transferred as follows; up to (1 month prior to race date) 75% refund (less any Entry Central or SI fees), up to (2 weeks prior to race date) 50% refund (less any Entry Central or SI fees). After (2 weeks prior to race date) - no refund.
If the event is cancelled due to circumstances out of the organisers control then no refunds will be offered, and the organiser will accept no further liability whatsoever arising from such a cancellation. This includes situations such as adverse weather conditions or major incidents. In this circumstance, the organisers will make every reasonable attempt to reschedule the event, in which scenario, original entrants will have their entry automatically transferred to the rescheduled event.
If the event is cancelled due to circumstances within the organisers control then entrants will be offered a 50% refund. Entrants must apply in writing (via email) to claim their refund. No refunds will be granted after one month has passed from the event date.
No refunds will be granted after one month has passed from the event date.
Changes to entry details, and transfer of the entry to other events in the Durty Events portfolio may be possible with the permission of the organiser. There will be a small admin fee for this service, payable in advance. Please see the full Terms & Conditions for details.
Use of Data: By entering this event I agree that the data supplied by me can be used for the purposes of safely organising and managing the event, essential communications with me pre- and post-race, and for electronic event timing. This data will be held securely, and for a maximum of 1 year. Email data may be used indefinitely for the purposes of sending occasional e-newsletters by Durty Events only. The full Durty Events data use policy can be found HERE.
Prices
| Until | |
| --- | --- |
| 31 Dec 2019 | £500.00 |
| 28 Aug 2021 23:59 | £580.00 |
| Until | |
| --- | --- |
| 31 Dec 2019 | £250.00 |
| 30 Aug 2021 23:59 | £290.00 |
For each sign-up, the organiser pays the Service Fee of 4% (min 50p). You pay no surcharge
Dates and Status
Date: 04 Sep 2021 - 05 Sep 2021
Status: Closed
Event
Available/Total
Closing Date
The Heb - Race on the Edge (Pair Entry)

??

/54
28 Aug 2021 23:59
The Heb - Race on the Edge (Solo Entry)

??

/54
30 Aug 2021 23:59
List
South Uist, Benbecula, North Uist - Outer Hebrides.