Durty Events
Hop Run
08 Jun 2019
Closing Date: 02 Jun 2019
Welcome to the entry pages for the Stewart Brewing and Durty Events Hop Run 10k(ish) run.
Do you like great beer and running on amazing riverside trails? If so, Hop Run is the perfect event for you!
It's a 10K trail run with an important twist – the finish line is in Stewart Brewing's HQ! Beers, music, food and good times guaranteed after your run. Yee-hah!
Brought to you by the combined enthusiasm and expertise (we're keeping qu...
St. Mary's Loch Standard Triathlon
29 Jun 2019
Closing Date: 22 Jun 2019
DATE - Saturday 29th June 2019
TRIATHLON DESCRIPTION For a change, we're staying on-road for a race, though this is rapidly becoming one of the 'classic' Scottish races. It may be a 'Standard' (aka "Olympic") distance, however this is a far from standard 'Standard'!.
The event is set at the spectacular St. Mary's Loch in the heart of the Scottish Borders. Amazing views guaranteed throughout the race.
Swim: 1500m Open Water in the freshwater St. Mary's Loch. ...
The Adventure Show Foxlake Triathlon
05 Jul 2019
Closing Date: 01 Jul 2019
Foxlake Triathlon - Friday 5th July 2019
Brought to you by the team behind the Craggy Island Triathlon, Aviemore Triathlon and The Dramathon.
This race will be broadcast LIVE by The Adventure Show on BBC Scotland. How exciting :)
The venue and course is newcomer friendly. We very much welcome (and would love to see) entries from both newbies and more experienced triathletes. You certainly do NOT need to be "elite" to race this one - the emphasis is very much on f...
Aviemore Triathlon
25 Aug 2019
Closing Date: 18 Aug 2019
Welcome to the online entry pages for the Aviemore Triathlon - 25th August 2019
The races at Aviemore Triathlon are run over two courses;
Long Hard Durty
1500m Loch Swim (wetsuits compulsary)
18km Technical MTB Bike course (all off-road, Cyclocrossers STRONGLY not recommended)
9km Trail Run (with a bit of open moorland and trackless forest thrown in!)
Entries welcome from Solos and Relay teams. A challenging and sp...
The Heb - Race on the Edge
31 Aug 2019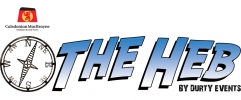 Closing Date: 18 Aug 2019
Welcome to the entry pages for THE HEB - RACE ON THE EDGE an exciting, engaging, truly adventurous and absorbing multisport race through the most spectacular, wild and remote landscape the UK has to offer - the Hebridean Island chain off the west coast of Scotland!.
We are proud to have Caledonian MacBrayne Ferries on-board (ha ha!) as our Race Sponsor and Partner - www.calmac.co.uk/active
RACE DATE: 31st Aug-1st September 2019. However, you...