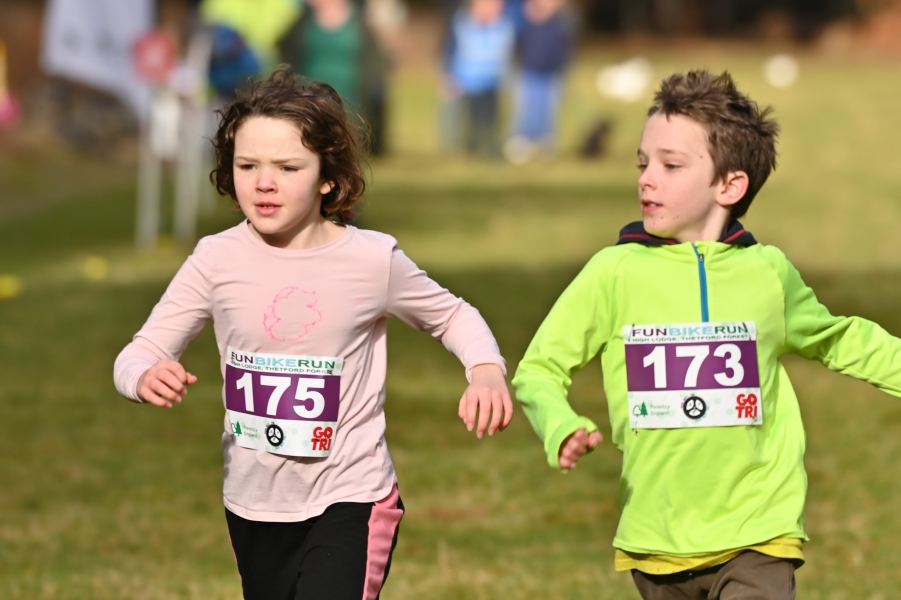 Organiser's Description
This event is intended to be a fun and friendly duathlon for junior participants.
High Lodge offers a superb traffic-free environment in the heart of Thetford Forest...it's a great place to explore and keep active!
Participants will complete a run, bike and finally another run.
Distance depends on the age band entered with cross-over between some age bands to give more options: -
5-8 - 300m run / 750m bike / 300m run
7-9 - 300m run / 1.5km bike / 300m run
10-13 - 300m run / 2.25km bike / 300m run
Under 5's and 14-15's - Please contact us if interested in entering and we can arrange this.
There's no prizes for winning, but there is an award for completing 3 out of 4 events in the series...you can also enter the full series in one go via entrycentral and get a discounted rate (Search for Can But Tri Junior Duathlon Series Discounted Entry).
Results will be published on our website after the event.
As an entrant you can enjoy a reduced day parking rate of just £3.00! (normally £15.00).
Further infomation will be available on our website (go to the Junior Duathlon Series page via the Events tab) and posted on our facebook page a few days beforehand. We won't send you an email - just download the info from the webpage.
Please contact us if you have any questions.
Can But Tri
Prices
To sign-up for this event, the Service Fee is 4% (min 50p) for each sign-up
Age 10-13
| Until | |
| --- | --- |
| 15 Mar 2024 23:59 | £10.00 |
Age 7-9
| Until | |
| --- | --- |
| 15 Mar 2024 23:59 | £10.00 |
Age 5-8
| Until | |
| --- | --- |
| 15 Mar 2024 23:59 | £7.50 |
Dates and Status
Date: 17 Mar 2024
Closing Date: 15 Mar 2024 23:59
Places Available/Total: ??/50
Status: Open
High Lodge Thetford Forest Brandon Norfolk IP27 0AF