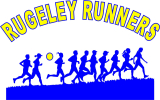 Rugeley 10 miler
19 Feb 2023
Organiser's Description
Rugeley Runners 10 mile Race
Please visit the Rugeley Runners Facebook page: facebook.com/rugeley10mile for the latest information. A pre-race email will be sent to you near race day.
Please send an alternative email address to adminjcracesolutions.co.uk if your Domain is iCloud or me.com. Apologies for this but their firewall is inpenetrable!
At a glance:
When: Sunday 19/02/2023 at 10:00 AM
Race HQ / Registration / Finish: Redbrook Hayes School: WS15 1AU, GPS: 52.74716, -1.92995
Race start: The start line is on the Main Brereton Road (southbound Side)
Distance from HQ to Start line: a short walk of approximately 5-10 minutes
As in previous years, all proceeds after costs will go to our Club, Blood Bikes and Redbrook Hayes School.
Race Day Car Parking
There are up to 300 runners in the race but only have enough car parking space for 150 cars so we do ask where possible that people car share.
Below are a list of official car parks that can be used on race day, these are also available via an interactive Google map which can be found HERE
All Car parking at Race HQ is for Race officials and Marshals only
Please read on for car park details.
Cash prizes for Male and Female 1st,2nd, 3rd
Course record cash prize Male and Female £100
M/F Age category winner prizes
Finisher medal - bespoke recyclable wood medals
Memento - your very own money-cannot-buy Rugeley Runners beanie hat!
Free Race Photo Downloads
from
Bryan Dale Race Photos
website:
www.racephotos.org.uk
Car Parks will be open and marshalled from 7.30am until 9.30am on the day. Cars are parked at owner's risk.
Please note that car parks closest to the Race HQ will fill up first so do not arrive late and expect to get a place on car park No 1. Marshals will be at all car parks until 09.30am to help and guide you accordingly
CAR PARK 1 (HAWKINS YARD 45 SPACES) REDBROOK LANE GPS: 52.74627, -1.92934
CAR PARK 2 MGF-BRANCH (REDBROOK LANE- 40 SPACES)
CAR PARK 3 (ESTATE SIGNS/HELPS 40 SPACES) REDBROOK LANE GPS: 52.74347, -1.92846
CAR PARK 4 (THE LEVELS 25 SPACES) THE LEVELS GPS: 52.74254, -1.92737
CAR PARK 5 (PREMIER NUTRITION 30 SPACES) COLLIERY ROAD GPS: 52.7419, -1.92738
There is capacity for some local on-street parking but please be respectful of local residents and businesses who will be using these streets. On-street parking will not be marshalled. As always, please respect parking restrictions where they apply.
The car park furthest from Race HQ (CAR PARK 5) is approx half a mile from race HQ, so please allow plenty of time (at least 15 minutes) to park, walk and register at race HQ.
Facilities:
The following facilities will be available on the day at the Race HQ:
Toilets
Bag drop Area
Café: serving drinks and food
We hope to provide Sports massage (Donation based)
Race Start & Route
The race start line is a short walk of 5 - 10 minutes from the Race HQ.
The start line is on the Main Brereton Road (southbound Side).
For the race start this section of the Brereton Road will be closed and is closed all the way until you turn off onto country roads. The start is a nice wide section of road which is great for those people who are out of position at the start. However, your chip time only starts when you cross the Start mat.
The remainder of the route is on open roads and we request that you take care along the route and follow all marshal instructions
Please respect all other pedestrians along the route. Some of the lanes are narrow and may have vehicles or bicycles travelling along them so please be aware of this especially when overtaking other runners.
There are Marshals placed all along the route these are well trained people and will be able to guide you on the route. They should also be used if you should require assistance, all marshals will have a mobile phone and contact details to be able to get advice or support if needed.
There are two water stations on route. The first station is at mile 3.5 and the second is at Mile 7.
Each water station will have waste drop points, can we please request that water bottles are disposed at these points, if you should want to carry your water bottle can you please ensure that you dispose of it in and local bins or at the next water station.
There will be a Lead & Tail motorcycle for the race
More information about the event including terms and conditions of entry is available on the Rugeley Runners website...but please use the 10 Mile Facebook page for the most up to date info...
Rugeley 10 information (rugeleyrunners.co.uk)
In addition to the terms and conditions of entry and in order to ensure fair competition, a UK Athletics Anti-Doping code has been issued and applies to all entrants to licensed competitions such as this. Therefore, by entering you will be agreeing to abide by the UKA AD code by the following statement:
'An entrant shall be deemed to have made him/herself/their self, familiar with, and agreed to be bound by the UKA Anti-Doping Rules and to submit to the authority of UK Anti-Doping in the application and enforcement of the Anti-Doping Rules. The UKA Anti-Doping Rules apply to entrants participating in the sport of Athletics, for 12 months from the date of entry, whether or not the entrant is a citizen of, or resident in, the UK.'
Details of the UKA Anti-Doping rulers can be found via the following link:
England Athletics Clean Sport - About Us
If you should have any queries or require any more information about the event, please message or post on the Rugeley 10 mile road race Facebook page where someone will respond
https://www.facebook.com/rugeley10mile/
...or you can contact the organisers through the Rugeley Runners website by following the link
More contact details for event queries will be provided to entrants in their entry confirmation email.
Prices
| Until | Discounted* | Standard |
| --- | --- | --- |
| 18 Feb 2023 21:00 | £20.00 | £22.00 |
*Discounted for members of any of EA WA SA
For each sign-up, the organiser pays the Service Fee of 4% (min 50p). You pay no surcharge
Dates and Status
Date: 19/02/2023
10:00:00 - 14:00:00
Status: Open
Total Places: 300
Places Available: ??
List