Stonehaven Running Club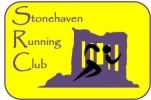 Organiser's Description
Stonehaven Running Club
Stonehaven Running Club (SRC) aspires to let people put that little extra in to get more from themselves.
We welcome runners of all abilities, and offer a friendly environment, where people can run for fun or competition.
Membership of Stonehaven Running Club lasts from April to March and costs only £16 (including administration costs).
This entitles you to attend as many of the regular training sessions each week as you wish, and receive invitations to running and social events throughout the year. You will also receive the following benefits:
• 10% discount at Run-4-It Aberdeen, on presentation of membership card
• 10% discount at Cotswold Outdoors, Union Square on presentation of
membership card (and code on front of card)
• 10% discount at The Sweatshop Dundee on presentation of membership card
• Tea and biscuits after the class on the last Tuesday of the month
• Additional benefits (such as discounts will be detailed on the website)
Notes:
All training sessions are led by our coaches, a number of whom are qualified to Scottish Athletics Level 2
SRC is affiliated with the Association of Running Clubs (www.runningclubs.org.uk ), this gives the club insurance for running and social events.
Read more: http://stonehavenrunningclub.webnode.com/