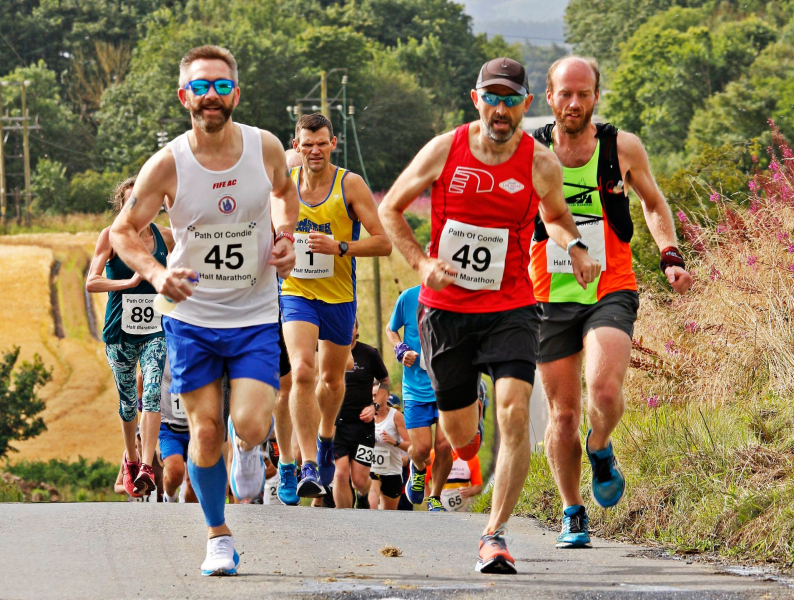 Path of Condie Half Marathon 2023 is now full, but you may join the Waiting List.
Organiser's Description
Path Of Condie Half Marathon
28th October 2023
Kinross Road Runners invite you to the Path Of Condie Half Marathon, to be held on the 28th October 2023, starting at 10:30am from close to Orwell Church Hall, Milnathort.
This is a tough Half Marathon with attitude and altitude. It is one of the most rewarding distance runs in the area with frequently changing scenery and gradient. This is definitely a race for the runner that likes to push and challenge themselves and not recommended for a first half marathon or a fun run. A map of the route can be found at:
http://www.gmap-pedometer.com/?r=6700141
The race is run under UK Athletics Rules and is a Scottish Athletics permit event.
Entries
The Path of Condie Half Marathon is a sell-out event, so be sure to get your entry in early. You will need a valid Entry Central account to enter the race. There will be no deferrals and no refunds. Entrants will be permitted to transfer their entry to another runner until the closing date (25th October) if they are unable to participate.
Registration
Race Numbers will be issued from 9:00 till 10.15 on the morning of the race at Registration at Orwell Church hall on Ba'hill, Milnathort. You may need ID when collecting your number. Registration is a 10 minute walk from the start line.
Start
The race starts at 10:30am sharp.
Health and Safety
Clear route maps will be posted at Registration and sent out on the reminder email before the race, we ask you to study this clearly before the race.
The route is well signposted, but is held on open public roads (though they are very quiet) UKA Rule 240 S5 Forbids the wearing of headphones or similar devices. For this reason we ask all runners to not wear them unless medically prescribed. Bone-conduction headphones are allowed. Runners will be disqualified if seen to be breaking this or any other rule.
The organisers are being assisted by a number of volunteer marshals. The safety of all is paramount and it is a condition of entry that competitors must follow the instructions of the marshals at all times. First aid will be at the finish line, and if required on course a marshal will contact them via mobile phone.
The marshals will be on the course for an arranged time to oversee the runners, however as previously stated this is a challenging course and not for the faint hearted.
We expect all runners who choose to enter to complete the course in under 3 hours with no exceptions. Runners out-with this time have the option to continue unaided by the event and at their own risk or take the sweeper transport back to the finish. All runners must enter emergency contact details on the back of their bib number.
Prizes
There are prizes in all age categories. Results will be posted on our website and Facebook pages as soon as possible.
Facilities
There are toilet facilities at registration but no changing facilities so please arrive race ready. Car Parking is limited so please park responsibly. Further information on parking will be provided in the pre-race email.
There will be 3 water stations on the route and water will be available at the finish.
...and finally
All of the members at Kinross Road Runners hope you have a rewarding and enjoyable day.
Prices
| Until | Discounted* | Standard |
| --- | --- | --- |
| 25 Oct 2023 23:59 | £14.00 | £16.00 |
*Discounted for members of any of SA EA WA
To sign-up for this event, the Service Fee is 4% (min 50p) for each sign-up
Dates and Status
Date: 28/10/2023
10:30:00 - 13:30:00
Status: Waiting List
Total Places: 150
Places Available: ??
List