Danny Mason Highland Challenge
20 Sep 2020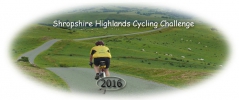 Organiser's Description
Danny Mason Highland Challenge
Entry Fee £12
Sunday 20th September 2020
Signing On: Ludlow Rugby Club
Signing On Starts: 8:30 - 9:15am. Depart after signing on. Riders must finish by 7.00pm.
The 29th edition of an iconic UK cycling event. A challenging approximtely 65 mile ride at your own pace all on quiet roads and lanes in the beautiful Shropshire hills. No timings or numbers, how you ride is up to you. A great but tough day.
Camping charges are £7 per person per night
Our entry limit for 2020 is 300 riders. The cost of the event remains only £12. This includes all food and drink at the morning and afternoon refreshment stops, and cold drinks with the option of paid-for sandwiches and other drinks at the lunch stop.
Please note that when you enter you will receive a confirmation email. You will receive full event details, including a RideWithGPS route link and a route card, by email before the event. A paper route card will also be available at signing on. Updated information can be found on our website, Facebook page or by contacting the organiser on our dedicated email account: full details of these are provided when you register.
Event Protect
This event is protected with Event Protect
Event Protect is the industry standard in event cancellation for Primary Ticket Agents, Secondary Ticket Agents, Events, Travel Package Providers, Venues and Sports Teams. Seeing the Event Protect trademark logo means that if the event is cancelled / postponed / abandoned or curtailed due to circumstances outside of our control, Event Protect will provide ticket holders with a quick refund directly to their chosen bank account, no matter the financial state of the Event Organiser or Ticket Agent. This includes booking fees and any extras if booked as part of an event package. To find out more information about Event Protect, please visit our website
Prices
For each sign-up, the organiser pays the Service Fee of 4% (min 50p). You pay no surcharge
Dates and Status
Date: 20/09/2020
Status: Open
Total Places: 300
Places Available: ??
List