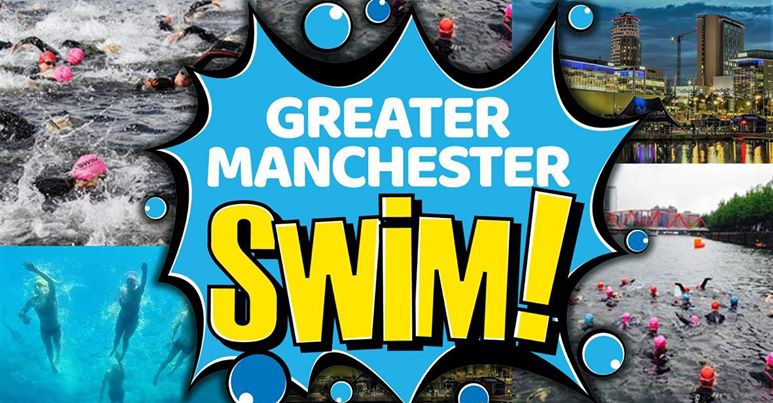 Organiser's Description
GREATER MANCHESTER SWIM!
Saturday 18th May 2024 (from 12noon)
***Wetsuits / Skins Welcome***
500m*, 1mile*, 3miles *Open to competent 7-15yrs
Entry:
500m: £30.00. 1 mile: £40.00. 3 mile: £55.00.
Jnr 500m (7-15yrs): £15.00
Jnr 1 mile (10-15yrs): £20.00
Trophies / Prizes
1 & 3 mile: Champion Skin Swimmer (Female/Male) & Champion Wetsuit Swimmer (Female/Male)
Jnr 1 & 3 mile (10-15yrs): Champion Swimmer, wetsuit or skin (Female/Male)
The GREATER MANCHESTER SWIM is perfect for people wanting to experience the brilliant sport of open water swimming. Held at our iconic MediaCityUK venue it's one of the only venues in the UK where spectators are able to walk directly around the swim course and closely follow their swimmers to cheer them around. The friendly atmosphere and keen competition provides a great experience. Make a family day of it too and enjoy all the facilities that the booming MediaCityUK area has to offer!
You'll be swimming on accurately measured courses within the superb water-quality tested Dock 9 (Lowry Theatre Dock) and supported by an excellent water safety team. Perfectomundo!
To ensure that you get speedy, accurate swim times chip timing is provided with each swimmer needing to wear it on their ankle. Although there will a 'deep water' start you will need to climb up the finish ramp and pass through the finish arch / timing mat at the end of your swim to record your time.
Medals and goody bags will be provided to all participants with trophies posted to the champ skin and wetsuit swimmers (female/male) in the one and three mile distances.
The 500m is a 'participation' distance designed to provide a challenge to open water 'newbies' so there will be no trophies provided for this distance but medals and goody bags supplied only.
Further information on the race course / important health and safety information will provided at the race briefing on Dockside 10 minutes prior to each swim. Timing chips and race caps will be distributed at race registration.
Note; There will be no posted race packs, swim caps or timing chips. Information will be regularly updated on our webpage so please check this regularly especially close to the event date. Timing chips and caps will be provided on the day.
Prices
The organiser has included pricing details in the Organiser's Description
To sign-up for this event, the Service Fee is 4% (min 50p) for each sign-up
Dates and Status
Date: 18 May 2024
Closing Date: 17 May 2024 23:59
Status: Open
Event
Available/Total
3 mile Greater Manchester Swim

??

/50
1 mile Greater Manchester Swim

??

/200
500m Greater Manchester Swim

??

/50
3 mile Jnr Greater Manchester Swim (11-15yrs)

??

/20
1 mile Jnr Greater Manchester Swim (7-15yrs)

??

/50
500m Jnr Greater Manchester Swim (7-15yrs)

??

/20
Dock 9, Salford Quays, M50 3AZ