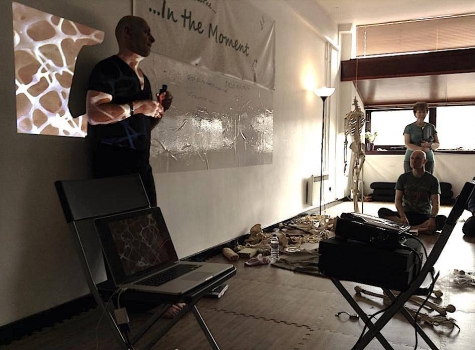 Gary Carter Anatomy Course - Video Material 2022 has now closed and you will not be able to sign-up for it. Please check the Organiser's Description for any organiser updates.
This event is in a testing state, and is not open for public sign-ups until the organiser has launched it.
Organiser's Description
Gary Carter's Anatomy & Movement Course
Live Video Version - Months 1 to 10
Series for Yoga and Pilates Teachers
This 10 weekend course explores the anatomy of movement in relation to practice, movement analysis, 3-D work, and experiential anatomy. It will encourage teachers to 'see' their students more clearly, thus helping with rehabilitative issues. The course aims to help teachers take a flexible, intelligent approach to their specific field with individual students.
This unique opportunity is ONLY available to students and teachers who have taken part in Gary's year long anatomy course in person.
Please DO NOT sign up for it UNLESS you have attended the course as you will not be sent the material and will be issued with a refund.
Weekend 1 •
INTELLIGENT DESIGN?
Development of Movement Patterns Development of Bone Ligaments, Joints, and Skeleton
Weekend 2 •
SENSE OF SELF: • THE FASCIAL BODY
Perception - Kinaesthetic sense Muscle How Bones and Fascia Communicate The Fascial Web Gravity response
Weekend 3 •
THE FEET AND UP!
The Foot - Primary Support The Legs - Lightness and Strength The Pelvis & Pelvic Freedom
Weekend 4 •
THE PELVIS AND UP! THE SPINAL ORGAN part1
Psoas and Piriformis and the 'Pelvic Trampoline' The Deep Six and Pelvic Fluidity
Weekend 5 •
THE SPINAL ORGAN part 2 WHAT IS THE CORE? Breath and Movement
Spinal Structure and Function The Spine as an Organ Anatomy of Breath Understanding Breathing Practices and their application to the work
Weekend 6 •
BALANCE OF WEIGHT
The Cranium and Neck – Cranio Sacral Rhythms The Shoulder Girdle
Weekend 7 •
INWARDS & UPWARDS
The Arms and Back The Bandhas
Diaphragms of the body The Cups and Domes in movement
Weekend 8 •
SPRING LOADED AND LIGHT • TRAINING THE TENSIONAL NETWORK
Network
Spiral Dynamics The Fluid Body
Tensegrity and the Muscle Matrix
Weekend 9 •
ANATOMY OF CONNECTION – part 1
The Myofascial Meridians in Asana, including the Anatomy Trains Theory
Straps Bands & Slings! Effective Body Reading Tensegrity in Movement
Weekend 10 •
ANATOMY OF CONNECTION – part 2
The Myofascial Meridians in Asana, including the Anatomy Trains Theory
Straps Bands & Slings! Effective Body Reading Tensegrity in Movement