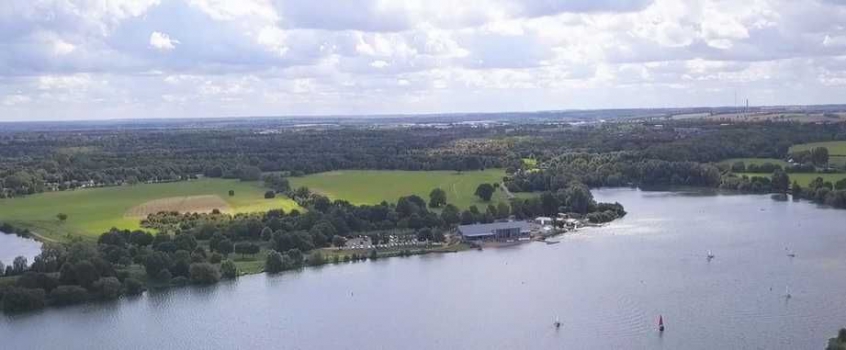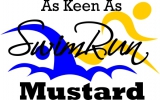 Organiser's Description
Nene Valley Swimrun
Intro 5k Solo Swimrun
Mild Mustard Sprint 10k Solo Swimrun
Middling Mustard Half 21k Solo Swimmrun
Middling Mustard Half 21k Team Swimrun
Hot Mustard Full 39k Solo Swimrun
Hot Mustard Full 39k Team Swimrun

Saturday 8th and Sunday 9th June 2024
Event website: www.akamustard.events
The Races
Our Intro 5k Solo Swimrun race is no less than 5k and consists of approx 1k of swimming and 4k of mixed terrain running, usually divided into 4 swim sections and 5 run sections.
Our Mild Mustard Sprint 10k Solo Swimrun race is no less than 10k and consists of approx. 1.8k of open water swimming and 8.2 km of mixed terrain running, usually divided into 5 swim sections and 6 run sections.
Our Middling Mustard Half 21k Solo & Team Swimrun race is no less than 21k and consists of approx. 3.8k of open water swimming and 17.2k of mixed terrain running, usually divided into 11 swim sections and 12 run sections.
Our Hot Mustard Full 39k Solo & Team Swimrun race is no less than 39k and consists of approx 9k of open water swimming and 30k of mixed terrain running, usually divided into 14 swim sections and 15 run sections
The Course
We have an epic courses in the Nene Valley. We are extremely fortunate to have kind permission from Castor, Alwalton, Wansford, Nassington, Elton, Sutton and Yarwell Parish Councils and local landowners to use all the epic paths and trails on their land and in their beautiful villages. Without their support we just wouldn't have such an amazing course.
The swimming for all the distances is in a beautiful, clean section of the River Nene in the Nene Valley. The run sections are predominantly flat, off road with tracks, field and compact trail weave in and out of the two stunning shires of Cambridgeshire and Northamptonshire
Location:
Adventure Nene. Sibson Lake, Gt North Road, Stibbington PE8 6LS. Map
Volunteering
We are looking for some epic people to help with 'motivational shouting and pointing in the right direction'. No experience is needed as full safety brief and written instructions will be given. We offer £55 race credit for a 4.5 hour shift and you are welcome to do more than one shift! You can race and provide a volunteer for the same race if your partner/friend can come with you on the day. Please email us at nickybailey@hotmail.com if you would like to race and have a volunteer for that day. All other volunteers please register to help at www.entrycentral.com/akamustard.
Times and Races:
Saturday 8th June 2024
3pm to 6.30pm Registration opens for all distances
4.30pm Intro 5k Solo
6.30pm Race Safety Brief for Full and Half solo and teams
Pasta Party 7pm
The Pasta Party is included in the 39k entry fee. All race distances are more than welcome to attend and tickets are £15. Add this to your entry on the entry form.
Sunday 9th June 2024
6.00am to 7.45am Registration is open for 10k, 21k and 39k solo and team swimrunners
7.00am Hot Mustard 39k Team and Solo Race Start
7.15am Middling Mustard 21k Team and Solo Race Start
7.45am. Mild Mustard 10k Solo Race Start
Race Handbook
A Race Handbook will be available to view on our social media, on the website and a link will be included in the final email sent out to all competitors when entries close on the 3rd June 2024. This Handbook will have all the information you need and all the final race details. The Race Handbook will superseed all other race information. The final edition being linked in your final email.
Rules, Terms and Conditions
Senior Solo Entry
You must be 18 years old or over and be able to swim and run the race distances
Team Entry
To participate you have to race in a team consisting of two people, be 18 years old or over and be able to swim and run the race distances
The Course
The finalised race routes will be published at least 4 weeks prior to the race. The courses are approx 20% swimming and 80% running. All courses will be marked and signed, observational skills are required but no navigational skills are required. The run sections in all races are predominately flat with naturally occurring obstacles
Participants must follow the marked course failure to do so may result in disqualification
There will be one water / energy drink checkpoints on the Mild 10k course, two on the Middling 21k course and 4 on the 39k course (2 of these 4 being accessible twice).
Marshals will carry some essential basic medical supplies and additional water.
There will be medical staff, emergency ambulance and equipment at Race HQ and at our remote HQ for the 39k.
Equipment All solos and teams need to carry all their equipment from start to finish, if a participant fails to bring all their equipment to the finish line they will be disqualified.
Mandatory equipment each participant must have
A pressure bandage in waterproof packaging.

Wetsuit if water temperature is below 14 degrees Celsius

Whistle.

Soft cup or water bladder.
Mandatory equipment that the organisation will supply
Swimcap. You may have entered the same distance race with us before and if you have the appropriate colour swimcap from one of our previous events then please reuse it.

Race number leg bands must be worn on the right leg with the number facing outward.

Swimcap must be worn during all the swims

We understand that in the shorter races, a bandage, whistle and a cup may seem pointless but these races are not without risk. It is good practice to carry the equipment as you will need to in longer races. You may not need assistance but someone else on the course may, your whistle is essential to attract attention. At the end of the race we have a water dispenser, not plastic bottles, you will need your cup to get a drink.
Equipment check
Before the race there will be random kit checks.
Equipment that is NOT allowed
Floatation devices that are bigger than 100 cm x 60 cm.
Cut offs
There will be cut offs. We base our cut off on a 15 minute mile run pace and a 3 minute 100m swim pace, we also allow time for entry and exit into the water, upstream swimming and up hill running. Information about the cut off times will be in the race handbook which will be available on social media and the race website at least 4 weeks before race day.
Racing
Participants are taking part at their own risk and can not hold As Keen As Mustard Events or any of it's representatives, volunteers, sponsors or any individual, land owner, company or organisation associated with AKAM responsible for any accident or incedent during the race.
The solos and teams are obliged, to their best of their ability, to help another participants that are in difficulty or have been injured.
A team or solo that decides to abandoned the race must report to the nearest marshal and return to race HQ as soon as possible to hand in bibs and timing chips.
We have a zero tolerance to littering, any rubbish must be deposited with a marshal or at a designated refuse point. Anyone littering will be disqualified.
The marshals or race organisers can refuse to let a team or solo participant continue if they judge them to be too fatigued or in a physical/emotional condition that would endanger themselves or others.
TEAM racing only
The two members of each team have to stay together at all times and can not be more than 100 metres apart on land and not more than 10 metres during swimming.
Pictures and film free rights
The participants gives the race organisation the right to use pictures and film material taken during the race to be used free of rights in marketing, press material, internet, television and movie.
Accepting the rules
By entering the race each team member/solo/junior participant accepts the rules and also accepts that the organisers can make "common sense" changes to the race rules prior to the event.
Withdrawal, Cancellations or Alterations
AKAM shall not be liable to refund entry or for any other penalty should the event be cancelled due to Force Majeure (war, fire, strike-lockout, industrial action, tempest, accident, civil disturbance, pandemic or any other cause whatsoever beyond their control including adverse weather conditions or the result of such weather including but not restricted to algae, flooding or drought. We will rearrange the event and anyone who cannot enter will not be entitled to a refund but will be able to transfer to another event.
At the organisers discretion you may be able to transfer your entry to another event, or find a substitute for your entry. Transfers to another person can be made up to 14 days prior to the event. As no refunds will be made, we advise you take out a personal cancellation insurance either with Entry Central at entry or with an independent insurance body.
In the event of cancellation of the event by As Keen As Mustard Events, for any reason not covered above we will endeavour to inform all athletes a week prior to the event, although please be aware that this is not always possible. All events will be reimbursed in full or your entry will be transferred in full to another event with As Keen As Mustard Events. We shall not accept liability for any consequential loss and shall have no liability to reimburse any other costs that may have occurred, including transport cost, accommodation etc.
Cancellation of your online entry can be made in accordance with online selling laws up to 14 days after your purchase, except if your entry is made within two weeks of the event date. Outside the 14 days prior to the event a refund will be given minus any transaction fees incurred. No communication will be entered into in the 7 days before and event. All communications will be dealt with after raceday
14 days after your online entry is accepted your entry is final. No refunds of entry fees will be given including in circumstances where you are unable to attend due to illness or injury or a scheduling conflict
Deferral: You may defer your entry to another event in the following year. This must be done at least 6 weeks in advance of the date of the event. Entries can only be deferred once. Should the original entered event does not cover the cost of the event you are deferring to, you will be responsible for paying the difference in cost. Should the new event costs less than the original event you, will not be subject to a refund for this amount. Deferrals are subject to a £10 admin fee (you will receive an invitation to pay the fee via an email from Entry Central. You have 96 hours to pay the fee, once paid, your entry will automatically appear in the following years event.) Deferrals must be taken up the following year or will become void.
For entries made 6 weeks prior to race day No deferrals are allowed. You may transfer your entry to another future event in the same year. This must be done at least 4 weeks in advance of the date of the original event you entered. Entries can only be transferred once and thereafter will not be able to be transferred again. If the original entered event does not cover the cost of the event you are transferring to you will be responsible for paying the difference in cost. If the new event costs less than the original event you will not be subject to a refund for this amount.
Re-selling of entries is forbidden.
No changes will be made to your entry after the closing date of the event.
As Keen As Mustard Events Waiver
I understand that participating in this event is potentially hazardous and that I should not enter and participate unless I am medically able and properly trained.
In consideration of the acceptance of this entry, I assume full and complete responsibility for any injury or accident which may occur while I am travelling to or from the event, during the event, or while I am on the premises/at the venue of the event.
I also understand that all supporters are my responsibility and take full responsibility for all their actions. Any abuse of race officials, marshals or event staff will result in my instant disqualification.
I also am aware of and assume all risks associated with participating in this event, including but not limited to falls, contact with other participants, the effect of weather, traffic, and conditions of the road. I, for myself and my heirs and executors, hereby waive, release and forever discharge the event organisers, sponsors, promoters, As Keen As Mustard Events and each of their agents, representatives, successors and assigns, and all other persons associated with the event, for all my liabilities, claims, actions, or damages that I may have against them arising out of or in any way connected with my participation in this event.
I understand that this waiver includes any claims, whether caused by negligence, the action or inaction of any of the above parties, or otherwise.
https://www.akamustard.events/rules
Prices
For each sign-up, the organiser pays the Service Fee of 4% (min 50p). You pay no surcharge
Nene Valley Full 39k TEAM Swimrun
| Until | |
| --- | --- |
| 30 Apr 2024 | £280.00 |
| 03 Jun 2024 23:59 | £360.00 |
Nene Valley Half 21k TEAM Swimrun
| Until | |
| --- | --- |
| 03 Jun 2024 23:59 | £198.00 |
Nene Valley Full 39k Solo Swimrun
| Until | |
| --- | --- |
| 30 Apr 2024 | £140.00 |
| 03 Jun 2024 23:59 | £180.00 |
Nene Valley Half 21k Solo Swimrun
| Until | |
| --- | --- |
| 03 Jun 2024 23:59 | £99.00 |
Nene Valley Sprint 10k Solo Swimrun
The organiser has included pricing details in the Organiser's Description
Nene Valley Intro 5k Solo Swimrun
| Until | |
| --- | --- |
| 03 Jun 2024 23:59 | £30.00 |
Nene Valley Swimrun Volunteer SATURDAY
The organiser has included pricing details in the Organiser's Description
Nene Valley Swimrun Volunteer SUNDAY
The organiser has included pricing details in the Organiser's Description
Dates and Status
Status: Open
Event
Date
Available/Total
Closing Date
Nene Valley Full 39k TEAM Swimrun
09 Jun 2024

??

/100
03 Jun 2024 23:59
Nene Valley Half 21k TEAM Swimrun
09 Jun 2024

??

/100
03 Jun 2024 23:59
Nene Valley Full 39k Solo Swimrun
09 Jun 2024

??

/150
03 Jun 2024 23:59
Nene Valley Half 21k Solo Swimrun
09 Jun 2024

??

/150
03 Jun 2024 23:59
Nene Valley Sprint 10k Solo Swimrun
09 Jun 2024

??

/150
03 Jun 2024 23:59
Nene Valley Intro 5k Solo Swimrun
08 Jun 2024

??

/200
03 Jun 2024 23:59
Nene Valley Swimrun Volunteer SATURDAY
08 Jun 2024

??

/15
06 Jun 2024 23:59
Nene Valley Swimrun Volunteer SUNDAY
09 Jun 2024

??

/40
07 Jun 2024 23:59
Adventure Nene Sibson Lake, Stibbington, Peterborough PE8 6LS