Edinburgh#3 Youth/Adult/Novice Adult Aquathon 2023
23 Apr 2023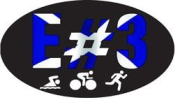 Organiser's Description
We are looking forward to hosting the Edinburgh#3 Youth/Adult/Novice Adult Aquathon, to be held in the grounds of Forrester High School, Edinburgh on the morning of Sunday 23rd April 2023.
Edinburgh#3 Triathlon Club is proud to be one of Scotland's leading clubs, promoting participation and coaching opportunities for children and youths. We also provide coaching for adults at the same time so whole families can enjoy the sport together.
An Aquathon consists of a pool swim followed by a run (distances according to age as indicated in the table below). Our event is open to beginners and experienced competitors, members and non-members of Triathlon Scotland and we very much welcome all ages and abilities to our fun, friendly event.
Following on from last year's success, we will again be hosting an "Aquathon First-timers" category. This event is aimed at people who have never completed a multisport event before (and maybe don't even think they could manage it!) If you're in this group, you'll be offered free coached sessions every Saturday afternoon, 2.30-4.30pm (included in your entry fee) for the 8 weeks leading up to the event. Come and join us, it's all great fun!
Ages (as at 31st December 2023) and distances:
| | | | |
| --- | --- | --- | --- |
| CATEGORIES | AGE | SWIM | RUN |
| TriStar Start | 8 | 50m | 600m |
| TriStar 1 | 9-10 | 150m | 1500m |
| TriStar 2 | 11-12 | 250m | 2000m |
| TriStar 3 | 13-14 | 400m | 3000m |
| Youth | 15-16 | 400m | 3000m |
| Adult (17+) and Aquathon First-timers category | 17+ | 400m | 3000m |
We will send out a Competitor Pack/Briefing Video nearer the event date (approx 3 weeks before) and this will inform you of course layout, what you can expect on the course and what we expect from you as a competitor.
"What's My Time?" will cover all our race timings and you will be issued your electronic timing chip at poolside prior to you starting your swim. This chip will time your start/transition/finish time and will also allow you to print out your results at the end of your race.
Please be as accurate as possible with your estimated swim time to ensure a clear swim for yourself and others. If you do find your swim time is not accurate, please inform us by the 20th April latest and we will update your time.
Entry Fee: £11 for TS members and £12 for non-members.
By completing an entry you are acknowledging you are the recognised parent/guardian for the child you are entering, you are granting them permission to take part and declaring they are sufficiently fit and healthy to do so.
Please note that if you wish to take photos of your child, you will need to register your details on the day.
Further information and any important updates will be shown on the event website. Please check at www.edinburgh3.com and follow the link for Aquathon 2023.
If you have any questions please use the email button on the right hand side of our club page.
NB/ If, for any reason, you are no longer able to take part in the aquathon, refunds (less Entry Central commission) will only be offered if another competitor is available on the waiting list to take your place.
Thank you and we look forward to meeting you in April 2023!
Prices
| Until | Discounted* | Standard |
| --- | --- | --- |
| 19 Apr 2023 23:59 | £11.00 | £12.00 |
*Discounted for members of any of TS TE WT
For each sign-up, the organiser pays the Service Fee of 4% (min 50p). You pay no surcharge
Dates and Status
Date: 23 Apr 2023
Closing Date: 19 Apr 2023 23:59
Status: Open
Event
Available/Total
Edinburgh#3 Adult (17+) "Aquathon first-timers!"

??

/20
Edinburgh#3 Adult Aquathon (17+)

??

/20
Edinburgh#3 Youth Aquathon Youth (15-16) Boys

??

/16
Edinburgh#3 Youth Aquathon Youth (15-16) Girls

??

/16
Edinburgh#3 Youth Aquathon Tristar 3 (13-14) Boys

??

/16
Edinburgh#3 Youth Aquathon Tristar 3 (13-14) Girls

??

/16
Edinburgh#3 Youth Aquathon Tristar 2 (11-12) Boys

??

/16
Edinburgh#3 Youth Aquathon Tristar 2 (11-12) Girls

??

/16
Edinburgh#3 Youth Aquathon Tristar 1 (9-10) Boys

??

/16
Edinburgh#3 Youth Aquathon Tristar 1 (9-10) Girls

??

/16
Edinburgh#3 Youth Aquathon Tristart Boys

??

/16
Edinburgh#3 Youth Aquathon Tristart Girls

??

/16
List