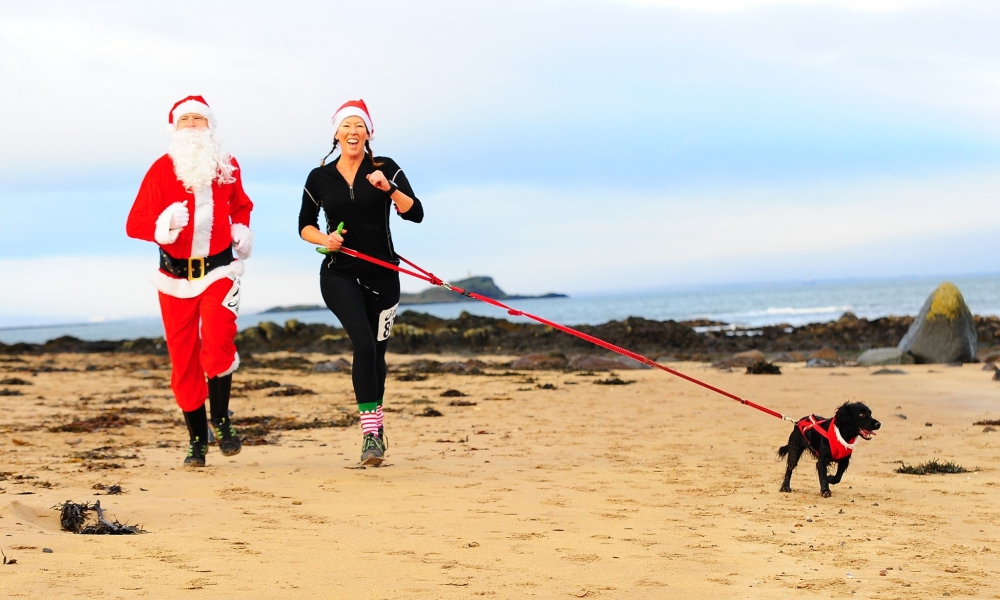 Organiser's Description
Welcome to the seventh North Berwick Santa Beach Run. This year we are raising funds for the charity Diapalante - Diapalante delivers community education in Senegal. The centre is run by a local Manager helped by two British volunteers from Project Trust. It is open to everyone and provides classes in IT skills, English and French, helping people to find opportunites within their community.Mschary's Meals serves nutritious school meals to children living in some of the world's poorest countries
This event is aimed at seasoned athletes, casual runners and families alike. We are therefore offering three race distances along the scenic East Lothian coast line 2k, 5k and 10k. We hope that this will be a fun festive occasion - fancy dress is actively encouraged. The event is organised by Cath Brookes and Saartje Drijver.
Date: Sunday 24th December 2023
Start time: The 2k run will start at 09:30 and the 5k and 10k runs will both start together at 10:00
Event base: Elcho Green, Forth Street, North Berwick, EH39 4JD
Routes: All races will start on the beach near Elcho Green and will go out along the beach to the West of North Berwick and back. This may involve getting your feet wet and climbing over some rocky sections. Please wear appropriate shoes and clothes for wintery conditions.
Distances:
2k - all ages (children under 7 years old must be accompanied by an adult - no entry needed for the accompanying adult)
5k - 13 years old and over
10k - 17 years old and over
Entry fees:
Children up to and including18 years old on the day of the event - £6
Adults aged 19 years and over on the day of the event - £12
There will be no refunds for cancelled entries.
Beach Wheelchairs: If you require the use of a wheelchair and would like to take part there are beach wheelchairs available in North Berwick. For more information visit www.beachwheelchairs.org
Dogs: Well behaved dogs on the lead are welcome.
Food and drink: Please bring your own water bottle and post race snack. There may be hot drinks available for a donation.
Briefing and prizes: You will receive a briefing by email on Friday 22nd December 2023. There will be prizes for winning catagories on the day.
Further information: Please contact the event organisers via facebook - North Berwick Santa Beach Run or by email: wetwaterfamily@gmail.com
Getting there: There are good public transport links to North Berwick. Cycle parking and car parking is also available nearby.
Facilities: Public toilets are available in Quality Street. There are no changing rooms so please arrive ready to run.
Photos and Consent: By signing up for this event you give consent to photos being taken of participants which may be used for future publicity.
Children: Adults will be responsible for the children in their care.
Data Protection: The organisers will endevour to follow relevant data protection legislation and guidelines.
Public Liability Insurance: The organisers have arranged public liability insurance with Protectivity Insurance.
Fundraising: The North Berwick Santa Beach Run is organised by Saartje Drijver and Cath Brooke with the help of a team of volunteers. We try to keep all costs to a minimum so that we can maximise proceeds. This year all proceeds will go directly to Diapalante - Diapalante delivers community education in Senegal. The centre is run by a local Manager helped by two British volunteers from Project Trust. It is open to the whole community and provides classes in IT skills, English and French. www.diapalante.org
We look forwarding to seeing you on the day, happy training.
Saartje and Cath
Prices
The organiser has included pricing details in the Organiser's Description
For each sign-up, the organiser pays the Service Fee of 4% (min 50p). You pay no surcharge
Dates and Status
Date: 24 Dec 2023
Closing Date: 21 Dec 2023 23:59
Event
Available/Total
Status
North Berwick Santa Beach Run 10km

??

/70
Closed
North Berwick Santa Beach Run 5km

??

/70
Closed
North Berwick Santa Beach Run 2km

??

/90
Open
List