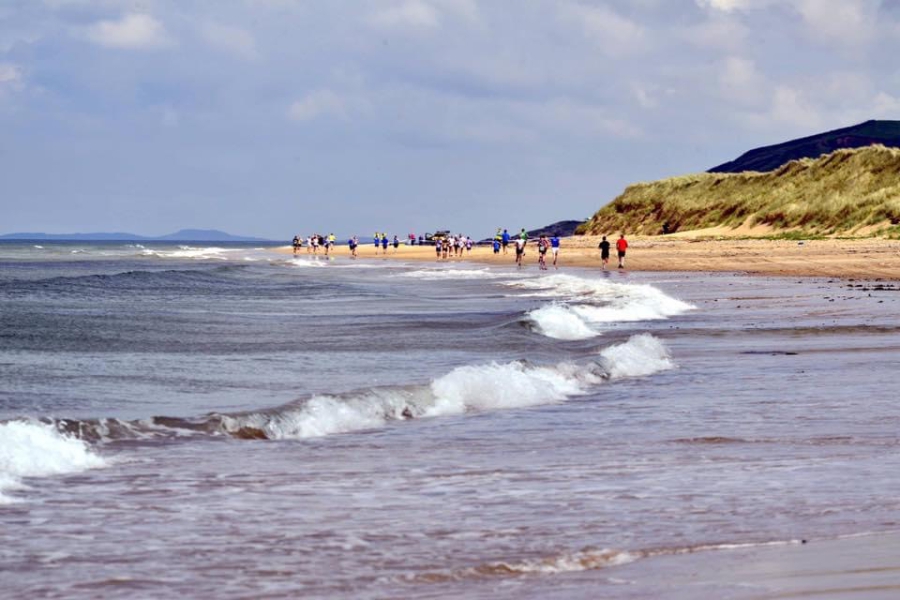 This Festival is in a testing state, and is not open for public sign-ups until the organiser has launched it.
Organiser's Description
Mull of Kintyre Half Marathon & 10km invites you to take part in the
18th MOK RUN Festival Weekend
MOK RUN Junior Run Saturday 27th May 2023 @2pm (200 places)
MOK RUN Half Marathon & 10K Sunday 28th May 2023 @ 10:30am ( 1000 places)
MOK RUN & Sports Council Ceilidh Sunday 28th May 2022 Doors open 7:30 ( ceilidh tickets limited to 350 )
MOK Run was established 2006 in Campbeltown, located close to the beautiful Mull of Kintyre. It has been voted as the UK's top race in Runner's World magazine multiple times and places usually sell out fast.
The race has grown in popularity due to its picturesque location,fantastic astmosphere as well as the post-race celebratons of Danish Pastries and Ceilidh dancing.
Both races start together at the War Memorial, esplanade, Campbeltown. The 10k race is around 3 sides of scenic Campbeltown Loch,and is mainly flat and attracts runners far and wide to gain a lucrative PB. However we take pride that we encourage people of all fitness levels and ages to try out this achievable goal with many power walking around the course and many doing it for charity. The half marathon route leaves the town and runs through the rural countryside and includes approx 1 km on the hard sandy beach of Machrihanish/ Westport, taking in spectacular views across the water of Islay, Jura and Gigha islands. This part of the race makes for pictureque photographs and is normally the highlight for any visitor. The final mile of both races is on a slight down gradiant into town, through the centre, main street, where runners are greeted by crowds of locals cheering them to the finish line - encouraging the first to the very last.
Mok Run supports many local causes and charities, raising lots of awareness and funding.
A special feature of our event is the range of other activities which take place over the weekend, making it more than just a race. This has given our event a great community feel and been popular with locals and runners alike. Our Junior event which takes place on the Saturday has proven just as popular as the main event, and attracts children and young adults, with places selling out fast. The Junior event has proved hugely successful and enjoyable for all involved, making it a wonderful family weekend.
Our post race ceilidh, supported by the South Kintyre Sports Council, is a real hit for runners and non runners alike and is worth purchasing a ticlet for. A kilt is optional if you have one. ;-) The ceildih is open to under 18's if accompanied by an adult. Licensed bar available.
Each you we are given tremendous support from individuals and businesses in our local community. We really aim to make MOK RUN special, a race not to forget. We are famous for our finish line friendliness where our commentator announces all finishers' by name as they cross the line. Each finishers is rewarded with a very generous goody bag which includes a locally hand made pottery medal, quality t shirt, bottle water, Tunnocks biscuit, and much more ! We even have our local bakery at hand providing all finishers and helpers with a freshly baked Danish pastry ,sandwich ( various choice of fillings) and a hot drink of your choice.
General information:
Adult race is limited to 1000 places between both events- please note places sell out fast. When all places are secured the race automatically closes. Sorry, but we do NOT operate a reserve list or allow swaps.
Electronic timing chips will be used supported by Perfect Timing. Every competitor, including Junior competitors, will receive their race number( with chip attached ) approx 1 week prior to event by post .
Please note we will not be operating a registration tent for race numbers however we will have a Q&A area in the marquee at the start/finish line if you have any questions race day. Further details will be emailed to all participants approx 1 week before event date. No other race information , except for race numbers , will be posted out.
For more information please follow us on our facebook page Mull of Kintyre Half Marathon & 10K and or our website www.mokrun.com
Any questions please feel free to PM or email us at events@mokrun.com
We can't wait to welcome you back in 2023.
Mok Run Committee
Mull of Kintyre Half- Marathon & 10k
Junior Mok Run
Welcome to the Mull of Kintyre Junior Run 2023
MOK RUN & SKSC Ceilidh Tickets
Prices
Mull of Kintyre Half- Marathon & 10k
| Until | Discounted* | Standard |
| --- | --- | --- |
| 20 May 2023 10:00 | £31.00 | £33.00 |
*Discounted for members of any of SA EA WA
To sign-up for this event, the Service Fee is 4% (min 50p) for each sign-up
Junior Mok Run
| Until | Discounted* | Standard |
| --- | --- | --- |
| 06 May 2023 22:10 | £11.50 | £12.50 |
*Discounted for members of Scottish Athletics
To sign-up for this event, the Service Fee is 4% (min 50p) for each sign-up
MOK RUN & SKSC Ceilidh Tickets
| Until | Price |
| --- | --- |
| 16 May 2023 23:59 | £20.00 |
For each sign-up, the organiser pays the Service Fee of 4% (min 50p). You pay no surcharge
Dates and Status
Status: Closed
Event
Date
Available/Total
Closing Date
Mull of Kintyre Half- Marathon & 10k
28 May 2023

??

/1000
20 May 2023 10:00
Junior Mok Run
27 May 2023

??

/200
06 May 2023 22:10
MOK RUN & SKSC Ceilidh Tickets
28 May 2023

??

/330
16 May 2023 23:59