Falkland Trail Runners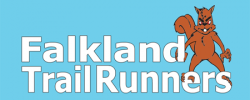 Organiser's Description
WELCOME TO FALKLAND TRAIL RUNNERS
Falkland Trail Runners is the only dedicated trail running club in Scotland.
We think running should be fun. We're not a club that is focused on elite athletes. We don't put any pressure on anyone to do more than they feel is comfortable. We like to chat, mess about a bit and generally have a laugh.
But that doesn't mean we don't make runners quicker and stronger. We do! Looking at our members today compared with a year or two ago, they run further, faster and are generally tougher than they ever thought they could be.
So, whether you're just thinking about starting to run or are already an accomplished runner, you'll find a welcoming challenge here at Falkland Trail Runners. We meet at Falkland Community Hall on Thursdays at 6:30pm.
For more information about the club please visit our club website www.falklandtrailrunners.com or visit our official Facebook page www.facebook.com/falklandtrailrunners/