Alford 10k
21 Jul 2019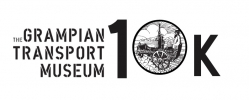 Alford 10k has now closed and you will not be able to sign-up for it. Please check the Organiser's Description for any organiser updates.
This event is in a testing state, and is not open for public sign-ups until the organiser has launched it.
Organiser's Description
Alford 10K
In Alford's brand new 10k race, you'll run through Haughton Park, through the glorious Donside countryside, before finishing in front of family and friends on the track at the Grampian Transport Museum.
Whether you're looking for a new PB, you're in it to win it, or you're looking for a fun run in the country and want a new get fit challenge, our scenic run is suitable for all levels, goals and abilities.
Each kilometer will be marked around the course and we will have friendly marshals cheering you round the whole way.
There's lots for your supporters to do whilst they wait for your return. They can enjoy the award-winning Grampian Transport Museum
Each runner will receive a finishers t-shirt and medal. Please note that if you enter after 3rd June you may not be guaranteed your desired size of t-shirt due to lead times on production.
Details
When: 11:00am, Sunday 21st July 2019
Where: Grampian Transport Museum, Alford
Entry Fee: £20 (£18 for SA members). Please note entries must be in advance – no entries on the day.
Minimum age - 16yrs
Places are limited to 300.
Timings:
- Registration from 9:30am to 10:30am at Grampian Transport Museum
- 10K race starts at 11.00am
- Prize giving will be at 12:30pm
Numbers and Bibs
Numbers will be issued at registration; please ensure you write your emergency contact details on the reverse.
This event will be chip-timed.
Route
10k route details to be announced soon. Clear route maps will be posted on the GTM website and at the registration desks.
This will be an accurately measured course run under a SAL permit.
Health and Safety
The Ambulance Service will be on site should you have any medical concerns and our staff and marshals around the course will be able to help you if you need support.
The race is all on tarmac, and will be on closed roads for the first 2k – after this it is on open public roads. Please note that you enter at your own risk.
All routes are extensively sign posted and well marshalled. Safety is paramount and we expect runners to follow the advice of marshals at all times especially at points where runners are on public roads.
To ensure runner safety on the open roads, as per Scottish Athletics rules the wearing of earphones is not permitted.
Parking
There will be parking available at the main village car park, outside the museum. However, we do encourage runners to share transport if possible as there are less spaces than runners.
Facilities
On-site car park
Chip timing and race results
Cafe
Friendly marshals
Ambulance services
Toilets
Great location
Prizes
Clearly marked course (every km will be marked)
Great event
Great atmosphere
Bag drop (baggage left at own risk)
Water Stations
There will be water station and toilets provided at approximately the 5K point.
Refreshments will be available also to purchase before and after the run at the Grampian Transport Museum which has a cafe and gift shop.
Prizes
Race prizes will be awarded at 12:30pm. Prizes are as follows:
1st male/female - £100
2nd male/female - £50
3rd male/female - £25
Cancellation Policy
No refunds will be given in the event you are unable to take part. You must contact the museum before 7pm on Sunday 7th July if you wish to transfer your place to another runner. In the eventuality of the Grampian Transport Museum cancelling the event due to adverse weather or other unforeseen circumstances, we will offer you a full refund of your registration fee.
Contact
Any queries please contact us on 019755 62292 or info@gtm.org.uk
Event Protect
This event is protected with Event Protect
Event Protect is the industry standard in event cancellation for Primary Ticket Agents, Secondary Ticket Agents, Events, Travel Package Providers, Venues and Sports Teams. Seeing the Event Protect trademark logo means that if the event is cancelled / postponed / abandoned or curtailed due to circumstances outside of our control, Event Protect will provide ticket holders with a quick refund directly to their chosen bank account, no matter the financial state of the Event Organiser or Ticket Agent. This includes booking fees and any extras if booked as part of an event package. To find out more information about Event Protect, please visit our website
Prices
| Until | Discounted* | Standard |
| --- | --- | --- |
| 07 Jul 2019 | £18.00 | £20.00 |
*Discounted for members of Scottish Athletics
For each sign-up, the organiser pays the Service Fee of 4% (min 50p). You pay no surcharge
Dates and Status
Date: 21/07/2019
Status: Closed
Total Places: 300
Places Available: ??
List