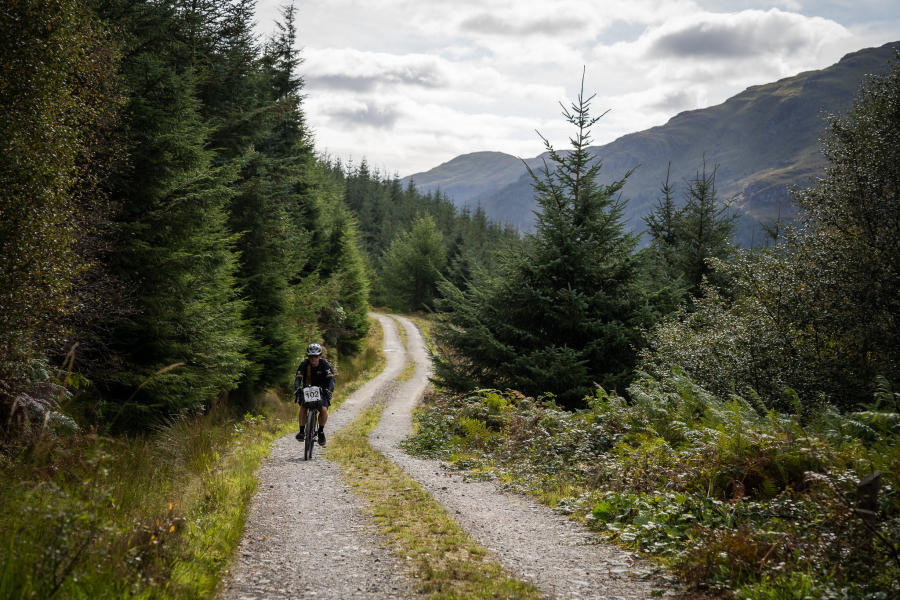 Organiser's Description
The Lezyne Dunoon Dirt Dash 5050 is a self-supported bikepacking event on the beautiful Cowal Peninsula near Glasgow, split over two days with an overnight camp. This is the perfect way to experience the rugged beauty of Argyll, Scotland's Adventure Coast, with fine gravel riding, camaraderie, camping and castles.
You can find out more about all our events on dirtdash.cc.
The basics you need to know before entering:
Format: non-timed, self-supported reliability trial with overnight camping
Route: Day 1: 80km with ca. 1,500m of climbing, Day 2: 50km with ca. 900m of climbing
Entries: £95. Cycling UK members get £5 off.
Navigation: The route will be supplied electronically before the event. The course is not marked, you are responsible for your own navigation.
Bikes: mountain bikes & gravel bikes (e-bikes are allowed, but we cannot guarantee charging points) with a minimum recommended tire size of 40mm, which must be in good working order
Terrain: Singletrack, gravel paths, forestry roads, public roads and cycle paths
What is provided: Rider briefing, route for navigation, campsite, evening meal, broom wagon
Camping: We provide a suitable place to pitch your tent with other riders, toilets, drinking water supply and catering. There are no other facilities (shop etc.) on site.
Food: Riders will be provided with a complimentary evening meal and breakfast. Vegetarian, vegan and gluten-free food is available on request (please let us know when you sign up). You need to bring your own bowl, mug, fork and spoon.
Minimum kit: Helmet, front and rear lights, sufficient water, emergency blanket or sleeping bag, waterproof jacket, first aid kit, phone or GPS for navigation, multitool, spare tube, tire levers, puncture repair kit, tent/bivvy bag/tarp. You need to carry all your own kit.
Insurance: You will need your own insurance.
Refunds: No refunds.
Please refer to our Terms and Conditions for further information
We highly encourage you to take the train or cycle to the event.
By bike: You can take both ferries from Gourock to Dunoon. The quickest way is the passenger ferry from Gourock to Dunoon Pier, which has bike spaces. Please check the Calmac website for timetables and fares. Alternatively there's a regular ferry service from Hunter's Quay to McInroy's Point. Please check Western Ferries for timetables and fares.
By train: Dunoon has no train station, but you can take the train to Gourock to connect with the ferry to Dunoon. For timetables and fares check the Scotrail website and Calmac website for ferry times.
By car: Dunoon is situated on the Cowal Peninsula. If you are coming from the South or East, there's a regular ferry service for cars from Hunter's Quay to McInroy's Point. Please check Western Ferries for timetables and fares. From the North and West best use the A815 which takes you to Dunoon. Alternatively you can leave your car in Gourock and take the passenger ferry from there to the Dunoon Pier. Please check the Calmac website for timetables and fares.
Parking: Free parking is available in Dunoon - Information about parking can be found here
Accommodation
For accommodation please visit the Dunoon Presents website.
A few rules
It's not a race, it's a reliability trial!

Stay cool, be nice, don't hurt yourself or others.

If you don't know what is around a corner, assume it's a steep drop-off.

Cycling on public roads carries risks and that you are aware of these risks.

All bicycles in your party will be ridden safely and responsibly at all times.

You will obey the law. Whilst using public roads, all riders must observe the Highway Code. If cycling off road, please stick to the route and exercise due care to all other users. Stick to the Outdoor Access Code!

Cycling at night is more dangerous, all bikes will not be ridden at night unless lights are used.

A cycle helmet must be used at all times.

You understand that bicycling is a hazardous activity. You understand that the sport of bicycling and the use of this equipment involve a risk of injury to any and all parts of the user's body. You agree to freely and expressly assume and accept any risks and all injury to the user of this equipment while bicycling. You understand that bicycle protective gear such as helmets and gloves are recommended, but they do not eliminate the risk and may not reduce the risk of injury in the event of an accident.

You agree that you will release the organisers from any and all responsibility of liability for injuries or damages or to any other person. You agree not to make a claim against or sue this organiser for injuries or damages relating to this event.

Don't be a dick.

Don't ever drop litter!

You allow us to film and photograph you and use those images for promotion or documentation.

Use public toilets or toilets on the campsite. If not, use a trowel to bury your s'** and stay well away from water for your comfort break.

Help us prevent the spread of a tree disease called "Phytophthora ramorum"! Make sure you wash bikes and shoes at the stations provided and clean all equipment when you get home!

Don't spread Covid-19 - if you have any symptoms, please stay at home!
Prices
| Until | Discounted* | Standard |
| --- | --- | --- |
| 20 Sep 2024 23:59 | £90.00 | £95.00 |
*Discounted for members of Cycling UK
For each sign-up, the organiser pays the Service Fee of 4% (min 50p). You pay no surcharge
Dates and Status
Start: 21/09/2024 10:00:00
End: 22/09/2024 19:00:00
Status: Open
Organiser
Markus Stitz
+447895250508
Argyll Hotel 54 Argyll Street Dunoon PA237N