Culford Sprint Triathlon 2024
09 Jun 2024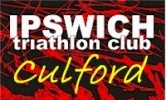 Organiser's Description
Culford Sprint Triathlon by Ipswich Triathlon Club has been a firm favourite with beginners and experienced triathletes alike for 25 years. The format is a 300m pool-based swim with participants setting off at 30 second intervals, a 3-lap bike course on country roads totalling 21km, and a 2-lap run totalling 4.2km within the school grounds.
The event provides a great opportunity for family and friends to support, with a friendly atmosphere and a well-stocked cake stall provided by the local church hall!
All finishers receive a medal for the event and there will be trophies for all age category winners.
· Minimum competitor age is 15 as of 31st December 2024.
· The age categories will be based on age on 31st December 2024
· There will also be trophies awarded for 1st, 2nd, and 3rd placed Open and Female.
By entering online, you agree that you will receive race information online. This will be sent to the email address you supply at least 1 week before the event, and will also be available at www.ipswich-tri.org/culford
Provisional race timings are as follows:
· Registration will be open 07:00am - 08:00am
· Transition will be open 07:00am - 08:45am
· The first swimmer will start at 08:45am
Entry Fee is £44, in addition if race participants do not have a full British Triathlon membership on the day of the race, a Race Pass must be purchased to be insured on the day of the race, this will be an option at checkout (£8 or £2 for under 24's).

If a participant takes part in an event without either of the above, they will not be insured for 3rd Party Liability. If on race day you are not a member of British Triathlon or have not purchased a Race Pass, you will not be allowed to race and not be entitled to a refund.
If you are not able to race, deferrals (for one year only) or refunds (less a £10 admin charge) are offered up to midnight on Sunday 26th May 2024. No deferrals or refunds will be offered after this date unless the vacated place can be filled from the waiting list.
Results will be available on our website (www.ipswich-tri.org)
If you have any questions please contact the race director via the organiser contact button.
Prices
| Until | |
| --- | --- |
| 02 Jun 2024 23:59 | £44.00 |
For each sign-up, the organiser pays the Service Fee of 4% (min 50p). You pay no surcharge
A British Triathlon Race Pass is required for participants who are not a British Triathlon Home Nation member. For this event, Race Pass costs are £2.00 for participants aged 24 and under, and £8.00 otherwise.
Dates and Status
Date: 09/06/2024
08:15:00 - 12:30:00
Status: Open
Total Places: 220
Places Available: ??
List