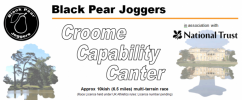 Croome Capability Canter
27 Nov 2022
Croome Capability Canter has now closed and you will not be able to sign-up for it. Please check the Organiser's Description for any organiser updates.
Organiser's Description
Well done to everyone who ran and a big thank you to all the marshals and volunteers. Race results can be viewed on the link below.
Race Results for Croome Capability Canter 2022 (PDF, 279KB)
See you next year!
Paul Evans
Chairman
Black Pear Joggers
You can read more about the race on the BPJ website.
Booking Tips
You can reserve up to 2 entries at a time when the entry system opens - so you can enter partners, friends, etc. If you want to reserve more than this, please request a friend to make the additional entries on a separate computer/phone. Once you start the checkout process, you will have a limited amount of time to complete the checkout before the places are released and you will need to start again. This ensures you don't start entering, only to find out that someone beat you to the last place when you come to pay. Because of this, please ensure that you have all the details of the people you are signing up. This includes name, address, email, phone, date of birth and club affiliation number (if applicable).
Event details
Date: Sunday, 27th November 2022 at 9am

Venue: Croome Park, nr High Green, WR8 9DW

Distance: 6.5M (10K-ish)

Surface: Multi-terrain (trail shoes recommended, spikes not suitable)

Route: 1 lap

Setting: Off-road course around the beautiful scenery of Croome Park

Profile: Big hill at the start and finish, the rest is mostly flat.

Race licence: Full UK Athletics licence (licence number TBC)

Wheelchair accessible: No

Water stations: Yes

Distance markers: Every 1K

Traffic free: Yes
Extras
Awards: Medal, winners' prizes, goody bag

Changing: Yes

Toilets: Yes

Bag storage: Yes, unsupervised

Parking: There is limited parking, please car share where possible.

Note: Please allow 10 minutes to walk from registration to the start.
Entry
Postal entry: No

On-the-day entry: No

Minimum age: 15

Entry cost: £14 affiliated, £16 unaffiliated. You will need your affiliation number to claim the discount when entering. You can find your licence number on the England Athletics website.

Opening date: Saturday 1st October 2022 at 9pm (the evening).

Closing date: 48 hours before the race or when we reach 350 participants, whichever is reached first. The race has previously sold out in minutes, so make sure you set a reminder for when entries open.

Waiting list: When all 350 entries are taken, there will be a waiting list. In the event of any withdrawals, places will be offered to those on the waiting list on a first-come, first-served basis. They will have 24 hours to accept and pay for the entry after which it will be offered to the next on the list.

Cancellation/Swapping Numbers: No refunds will be given once entered, so please decide carefully before entering as the race is off-road and not advisable if you have any injuries. If you're unable to run, please let us know as soon as possible. Your entry fee will go to a good cause.

If you want to give your place to another person, you can change the name by logging in to your Entry Central account and changing the name to the new runner. If you didn't sign up with an Entry Central account, please fill in the race transfer/withdrawal online form.

Anyone found running under another name without transferring the name properly prior to race day will be disqualified and banned from future races. This is for health and safety reasons and to ensure the accuracy of results and prize giving. You can read more about the consequences of swapping numbers on the BPJ website. We're unable to change any details within 24 hours of the race as we'll be busy setting up the course and preparing all the registration paperwork, so please ensure you've notified us of any changes before this time, otherwise you will forfeit your place.
Profits
The profits raised from the race will be donated to the National Trust to help maintain Croome Park with a small percentage of the profits kept back by the club and used towards the club's outreach programme, helping to to get more people with visual impairments participating in running.
Organisers
Organiser: Black Pear Joggers

Race director: Claire Shacklock

Race secretary: Paul Evans

Email: croome@bpj.org.uk
Prices
| Until | Discounted* | Standard |
| --- | --- | --- |
| 26 Nov 2022 23:59 | £14.00 | £16.00 |
*Discounted for members of any of EA WA SA
To sign-up for this event, the Service Fee is 4% (min 50p) for each sign-up
Dates and Status
Date: 27/11/2022
Status: Closed