Teviotdale Harriers 2019-20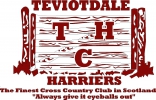 Organiser's Description
MEMBERSHIP for 2019-20 season now open. This year each member will be allocated a race number for all Harriers races. This number must be kept for the duration of the season. Until a membership fee is paid each athlete will be provided with a temporary paper number.
If you would rather pay in person, please see Rory Anderson at any Harriers Event.
Adult Members (17 years and over) can join on here, kids and family membership can be completed via Rory.
Teviotdale Harriers is a friendly cross country running club which welcomes new members old and young.New junior members must be in P3 or above. For junior members we offer training on a Wednesday night during school term time, meeting at 6 o'clock at the Church on St Georges Lane (TD9 0EG) for an hour. Also during school term time ,for a small additional weekly fee, members aged 8yrs and above have the opportunity to undertake a gym session on a Thursday night at Think Fitness at O'Connell Street in Hawick at 4 pm. For adults we do not presently have any structured formal training , although some members meet for informal adhoc training runs. Membership gives entry to seven closed club runs - starting with the short and flat Christie Cup run in Wilton Lodge Park in September and finishing with the Cup Race on Hawick Moor in March. Additionally the club organises three open runs - the Uphill Mile in May, the 10k/5k and fun run in August and the Penchrise Hill Run in September .We have a social run at the start of the season in September, Christmas Relays and a New Year Run over the festive period, and at the end of the season our Presentation Night which are social occasions for members .Whether you are running to get fitter or running for a winning place- you are welcome at Teviotdale Harriers