Teviotdale Harriers Membership 2023-24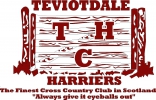 Organiser's Description
MEMBERSHIP for 2023-24 season now open.
Please put in details for the member who is joining, if you are a parent/guardian this would be your child/childrens details.
Senior (Aged 17 or upwards) £27
Junior (Aged 7 (primary 3) - 16) £10
Family Membership £60 (2 Adults plus Children (Children must be 16 or under))
Non Competing £5
Note this year all memberships will be taken via entry central.
In order to take part in any of the club races or run under the Teviotdale Harriers 'banner' or attend training you must be an up to date member of the club.
Paid Subscriptions ensure the longevity of club, thank you very much in advance.
Teviotdale Harriers is a friendly cross country running club which welcomes new members old and young.
Junior members must be in P3 or above. For junior members we offer training on a Wednesday night @ 6pm during school term time, meeting at the Harriers Clubrooms (next to Teviot Medical Practice) .
Membership gives entry to seven closed club runs - starting with the short and flat Christie Cup run in Wilton Lodge Park in September and finishing with the Cup Race on Hawick Moor in March. Additionally the club organises an open run - the Uphill Mile in May. You also gain entry to numerous Scottish Athletics events, including cross country and road running.
We have a social run at the start of the season in September, Christmas Relays and a New Year Run over the festive period, and at the end of the season our Presentation Night which are social occasions for members .Whether you are running to get fitter or running for a winning place- you are welcome at Teviotdale Harriers
Check out our Facebook page or Website for more info.
Many Thanks for you continued support.
Any queries please get with a commitee member or through our facebook channel.
Prices
see
Info
For each sign-up, the organiser pays the Service Fee of 4% (min 50p). You pay no surcharge