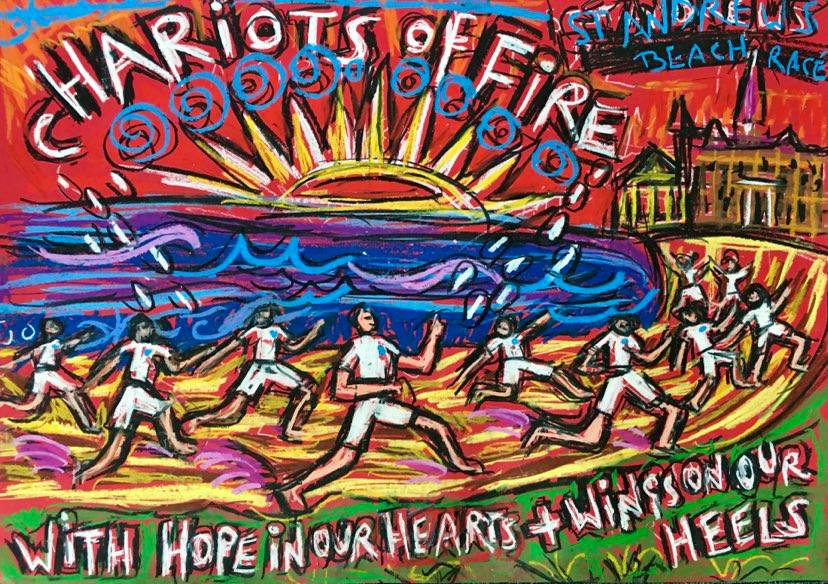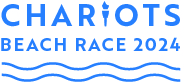 Chariots of Fire Beach Race has now closed and you will not be able to sign-up for it. Please check the Organiser's Description for any organiser updates.
This event is in a testing state, and is not open for public sign-ups until the organiser has launched it.
Organiser's Description
Oh my...
With last year's event sold out and oversubscribed, we are beyond excited to be gearing up for the 2024 edition of the Chariots of Fire Beace Race in the centenary year of the Paris Olympics of 1924 that gave the world the stories of the two men (Abrahams and Liddell) who would go on to become the main subjects of the film Chariots of Fire from which we draw our inspiration.
The race is a simple out and back 5km. Runners do not have to be barefoot but are welcome to run through the waves should they wish (it may affect their time though!)

The children's 1 mile fun run (aged 11 and under only) race is scheduled to start at 11.30am (subject to the tides!), with the main 5km kicking off promptly at 12 noon (there is a generous 1 hour cut off). Prizegiving 1pm.
We welcome everybody, from the club runner looking for a Sunday shakedown, the parkrunner looking for a unique and individual event, the first time runner looking to try the sport for the first time, or just somebody wanting to relive Vangelis and run in an unique race in a very special location. You're welcome to sprint your heart out for glory, although some may find the urge to run in a slow-motion Vangelis-induced stupor may make setting a PB somewhat challenging.

We enjoy fantastic support from local businesses and thus you will be some of the best rewarded 5km runners known to man - the past four years every adult finishing has received a free beer (non-alcoholic/softs available if preferred), alongside the infamous fudge doughnut and medal, OBVIOUSLY!

ENTRY
Entry is £19 and after staging costs, all proceeds will go to our charity partners - RNLI, Home Start and Families First. The last two events have raised close to £20k and last year we were able to give over £5000 to the construction of the new lifeboat station the RNLI are completing in Anstruther. Please note, no refunds or transfers on race places (except in exceptional circumstances).

1 mile children's fun run for 11 and under, entry £5 on the day and a Jannetta's Gelateria ice cream at the end. Chip timing means everyone, from first to last will be timed.

Check us on Facebook - Chariots of Fire Beach Race.

YOU'VE SEEN THE FILM, RUN THE RACE, NOW BUY THE T SHIRT...
T shirt sizes are unisex - details are available on the entry form ahead of ordering. T-shirts will be available to order and then collect on race day. You'll see folk wearing them on the Facebook page for an idea of what to expect. T SHIRTS WILL NOT BE POSTED OUT AHEAD OF THE RACE - COLLECTION ONLY ON RACE WEEKEND.
BACK FOR 2024...CHARIOTS BUFF £6 each
Perfect to keep the early "summer" chill off your neck, to mop your brow, or around your wrist. As seen on all the most stylish necks ("so hot right now") available in white and yellow with Chariots branding. Available to buy on the day - £6 cash only.
Online Entries
Please note that (subject to availability) online entries close on Monday 27th May at midnight (if there are still spots available by then). Subject to late withdrawals there may be spaces left on the day although given the popularity of recent years there is no guarantee of this...

Start & Finish location
The race starts and finishes on West Sands, at the near/town end with the race HQ and marquee adjacent to Dook Cafe which itself is located opposite the Links Clubhouse, just past the coach parking on West Sands Road. The route itself is pretty much flat, out and back and run entirely on sand and in surf and runners start and finish to the strains of Vangelis, just as the runners do in the film that inspires the race – Chariots of Fire. Marshals will be on hand to direct anybody unsure as to the exact location. Runners will run out along the beach for 2.5km before turning and sprinting for the finish (a piper will be at the turn)!

There are no changing facilities here although the council run toilet block is close by and competitors will be able to park their cars on the grass verges close by. Increased runner numbers in recent years has led to the provision of several portaloos, a mens urinal and an additional disabled access toilet, although the council-maintained block opposite is also open for use.

The course, being a simple out and back, has minimal marking/marshalling, but the turn (further than you might think!) is clearly marked and very obvious. Feather flags and a piper will mark the halfway point.

Once again we will be staging a Children's (11 and under) fun run of 1 mile, scheduled to start at 11.30am. Entry fees are £5 on the morning only. Adults are welcome to accompany their child although this doesn't automatically entitle you to their ice cream!

Registration
This year registration will be down on West Sands - in the marquee erected adjacent to the Dook Cafe. Registration will run from 0930-1130 on Sunday ONLY. Each runner must register with the organisers before the race where they will receive their race number (with inbuilt timing chip) - please affix this to the front of your running top with the safety pins provided.

Registration will close at 1130 (1115 for the children's race). Race start times are sharp, and the start line is further than it looks, so don't be late onto the beach!

Water Stations
No water stations – it is a 5km after all! All over 18 finishers will receive a refreshing beer. (Under 18 participants/tee totallers we will have some soft drinks in lieu for you.) Gluten intolerant runners - we have gluten free doughnuts and there will be a vegan treat for those of you for whom that applies.
(We will have a limited supply of fresh water primarily for first aid purposes, but we would prefer that competitors brought their own in the interests of minimising plastic usage. Please bring your own reuseable cup/bottle).

Please proceed with caution
Please run clockwise to avoid running into incoming competitors at the turn. Once clear, take the most direct route down the beach – even run barefoot through the surf if you choose (tide-dependant - it could be a long way out!). All runners must wear their race number on the front of their vest. Please use four safety pins (spare pins available at registration) to assist in identification of your number at the finish line.
Dress code
All white – no one will stop you running if you don't…but it's much more fun…and makes for better photos if you run clad in all white. Also saves a lot of time retouching photos later on! An official race tee will help and can be ordered as you enter online.

Parking
Plentiful free parking behind the sand dunes. Marshals from Rotary St Andrews will be on hand to direct you - please allow them to do so as we have A LOT of cars to fit in! The later you arrive, the further from the start you will be parked - please be warned!

Charity and other
All proceeds after essential costs will again go to the RNLI and two local St Andrews-based charities (Families First St Andrews and Home Start NE Fife). The prizes, post race goodies and many services have been supplied free of charge by many local businesses and we are incredibly grateful to them for their support.

There will be a presentation for the top three male/female in both 5km and Children's race and we aim to have this no later than 1pm at the race marquee. Age category prizes will also be awarded for the first time this year.

Hope that has answered most questions – contact details should be readily available elsewhere on this website and you can expect a response within a few hours via Facebook.
And that, fellow Charioteers, is that! Train hard, but remember to go out and enjoy yourselves first and foremost.

We can't wait for you to join us all down on the sand on Sunday 2nd June, "...with hope in your hearts, and wings on your heels..."
Prices
| Until | |
| --- | --- |
| 31 May 2023 23:59 | £19.00 |
To sign-up for this event, the Service Fee is 4% (min 50p) for each sign-up
Dates and Status
Date: 02/06/2024
Status: Closed
Total Places: 700
Places Available: ??
List