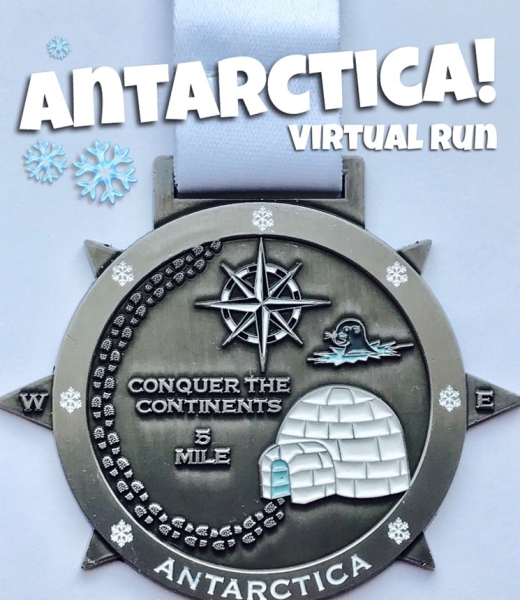 Antarctica! has now closed and you will not be able to sign-up for it. Please check the Organiser's Description for any organiser updates.
This event is in a testing state, and is not open for public sign-ups until the organiser has launched it.
Organiser's Description
'ANTARCTICA'
CONQUER THE CONTINENTS!
*VIRTUAL 5 MILE DISTANCE EVENT*
See Instagram @Meta_Medals
ENTER NOW
*RUN ANYTIME /ANYWHERE *
Need some incentive to lace up and get back to running? This is it!
Virtually travel the globe, visit the continents - with a limited edition medal for each one.
To get your the finishers medal, just run, walk, step, roller skate, cycle - whatever suits. Just cover 5 miles and you'll be the proud recipient of our gorgeous custom-made event medal.
How does this work?
You complete this event 'virtually' anywhere. Complete it in your own time & pace. This virtual event can be done running, walking, swimming, cycling, on a treadmill, around your garden etc - distance is distance. Just cover 5 miles and you're a medal winner!
How much is it?
It's just £10 to enter which includes all delivery and processing fees. You will get a confirmation email receipt on sign up (this will be from Entry Central - we recommend checking your spam folder once entered just in case you have an over zealous firewall.) Then simply complete your distance, submit your evidence (see how below) and we will dispatch your medal in the post! Please note: All entries are non-refundable / non-transferable to other dates / events. (UK competitors only please - medals cannot be posted overseas).
What do you mean by evidence?
On your confirmation email receipt will be a 'RETURN EVIDENCE' email address. If you use a running app, just take a screen grab and send it to that 'RETURN EVIDENCE' email address.
Or send a photo of your treadmill display, running watch, Fitbit etc. As long as it shows 5 miles, you're good.
Must I complete the distance in one go?
No. We understand some you may not be up to 5 miles in one go. You can split your distance into as many smaller ones as you need. Just remember to submit all the smaller distance evidence together at the same time when complete.
Please note: When registering for this event, the entry price is for a space/entry to take part - you are not just purchasing the medal, we want you to work for it. The medal is your reward which gets sent out on submission of your distance(s) evidence.
Can I cover more than 5 miles?
Yes. If you can easily cover longer distances, simply submit evidence showing a run of 5 miles or greater and you're good.
Can anyone enter?
Yes - just please take care of any persons under 18yrs competing (parent/guardian completes sign up process for them). Just have fun and run, walk, bike, hike, whatever you want. Please note: By registering you understand that any injury or damage caused by completing your distance(s) is your own responsibility. Mash Running will not be held responsible for any injury / damage that occurs before, during or after your participation.
When will I get my medal?
We send medals out once a week, so please allow approx 5 to 10 working days to receive it after you've submitted your evidence. Please check your details are correct on your confirmation email, this is what we use to send your items out.
Transfer Policy:
All entries are non-refundable - entries CANNOT be deferred to another year / or any other event.
Health & Safety:
You should be relatively fit, be able to comfortably take part and have no known medical conditions which would hinder you. You are reminded not to run if you feel ill or have a cold or flu like symptoms. Do not take part if you have any respiratory illness or recent medical condition. No refund will be given under these circumstances.
By entering you agree to abide by all of the above rules and conditions as well as the disclaimers via the online sign up process.
Prices
The organiser has included pricing details in the Organiser's Description
For each sign-up, the organiser pays the Service Fee of 4% (min 50p). You pay no surcharge
Dates and Status
Start: 03/10/2022
End: 31/03/2023
Status: Closed
Total Places: 98
Places Available: ??