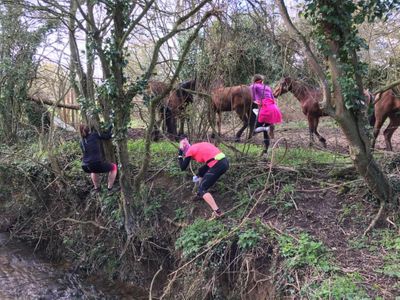 This Festival is in a testing state, and is not open for public sign-ups until the organiser has launched it.
Organiser's Description
ESSEX TRAIL EVENTS present THE CASTLE ON THE HILL
(approx 9 or 5.5 miles)
The Green Man at Toppesfield has proved a favourite venue and attracted good numbers to our previous events.
Sunday 24th September 2023. Starts between 10.00am and 10.35am.
This is a self navigation trail race using a written route description, which will be issued to you on the day. There are no markings or marshals. No GPX. This is not a mass start event. You will be timed out and back in at the finish.
Race HQ will be located at the Green Man, Church Lane, Toppesfield CO9 4DR
£7 entry affiliated. £9 unaffiliated. Plus 50p booking fee.
Parking at the venue as very limited. Please park with due care and attention to other people's property and access.
Confirmation of entry will be sent to you by email (if supplied) to the address provided on the entry form.
Results will be posted on www.essextrailevents.com
To enable friends to run together it is possible to book more than once in your name. If you do enter more than once for others we will require all their details (emergency contact, mobile phone no of phone to be carried on the day, email address and confirmation that they agree to the same terms and conditions as the person who entered them) before the closing date or they will not be allowed to participate. There will be no refunds for whatever reason apart from the race being cancelled.
Please choose a Start Time from the list of available Start Times on the right of this entry page.
Prices
| Until | Discounted* | Standard |
| --- | --- | --- |
| 23 Sep 2023 17:59 | £7.00 | £9.00 |
*Discounted for members of clubs affiliated to any of EA WA SA TRA
To sign-up for this event, the Service Fee is 4% (min 50p) for each sign-up
Dates and Status
Date: 24 Sep 2023
Closing Date: 23 Sep 2023 17:59
Status: Closed
Event
Available/Total
Castle 10.00am 9 MILES

??

/15
Castle 10.05am 9 MILES

??

/15
Castle 10.10am 9 MILES

??

/15
Castle 10.15am 9 MILES

??

/15
Castle 10.20am 5.5 MILES

??

/15
Castle 10.25am 5.5 MILES

??

/15
Castle 10.30am 5.5 MILES

??

/15
Castle 10.35am 5.5 MILES

??

/15
List