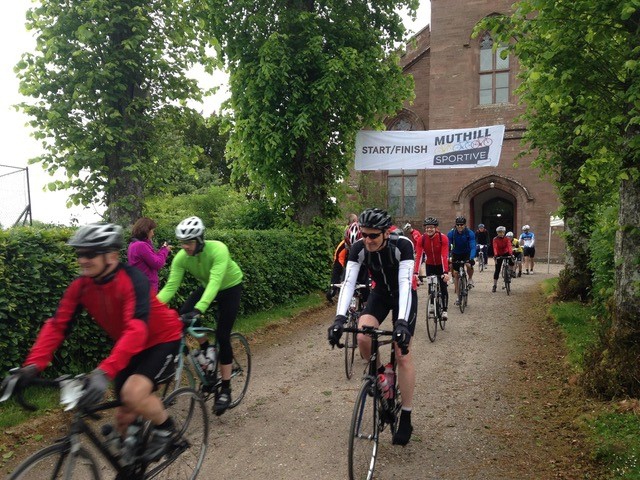 Muthill Sportive has now closed and you will not be able to sign-up for it. Please check the Organiser's Description for any organiser updates.
This event is in a testing state, and is not open for public sign-ups until the organiser has launched it.
Organiser's Description
Muthill Sportive is back on Saturday 9th September 2023!! YEAHHH!!!
We will return with the 4 distances (Green, Yellow, Blue, Red) so there is something for everyone. Routes will be based on previous years but with changes based on feedback we've had.
Muthill Sportive features:
A CYCLE FRIENDLY START POINT
PLENTY OF HOME BAKING AND TEA AT THE FINISH
CHIPPED TIMING
SIGNAGE ON ALL ROUTES
Funds from previous Sportives have supported the successful completion of Phase 1 of the cyclepath construction in 2016 (Muthill to Templemill). Phase 2 of the cyclepath project is progressing well (Templemill to Crieff). The proposed River Earn bridge is approved in principle and in its final detailed design stage.
Ultimately, this will provide a safe cycling route to Crieff for all the community. Funds raised from the Sportive also go towards maintaining the existing stretch of cycle path.
Help us celebrate progress so far by joining us for the 2023 Muthill Sportive!
This is an event for ALL cyclists! We wanted to have a Sportive distance (70 miles) but also to make it available for local families and beginners so we have 4 routes available.
1. Green (FAMILY) Route = 4 miles
2. Yellow (EASY) Route = 13 miles
3. Blue (CHALLENGE) Route = 31 miles
4. Red (SPORTIVE) Route = 66 miles
Please treat these routes as indicative- we will finalise nearer the event and post updated routes here and on social media.

Entry Fee
The Entry Fee includes chipped timing, refreshments at the end and for the Sportive distance snacks and water at the halfway spot. The majority of the entry fee goes directly to the cycle path project.
£34 for Sportive Route

£22 for Challenge Route

£17 for Easy Route

£11 for Easy Route U16*
FREE for the Family route (although we'd appreciate a donation towards the Cycle Path project- collecting jars will be available in the church hall). No need to register for this distance on Entry Central just turn up on the day.
*Children under 16 must be accompanied by an adult.
Start/ Finish
All routes will start/ finish from Muthill Parish Church. This is the big church next to the primary school in the middle of Muthill. This allows a quiet road start.
The Sportive (Red) distance starts at 09:00

The Challenge (Blue) distance starts 09:30

The Easy Ride (Yellow) distances starts at 10:00

The Family (Green) distance starts at 11:00 (or at your own leisure!)
Car Parking
There is some parking around the church and plenty of on street parking around the village. Please be respectful when parking.
Registration
Please register at the Registration Tent which is by the front doors of Muthill Parish Church.
Registration for the Sportive distance will be open from 08:00 to 09:00.
Registration for the Challenge and Easy Ride distances will be open from 08:00 to 10:00
Riders will be issued with a cycle number and chip to attach to their bike along with emergency contact numbers.
Timing
Timing will be electronic
Course Marking.
All routes will be marked with coloured arrows approx 100 yards ahead of junctions (Family = green arrows, Easy = Yellow arrows, Challenge = Blue arrows, Sportive = Red arrows). Marshals will be positioned at key junctions.
We suggest you familiarise yourself with the route in case any route arrows are moved.
Food/ Drink
There will be one food station approx half way around the long route.
There will be food/ drink available for all participants after the ride in the Bruce Hall.
First Aid
All cyclists are expected to carry their own First Aid Kit for minor injuries.
A trained First Aider will be in Muthill and can be called upon if any accidents occur, the contact number will be on your cycle number. However if it is an emergency please contact 999 directly.
Bike First Aid
All cyclists are expected to carry a basic bike toolkit. A bike mechanic will be available at the Registration point if you need a quick MOT before you set off.
A vehicle will be in Muthill and can be called upon if any serious mechanical failures occur.
Safety
This is an open road event. All cyclists take part at their own risk and are expected to ride to the rules of the road.
An approved cycle helmet, must be worn at all times whilst riding as encouraged under British Cycling Guidelines for Non-competitive Events.
Fund Raising
Funding for the Muthill- Crieff Cycle Path is coming from various grants but the village also has to raise a certain amount.
Money from entry fees goes towards the funding the event or the cycle path project.
Additional fundraising from any participants is always welcome!
Prices
The organiser has included pricing details in the Organiser's Description
For each sign-up, the organiser pays the Service Fee of 4% (min 50p). You pay no surcharge
Dates and Status
Date: 09/09/2023
09:00:00 - 15:00:00
Status: Closed
Total Places: 170
Places Available: ??
List