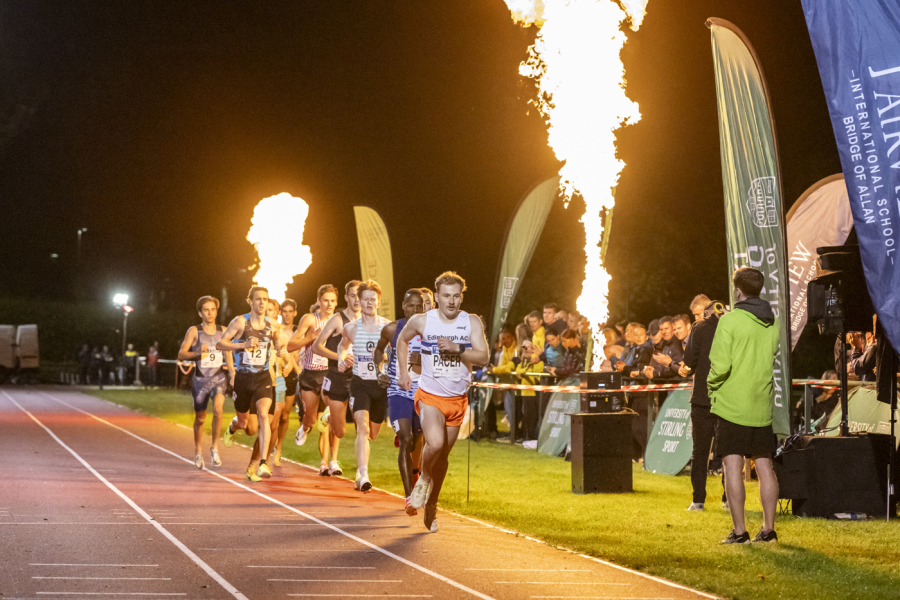 The Monument Mile Classic is now full, but you may join the Waiting List.
Organiser's Description
The man who has made the mile record is W.G. George...His time was 4 minutes 12.75 seconds, and the probability is that this record will never be beaten. Harry Andrews, 1903
Bring the Flames.
For a seventh year, we return.
Following our sixth race in August 2023 where we sold out with over 400 athletes entering over 29 consecutive mile races, where Samuel Philstrom from Sweden won the elite men's race in 3:54.8, where seven men went sub-4mins in the elite men's race, where Sara Lappalainen from Finland won the elite women's race in 4:28.12, where Saga Provci broke the Swedish U20 Mile record with 4:43.29, where Sarah Calvert broke a 38 year old record, and took the Scottish Native Record (the fastest time run by a Scot on Scottish soil) with 4:28.40, where Ben Sandilands took the T20 World Record with 4:06.02 and where Angus Wilkinson of East Kilbride AC ran a World Best for age 14 with 4:11.20, we are delighted to announce the return of 'The Monument Mile Classic' for a seventh year on the afternoon and evening of Saturday 24th August 2024.
Sponsors
For a second year, we are delighted to confirm that IPME join us as a sponsor. IPME provide engineering, procurement and construction expertise in both public and private sectors, from small renovations to large capital projects. Their design and management professionals create a bespoke integrated service in support of their clients' requirements.
Also for a second year, we are delighted to confirm that PWR join us in sponsoring the event once again. PWR produce both pre-sport and post-sport lotion solutions to both get athletes ready for sport, and to help them recover as quickly as possible. PWR will be on-site on the night with their products available for athletes to try and use.
Fairview International School also return for a second year as a sponsor. Fairview are a coeducational International Baccalaureate (IB) World School based in central Scotland for students aged 5-18, developing lifelong learners who thrive and make a difference.
For their first year, Glasgow City Physiotherapy join us as a sponsor. Based on Buchanan Street in Glasgow, they offer a unique approach to Physiotherapy whereby they look to treat your injury, the cause of the injury and provide injury prevention advice or management. They treat a wide range of injuries including sports injuries, back/neck pain, headaches, muscle sprains, work related injuries, rehabilitation from surgeries, Osteoarthritis, Childhood and adolescent musculoskeletal disorders and many more. We are delighted that GCP will have physios present at the race throughout the evening.
For our seventh year, we are delighted to partner with The University of Stirling, Scotland's University of Sporting Excellence. The University are at the forefront of helping and inspiring talented athletes to fulfil their sporting and academic potential. For their wider community, they offer a superb variety of exercise classes, sports lessons, fitness groups and leisure activities for all levels of fitness and experience.
The Monument Mile Classic, IPME, PWR, Fairview International School, Glasgow City Physiotherapy and The University of Stirling look forward to serving our athletes through our hosting of the seventh annual Monument Mile Classic on Saturday 24 August 2024.
Music Licence
We wish to record our thanks to PPL PRS Ltd for granting us our public music licence for the event. They do great work, and we are very grateful for their support in our community sports event, and to allow for the tunes to flow!
Entry Fees
In order for us to maintain the level of track meet that we now offer, and to do everything in our power to merit our World Athletics permit, we have now had to increase our entry fees to £15 per athlete. We still consider this to be excellent value for money for the level of track meet that we offer.
Entry for all Athletes: £15
We are pleased to offer free entries for elite athletes. Free entries will be offered to male athletes who have a 1,500m time of 3:43 or faster, and a mile time of 4:01 or faster. Free entries will be offered to female athletes who have a 1,500m time of 4:20 or faster, and a mile time of 4:40 or faster. If you wish to apply for this entry, please send an email to michaeledwardwright@hotmail.com
Socials
We have both Twitter ( @MileClassic ) and Instagram ( mileclassic ) accounts running, so do give us a follow for the most up-to-date information on our evening of mile races.
Elite Male and Female Prizes
We are delighted to announce the following prize structure for the event:
1st Place in Senior Men's and Senior Women's Races: £500

2nd Place in Senior Men's and Senior Women's Races: £250

3rd Place in Senior Men's and Senior Women's Race: £100
Contact
For any and all enquiries, please contact the Race Director, Michael Wright, on 07871 174 659.
Refund policy
We understand that sometimes you enter a race then something crops up. As soon as you enter we incur costs so we have come up with the following refund policy that we hope is simple and fair
If you cancel
Before or on the 15th July 2024: 75% refund (£11.25)

After 15th July 2024: No refunds.
Anti-Doping
All entrants shall be deemed to have made him/ herself familiar with, and agreed to be bound by the UKA Anti-Doping Rules and to submit to the authority of UK Anti-Doping in the application and enforcement of the Anti-Doping Rules.
The UKA Anti-Doping Rules apply to entrants participating in the sport of Athletics, for 12 months from the date of entry, whether or not the entrant is a citizen of, or resident in, the UK.
Rules
The race will be held under UKA Rules for Competition Incorporating World Athletics Rules effective from 1st April 2022. A copy is available for download from the British Athletics website Competition Rules.
Rule CR18.5 Unsporting or Improper Behaviour: spitting (or similar) in any area may be treated as a
conduct offence and will be dealt with by a warning or disqualification. Athletes Assembly stewards will
remind athletes of this rule prior to leaving for the competition site. Any instances of athletes spitting within the competition area will be reported to the Chief Official or Referee who will issue the appropriate sanction, which may result in disqualification.
Rule T5: All athletes must make themselves familiar with the recently amended World and UK
Athletics rules around shoes. It is the athlete's responsibility to ensure compliance
with these rules. Visual checks will be made at Athlete Assembly, with any suspect shoes reported
to the Meeting Manager for investigation.
Prices
The organiser has included pricing details in the Organiser's Description
To sign-up for this event, the Service Fee is 4% (min 50p) for each sign-up
Dates and Status
Date: 24/08/2024
16:00:00 - 22:00:00
Status: Waiting List
Total Places: 380
Places Available: ??
List