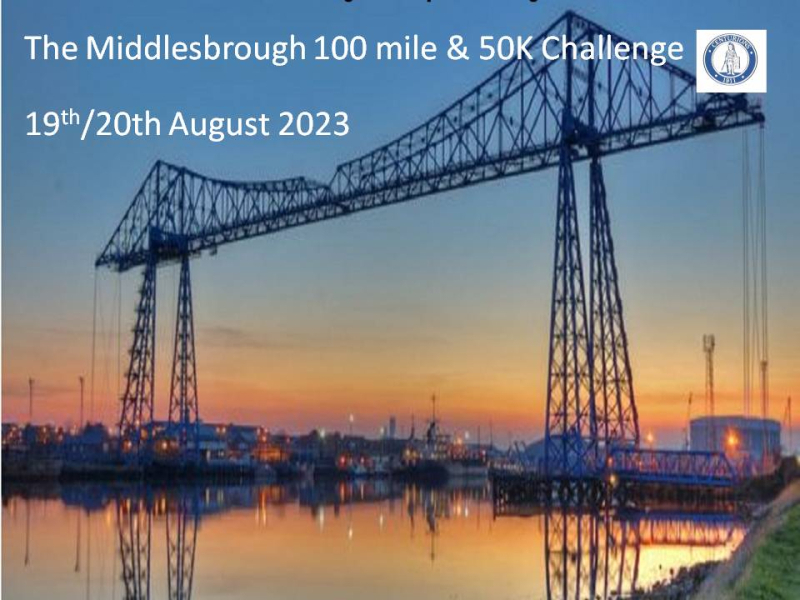 This Festival is in a testing state, and is not open for public sign-ups until the organiser has launched it.
Organiser's Description
The Centurions are proud to announce they are organising two race walks this year – the 2023 "100 miles in 24 hours" Centurion - qualifying race walk and a 50K race on the Cycle Circuit at Middlesbrough Sports Village (Alan Peacock Way, Marton Road, Middlesbrough TS4 3AE). The course is a wide flat tarmac cycle track of just under 1 km. The venue has 24 hour lighting, space for support tents, power supply for chip timing, parking, cafe and many other facilities.
Both races start at 12 noon and will be held under Category 'B' race walking rules. Minimum age 20 years old. The rules stipulate walkers must maintain contact with the ground and satisfy the judges they are walking.
The time cut-off for the 50K is 10 hours.
All entrants shall be deemed to have made themselves familiar with and agreed to be bound by the UKA Anti-Doping Rules and to submit to the authority of UK Anti-Doping in the application and enforcement of the Anti-Doping Rules.
The UKA Anti-Doping Rules apply to entrants participating in the sport of Athletics, for 12 months from the date of entry, whether or not the entrant is a citizen of, or resident in, the UK.
Walkers who complete 100 miles within 24 hours will be eligible to become Centurions, a unique athletic body open only to those who have achieved this remarkable feat. The Centurions were formed in 1911 and to date 1215 have qualified and joined this unique group of athletes. We look forward to welcoming walkers from the UK and overseas.
The race will incorporate the RWA National Long Distance Championship which UKA-affiliated walkers are eligible to enter. Prizes for the first 3 men and women.
UK walkers already qualified as a Centurion in Britain must be a member of a club affiliated to UKA. Overseas walkers should be a member of a club affiliated to their national athletics organisation. Entry fee is non-refundable. Closing date for entries is Friday 4th August 2023.
Prices
For each sign-up, the organiser pays the Service Fee of 4% (min 50p). You pay no surcharge
The Middlesbrough 100 mile Challenge
| Until | |
| --- | --- |
| 04 Aug 2023 23:59 | £75.00 |
The Middlesbrough 50K
| Until | |
| --- | --- |
| 04 Aug 2023 23:59 | £30.00 |
Dates and Status
Date: 19 Aug 2023 - 20 Aug 2023
Closing Date: 04 Aug 2023 23:59
Places Available/Total: ??/100
Status: Closed
List
Middlesbrough Cycle Circuit Middlesbrough Sports Village Alan Peacock Way Marton Road Middlesbrough TS4 3AE