Mid Argyll Triathlon and Cycle Club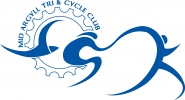 Organiser's Description
Mid Argyll Triathlon and Cycle Club has a small but active adult membership of all abilities. We have members competing in novice, sprint, olympic and Ironman triathlons, duathlons, mountainbiking, road biking, adventure races, road and fell running races and open water swimming events. We also have members who just like to do swimming, biking or running as part of their own recreational interests.Our motto is "Fun, Fitness and Fellowship".
We have regular formal and informal training sessions, an active website, and hope to develop training weekends/weeks away, we also have a developing social calender.
The club hosts and runs the MacQueen Bros Mid Argyll Triathlon at the end of September an event that is aimed at fun, community involvement and some serious competion in all race categories - individual and team.
The club also hosts and runs in partnership, the Kilberry Loop Sportive in August each year.
We welcome athletes of all abilities from elites to couch potatoes and have seen members develop their interest and talent in all disciplines and events emerging from complete novices to Iron Man competitors.
Membership benefits
12 month membership
Discounted training costs
Access to coaching advice
Invitation to all social events (excluding any ticket costs)
Chance to purchase a club cycling shirt or triathlon suit
Please note - Entry fees to races are not included in the above packages. Members must pay separately for race entry fees and Triscotland fees. When racing for the club, please use the Club full name on race entry forms.
Mid Argyll Tri and Cycle Club is a 'TriScotland' affiliated club and the Scottish Cycling union, so membership gives you the benefit of being part of these national bodies for the sport.
For more information please see our website at http://www.midargylltriclub.co.uk/ or our Club facebook page - Mid Argyll Triathlon and Cycle Club