Ilford AC 10 mile Cross Country has now closed and you will not be able to sign-up for it. Please check the Info for any organiser updates.
This event is in a testing state, and is not open for public sign-ups until the organiser has launched it.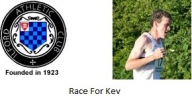 Ilford AC 10 mile Cross Country
30 Dec 17
ILFORD ATHLETIC CLUB present their 10 mile cross country race over 3 laps of an undulating route comprising tracks and grassland of Hainault Forest. This is an Open race but will also include the Ilford AC Club Championships. The Race also includes the Club Young Athletes XC Championships which will be held over 1 lap.
This race is once again being held as a tribute to Kevin Newell. A donation will be made to his charity.
Start Time 10:30am *** please note earlier start time ***
Advance postal entries can also be sent to Ilford AC, c/o 29 Wych Elm Road, Hornchurch, Essex, RM11 3AA (email . Postal entry form can be found here http://ilfordathleticclub.co.uk/wp-content/uploads/Race_for_Kev_Entry_Form_2017.doc
Cheques payable to ILFORD ATHLETIC CLUB.
Entries will also be available on the day but will incur a £2 surcharge.
There will be a cut-off time of 2 hours. For runners likely to exceed this time you may still complete the course but we cannot guarantee the course will still be marshalled.
Prizes to 1st 3 men/women and veteran categories.
Confirmation of entry will be sent to you by email ( if supplied) to the address provided on the entry form.
Race numbers are to be collected on the day from race HQ so please arrive early to collect your number.
Prizes will be presented on the day as soon as possible after the race has finished.
Results will be posted on the Club website www.ilfordathleticclub.co.uk asap after the event.
Organiser
Dates and Status
Date: 30/12/2017
Status: Closed
Total Places: 500
Places Available: ??
Prices
| Until | Discounted* | Standard |
| --- | --- | --- |
| 24 Dec 2017 | £7.00 | £9.00 |
*Discounted for members of any of EA WA SA
For each sign-up, the organiser pays the Service Fee of 4% (min 50p). You pay no surcharge
Event Address
HAINAULT COUNTRY PARK….Start at 10:30am opposite the pub "The Two Brewers" 57, Lambourne Road, Chigwell Row. IG7 6ET.