Harmeny AC 7R Multi Terrain Half Marathon
03 Dec 2023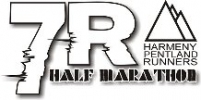 Harmeny AC 7R Multi Terrain Half Marathon has now closed and you will not be able to sign-up for it. Please check the Organiser's Description for any organiser updates.
This event is in a testing state, and is not open for public sign-ups until the organiser has launched it.
Organiser's Description
ENTRIES
The race is restricted to 150 runners. If there are more than 150 entries a ballot will be held. There will be a small waiting list.
There will be NO entries accepted on the day.
Competitors wishing to withdraw will receive a 50% refund up until 31st October. After that date there will be no refunds.
Please note that entries are non-refundable and not transferable.
GUARANTEED ENTRIES
If you are a previous winner of the race (male or female), or have completed the race (actual or 2020/21/22 virtual races) in under 1 hr 24 minutes (male) or 1 hour 42 minutes (female) you will be guaranteed a 2023 place. There will also be places for other elite runners at the discretion of the race director.
IMPORTANT NOTE
As this is a Multi Terrain event in the Winter please expect rough stone trails, boggy trails and possibly some shallow water crossings. There may be fog, rain, snow, or ice You may well get "WET" and "COLD" but we can pretty well guarantee that you won't be suffering from heatstroke.
It is MANDATORY that a space blanket and a wind/waterproof jacket be carried. It is also suggested that, as a minimum, you take a hat and gloves. Conditions on the day and common sense should dictate what other clothing to wear/carry. Please obey marshal's instructions.
As the race will be run across open farmland with livestock, no dogs are allowed on the course.
Some parts of the route are narrow so please be respectful of your fellow runners and members of the public. We do not have exclusive use of the hills. DO NOT DROP LITTER.
This event is not suitable or recommended for NOVICE RUNNERS
WEATHER AND RACE CONDITIONS UPDATE
Please check the race web site http://www.pentland7reservoirs.org.uk/ or the race Facebook page (7 Reservoirs Race Chat) for updates of weather and race conditions especially if bad weather is forecast.
RACE DATE
The 12th running of the Harmeny 7 Reservoirs Multi Terrain Half Marathon is organised by Harmeny AC and will take place at 10.00am on Sunday 3rd December 2023
RACE START POINT
The race starts and finishes at Threipmuir Farm Steading which is located between Harlaw and Threipmuir Reservoirs in Balerno.
RACE NUMBER
Your race number must be collected on the day of the race, between 08.30am – 9.30am at Harlaw Farm, Balerno, post code EH14 7AS. The farm is located opposite the road entry to Harlaw Reservoir car park.
NUMBERS ARE NOT TRANSFERABLE.
TRAVEL and PARKING
Coming by car: Follow road signs to Pentland Hills Regional Park,Harlaw Balerno which can accessed from either the Currie or Balerno end of Lanark Road West.
Due to limited parking it would be appreciated by the organisers if you could car share as much as possible.
The carpark for the event will be beside registration at Harlaw Farm. There may be some limited car parking available at the entrance to Harlaw reservoir. Further parking is allowed on the left side of the access road to the car park. There is a car park at Threipmuir reservoir but it is a long way to walk to registration.
DO NOT PARK ON THE RIGHT HAND SIDE
There will be marshals assisting with car parking, please take advice from them regarding parking and follow their instructions.
Coming by bus: The Lothian Region No44 is the best bus to use as it passes through both Currie and Balerno.
Coming by bike: Bikes can be left at Threipmuir Farm Steading and are left at owners own risk.
TOILETS
There are very very limited toilet facilities provided by an ECO (outside) toilet at Threipmuir Farm Steading.
ASSEMBLY AND MUSTER
All competitors should make their way to Threipmuir Farm Steading 20 mins before race start time, please note it will take you 15 mins to walk from registration to the start.
There are no changing and showering facilities available.
There will be a bag drop facility at Threipmuir Farm Steading.
The race will start at 10:00am.
COVID
Competitors must comply with any relevant Covid Rules and advice at the time of the event.
THE ROUTE
Multi Terrain route includes smooth trails, some tarmac, rocky trails, bog/marshland and possibly shallow water crossings.
Please obey any signals and directions given by any route marshals – if you are wearing headphones, for safety reasons please remove them when on the road or near marshals.
There is a checkpoint at 8 miles at Bonaly car park. Please ensure that you arrive at this point so that you can be checked in and out. A first aider will be at this checkpoint.
In the interests of safety of both competitors and marshals there will be a two hour cut off at this check point.
There will be sweep runners who will be available to administer minimal First Aid if required.
DISTANCE MARKERS
No distance markers for this race.
The route will be marked with signs or flags but you are well advised to make yourself aware of it before the race.
REFRESHMENTS
There will be a water station on the course at the 8 mile checkpoint (Bonaly car park) and at the finish of the race.
Hot soup and cakes/home baking will be available at the finish.
RACE PRIZES
Quality race medals and goody bags will be presented to all finishers.
There will be trophies for 1st, 2nd and 3rd Male and Female and prizes for 1st Male and Female over 50, over 60 and over 70. Only 1 prize per winner.
Prizes will be handed out as you finish. If for any reason a prize is not handed out, it will be delivered to the address given on your race entry.
RESULTS
The race results will be available on the event website at www.pentland7reservoirs.org.uk/
SPONSORS
Harmeny AC is extremely grateful for the support of the following organisations:
Up and Running, Stewart Brewing, more TBC - see website for details
CHARITY SUPPORT
The Harmeny 7R race is happy to support the following charities.
www.youthvisionscotland.co.uk Youth Vision Childrens activities Balerno
www.pentlandhills.org The Pentland Rangers
www.pentlandfriends.org.uk Friends of the Pentlands
A donation will also be made to the Pentlands Land Managers Association
Race run under SAF Permit No: 13238
Race Directors: Dougie Porteus / Rachel Shannon
Prices
| Until | Discounted* | Standard |
| --- | --- | --- |
| 29 Oct 2023 22:00 | £28.00 | £30.00 |
*Discounted for members of any of SA EA WA
To sign-up for this event, the Service Fee is 4% (min 50p) for each sign-up
Dates and Status
Date: 03/12/2023
Status: Closed
Total Places: 145
Places Available: ??
List