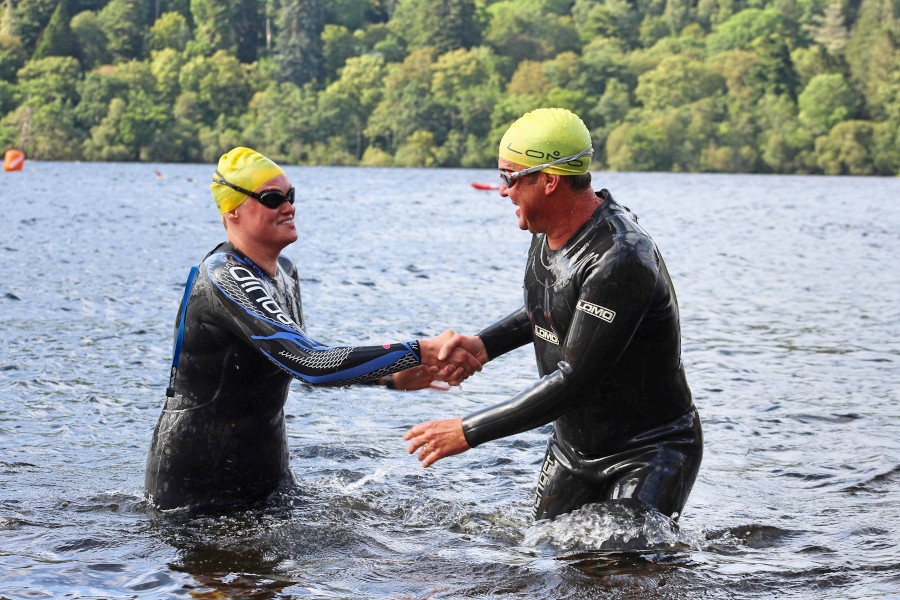 This Festival is in a testing state, and is not open for public sign-ups until the organiser has launched it.
Organiser's Description
Go Swim Loch Tay 2022
Join us for an Open water swimming experience you will never forget. We aim to provide swimmers with exhilarating, challenging and safe events, whatever their age or ability. So, whether it's your first time or you're looking for your next adventure, get out of the pool and take the plunge with Go Swim Loch Tay.
Loch Tay is a freshwater loch in the central highlands of Scotland, 23km in length. Taymouth Marina is located at the east end of the Loch and provides an ideal base for Go Swim Loch Tay
TAYMOUTH MARINA
The Taymouth Marina is packed with high quality facilities and activities including superb apartment accommodation with stunning views across the Loch, A fantastic Restaurant in a stunning location, an array of Watersports including kayaking, stand up paddle boarding, an Ice-Burg, Marina, and of course the Hotbox Sauna ideal for relaxing post race. If you want to book a celebratory lunch, afternoon tea or evening meal at The restaurant, or a relaxing Hotbox experience, available throughout the Event weekend, simply call them on 01887 830216 or Email: info@taymouthmarina.com
SUSTAINABILITY (Important Bit!)
We're trying to raise our sustainability game in 2022and beyond. Yes, it's small steps, but it's a start, and every bit helps. There is one main change to the way we're running events we want you to be aware of, and need your collaboration on please;
Cups: feed station cups are our biggest source of waste. So we're stopping using them. Completely. Single use cups are entirely avoidable. There will be no cups at feed stations. Instead (for 2022 only), and if you need one, we will supply you with a re-usable foldable 'soft cup' for use as part of your race entry. You will need to carry this with you and use it when you finish your swim.
RACE SCHEDULE, INFORMATION, COURSE MAPS
Indicative Weekend Swim Schedule:
5000m 12:00
3000m 13:00
1500m 13:30
750m 14:00
250m 15:00
250m Open Water Swim Open to those aged 8+ (under 12's must be accompanied by an adult 1:1)
750m Open Water Swim Open to those aged 12+
1500m Open Water Swim Open to those aged 16+
3000m Open Water Swim Open to those aged 18+ (Best Suited to Experienced Swimmers)
5000m Open Water Swim Open to those aged 18+ (Best Suited to Experienced Swimmers)
Please see the event website - www.go-swim.uk for race details. Full athlete guide will be posted on the website 10-14 days before the race, and emailed to entrants at this time.
ENTRIES
Wetsuit use is optional for water temperatures of 18⁰C or above. Water temperature of the Tay in August is between 14° and 16°. Swimmers choosing not to wear a wetsuit MUST use an approved high visibility tow float. This only applies to swimmers aged over 16 years old. Swimmers aged under 16 will be required to wear a wetsuit.
Water temperature of 20° and above: no wetsuit
Water temperature between 18° and 19.9°: swimmer can choose to wear a wetsuit or not
Water temperature between 14° and 17.9°: wetsuits are compulsary
Wetsuits are compulsary for all Juniors aged between 8 and 12 years
T&Cs
Please see www.go-swim.uk for details of the full Terms & Conditions associated with event entry, including refund, cancellation, withdrawal and transfer policies.
Entries are not transferable. Photographic ID may be requested at race registration.
Entrants wishing to withdraw must inform the organiser by email. Entry fees will be refunded or transferred as follows; up to (1 month prior to race date) 75% refund (less any Entry Central fees), up to (2 weeks prior to race date) 50% refund (less any Entry Central fees). After (2 weeks prior to race date) - no refund.
If the event is cancelled due to circumstances out of the organisers control then no refunds will be offered, and the organiser will accept no further liability whatsoever arising from such a cancellation. This includes situations such as adverse weather conditions or major incidents. In this circumstance, the organisers will make every reasonable attempt to reschedule the event, in which scenario, original entrants will have their entry automatically transferred to the rescheduled event.
If the event is cancelled due to circumstances within the organisers control then entrants will be offered a 50% refund. Entrants must apply in writing (via email) to claim their refund. No refunds will be granted after one month has passed from the event date.
No refunds will be granted after one month has passed from the event date.
Changes to entry details, and transfer of the entry to other events in the Still Going Strong portfolio may be possible with the permission of the organiser. There will be a small admin fee for this service, payable in advance. Please see the full Terms & Conditions for details.
Use of Data: By entering this event I agree that the data supplied by me can be used for the purposes of safely organising and managing the event, essential communications with me pre- and post-race, and for electronic event timing. This data will be held securely, and for a maximum of 1 year. Email data may be used indefinitely for the purposes of sending occasional e-newsletters by Still Going Strong only. The full Still Going Strong data use policy can be found HERE.
Prices
To sign-up for this event, the Service Fee is 4% (min 50p) for each sign-up
Go Swim Loch Tay 5000m
| Until | |
| --- | --- |
| 17 Jan 2022 | £40.00 |
| 15 Aug 2022 23:59 | £50.00 |
Go Swim Loch Tay 3000m
| Until | |
| --- | --- |
| 17 Jan 2022 | £35.00 |
| 15 Aug 2022 23:59 | £40.00 |
Go Swim Loch Tay 1500m
| Until | |
| --- | --- |
| 17 Jan 2022 | £30.00 |
| 14 Aug 2022 23:59 | £35.00 |
Go Swim Loch Tay 750m
| Until | |
| --- | --- |
| 17 Jan 2022 | £25.00 |
| 15 Aug 2022 23:59 | £30.00 |
Go Swim Loch Tay 250m
| Until | |
| --- | --- |
| 15 Aug 2022 23:59 | £15.00 |
Dates and Status
Date: 20 Aug 2022
Status: Closed
Event
Available/Total
Closing Date
Go Swim Loch Tay 5000m

??

/150
15 Aug 2022 23:59
Go Swim Loch Tay 3000m

??

/150
15 Aug 2022 23:59
Go Swim Loch Tay 1500m

??

/150
14 Aug 2022 23:59
Go Swim Loch Tay 750m

??

/100
15 Aug 2022 23:59
Go Swim Loch Tay 250m

??

/100
15 Aug 2022 23:59
List