GIRLCODE Hyrox Challenge
22 Jul 2023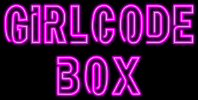 Organiser's Description
A Hyrox Simulation with a difference 💪🔥.
Come along to GIRLCODE BOX with your Hyrox Partner and complete as many Simulations as you can in 12 Hours.
A simulation is essentially the same as a Hyrox event: 1km of running then 1 exercise repeated 8 times.
If you are a Hyrox First Timer and want to pop in and complete one then just let us know what time suits you. If you want to do the full 12 Hours then let's get to work 🥳💪🔥.
This event is for EVERY BODY, you can complete as many Hyrox Sims as you can, swapping partners is allowed. This is a no pressure event, this allows first timers to get a full simulation in before attending their first Official Hyrox Event or for seasoned Hyroxers let's see what you can do.
Everybody will receive an AWESOME medal on completion of their chosen number of sims and we will have prizes for the most Female, Male and Mixed Team Sims Completed on the day, no swapping of these team members allowed.
We will also provide food and hydration for all competitors and have first aid and sports injury specialists onsite.