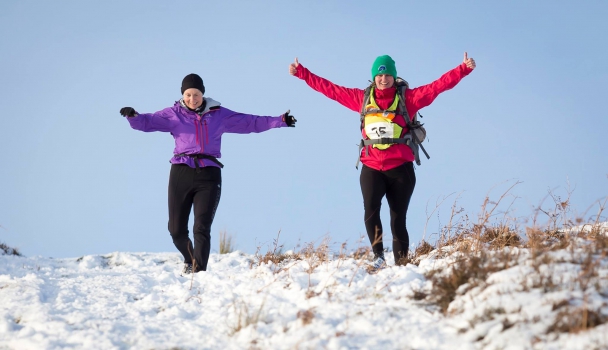 Feel The Burns is now full, but you may join the Waiting List.
Organiser's Description
RULES
The race will be run under SHR rules
DISTANCE/ASCENT

13.7 miles (approx)/ 800m (approx)

RECORDS
Men 1:24:18 Sasha Chepelin 2023
Women 1:43:30 Scout Adkin 2014
ENTRIES - BY ENTRYCENTRAL ONLY - NO ENTRY ON THE DAY Entry fee £12.00 by 12th January. For safety reasons, no substitution of entrants' names will be permitted. Online Entrants @ Entrycentral will receive a confirmation email. If the event needs to be rescheduled then all entries will be deferred and another date set. No refunds will be offered.
WEBSITE http://facebook.com/SelkirkFundRunners. Updates will be posted on here.
CHANGING FACILITIES will be available at Selkirk Rugby Club before and after the race.
REGISTRATION will be at Selkirk Rugby Club from 9.30am. There will be a race briefing at approx 11.30am. This will be at the Rugby Club.
TOILETS are located in Selkirk Rugby Club.
FULL EMERGENCY KIT MUST BE CARRIED comprising wind and waterproof full body cover, hat & gloves, map of race route (please print from link below), compass, whistle and emergency food must be carried by all runners. Kit will be checked at the start (all - no exceptions) and any runner not complying will be disqualified. Random kit checks may be carried out on the course.
ROUTE MAP Route Is available on the Scottish hill racing website www.scottishhillracing.co.uk.
SAFETY This race is an arduous event which should not be undertaken by runners who are unfit, or are inexperienced in the hills. Runners must be at least 18 years old. The organisers cannot accept any liability for any accident or injuries. No accompanying dogs are allowed. Organisers reserve the right to postpone or shorten race due to severe weather conditions.
HILL RESCUE COVER & FIRST AID will be provided by Tweed Valley Mountain Rescue Team.
THE START will be at the Corby Lynne field at 12 noon. Approx 0.5 mile from the rugby club.
FLAGGED SECTIONS The course will be marked and marshals positioned at checkpoints and along the route.
CHECKPOINTS information is provided below (OS Sheet 73).
| | | | | |
| --- | --- | --- | --- | --- |
| | Description | Grid Ref | | approx mile |
| Checkpoint 1 | Peat Law Hill | 73/444307 | | 2 |
| Checkpoint 2 | Three Brethren | 73/433319 | | 3.5 |
| Checkpoint 3 | Brownknowe Hill | 73/379328 | | 7 |
| Checkpoint 4 | Broadmeadows Farm | 73/409306 | Water station | 9 |
| Checkpoint 5 | Foulshiels Hill | 73/426302 | | 11 |
| | | | | |
It is the responsibility of each competitor to ensure they have been recorded through all checkpoints. Checkpoint 4 closing time will be 2.15pm. Runners outside this time may be asked to withdraw from the race at this point. Any runner retiring from the race for any reason must report ASAP to the nearest manned checkpoint, and to the timekeepers at the finish (tel 07776413725).
THE FINISH will be at Corby Lynne Field.
PRIZEGIVING Food and drinks will be provided at the rugby club and prize giving will be at 3.30pm approx. **Please bring your own mug for tea/coffee and help us save on single use cups**
Prices
| Until | |
| --- | --- |
| 12 Jan 2024 23:59 | £12.00 |
To sign-up for this event, the Service Fee is 4% (min 50p) for each sign-up
Dates and Status
Date: 14/01/2024
Status: Waiting List
Total Places: 350
Places Available: ??
List