Edinburgh#3 Family Annual (non) Awards Night
13 Nov 2021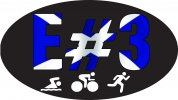 Organiser's Description
It's been another great year for Edinburgh#3 - many new people taking part in new events and lots of podium places throughout the year for many too. Let's finally celebrate face to face with a fun social occasion!
Our annual E#3 Family (non) Awards Night will be held at Bainfield Bowling and Social Club on Saturday 13th November and will run from 7.30 - 12.00pm.
Tickets are £5 each. The price of your ticket will include a short training pitch from Kev, hopefully a Q&A session with World Triathletes, Cam Main and Sophia Green to inspire us all (Commie Games camp pending), food and presentation of the E#3 Awards from last year that were only given out virtually!
Feel free to invite friends and family to our special night too, the more the merrier. The bar will be open and the drinks are cheap at Bainfield Bowling Club! We look forward to a great night.
Tickets usually sell out fast for this event so don't delay buying them!
Any questions please contact Kirst MacArthur (kirstmacarthur@hotmail.com) or speak to one of the coaches at the club.
NB/ The expectation is that younger members of the club are accompanied by their parent(s).
Prices
| Until | Price |
| --- | --- |
| 12 Nov 2021 | £5.00 |
For each sign-up, the organiser pays the Service Fee of 4% (min 50p). You pay no surcharge
Dates and Status
Date: 13/11/2021
Status: Open
Total Places: 100
Places Available: ??
Organiser
Kirsten MacArthur
07962260769
Bainfield Bowling and Social Club 34 Hutchison Crossway Edinburgh EH14 1RU