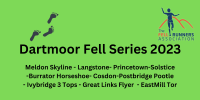 This Festival is in a testing state, and is not open for public sign-ups until the organiser has launched it.
Organiser's Description
East Mill Tor Loop- Series Finale - Fell Race
A huge thank yuo to Okehampton Running club for jointly hosting the last race of the series. It promises to be an interesting day with other events going on in the village. A great course from one of the the nicest villages on dartmoor. Registration is now on the village green , parking as usual on the cricket green.(Please suggested £1 car donation). Registration will be open from 9am as juniors start at 09;45 am. The start is up at the west (not south) gate to the moor. A spectacular route of just under 6 miles of fantastic and in parts technical running but always with breathtaking views . Finishing at the Tors Inn pub. Also incorporating Junior Races. Please come along and support the last race of the Dartmoor Fell Series! well done to those few enthusiasts that have done all the races.
Saturday 30th September 2023 , Seniors start at 10:30 am (briefing and count at 10:20 at west gate , Juniors U9 & U11; U13 & U15 briefing at start line ( gate by moor) by 09:45 start at 09:50 - finish at gate. Juniors U17 and U19 will race in seniors race- Race and series presentations for juniors after seniors have started at the registration tent. Please come and watch the last of the junior series - some great runners on a very watchable course.
Male course record Jamie Parkinson 45 min 00sec on a very windy day and ; Female course record Claire Watkins in 66 mins 49sec. both Oct 15th 2022.
Awards for normal ages groups.
The run will be limited to a maximum of 250 competitors
Minimum age limit for this event is 15 years.( u15 race in juniors)
SW fell runners and Okehampton Running Club are pleased to stage this early Saturday fell race with supporting younger age group events.The event has an FRA licence and all junior courses are marshalled, senior course will only be marshalled at key points easy nav - no markers. We will have North Dartmoor Search and Rescue Team support on the course. We are welcoming anyone with an interest in off-road running to this series finale.

Junior 6-11 yrs( age at year end) 2k with 120m of ascent, starting at 09:50 , Youth 12-15 yrs, 4.0k with 150m of ascent, starting at same time, please pre-enter if you can.
Juniors u17 and U19 race with seniors at reduced fee £2.50 online plus 50p booking.
Adults Race 7.5k, with 380m of ascent, starting at 16:00, £5:50 entry on-line plus 50p booking. Will be £8 entry on the day.

Adult race prizes awarded for 1st, 2nd and 3rd finishers and winners of U23, and normal vet categories hopefully soon after the race.

All race Parking, please use the Cricket field - with their kind permission its just a short walk to the village ( please give a donation £1 suggested) . All junior entries are on the day, closing 20 minutes before each race starts.

The Course
Starting at the gate head straight up the rocky approach to Belstone tor, follow the ridge along to Oke tor, head west -sharp drop down to ford crossing then sharp rise up sheep trod to East mill tor, quick descent down to the ford - either direct or further round on the stoney path, a very wide ford crossing then stright along then up to Winter tor and then back up to Belstone tor, now fast back ( taking care over rocks) to the start gate but you have not finished straight down the road and turn right to finish next to the pub. ,,,and chill.
Due to time of year - kit may need to be taken - please come prepared to run with raincoat, hat, gloves, whistle, compass and map. Kit will be advised on the day.
This a short Cat B race. If there is a severe weather forecast check this site for details.

Anyone willing to marshal junior or adult races please contact John Binns at Okehampton running Clubt via facebook messenger. thank you.
How to enter
Deadline for entry will be thursday 28th September at 20:00hrs . Entries on the day are £8 for anyone in senior race.
registration is open from 9.00am and for seniors will close at 10:15!
This race may be full so book early.
Prices
To sign-up for this event, the Service Fee is 4% (min 50p) for each sign-up
East Mill Tor loop -Series Finale (seniors)
| Until | Discounted* | Standard |
| --- | --- | --- |
| 28 Sep 2023 20:00 | £5.50 | £6.00 |
*Discounted for members of Fell Running Association
East Mill Tor loop -Series Finale (U17,U19)
| Until | Discounted* | Standard |
| --- | --- | --- |
| 28 Sep 2023 20:00 | £2.00 | £2.50 |
*Discounted for members of Fell Running Association
East Mill Tor loop -Series Finale (juniors)
| Until | Discounted* | Standard |
| --- | --- | --- |
| 28 Sep 2023 20:00 | £1.00 | £1.50 |
*Discounted for members of Fell Running Association
Dates and Status
Date: 30 Sep 2023
Closing Date: 28 Sep 2023 20:00
Places Available/Total: ??/250
Status: Closed
List