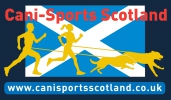 Organiser's Description
Canisports Scotland is pleased to invite you to our Isle of Mull race weekend
2 day event 7th & 8th of October 2023
Sponsored by The Happy Go Lucky Dog Co Limited
Held at Glengorm Castle, Tobermory, Isle of Mull, Argyll PA75 6QE
NOTE - It will take you an hour to get from the ferry to the venue on island roads, some narrow with passing places allow plenty time and be patient, enjoy the views.

Race Day Briefings SATURDAY 12.15pm, 1st race off at 1pm, registration from 11am
Race Day Briefings SUNDAY 9.30am, 1st race off at 10am, registration from 8.30am

Race both days or single day, prize givings both days at approx 3pm Sat /12.30pm Sun
CLASSES/PRIZES
1st - 3rd Male & Female in Junior Canicross
1st - 3rd Male & Female in age group categories on Saturday & Sunday
1st - 3rd Local* (Male & Female if sufficient entries), Saturday & Sunday
1st - 3rd Non Dog Male & Female, Saturday
Entry fees : Adults (5.5k*) £20, Juniors & Kids (2.5k*) £10
Short Course fun run both days £10 per day (no prizes)
*All race distances and data are approximate and may change at any time.
Map is provided as a guide only.
RULES PLEASE READ CAREFULLY BEFORE FILLING IN ENTRY FORM OR ASKING QUESTIONS - SEE LIST OF CLASSES BELOW
FERRY/TIMETABLE Races timings are set to allow day visitors on the Saturday and to allow weekend visitors a chance to pack up and make a selection of ferry times to get home on the Sunday. We suggest you book your ferry in advance as vehicle spaces will be limited and if possible take a longer holiday on the island and travel earlier and leave later to free up car spaces at busy times. Visit Cal Mac Website to book your vehicle on the ferry, prices are very reasonable.
NON DOG CATEGORY We include a non dog category for mull race only to allow folks to enjoy the beautiful cross country trail course at Glengorm. These runners will be set off amoungst the canicrossers in a seeded order.
DOGS must be a year old on the day of the race, in season, pregnant or lactating bitches are not permitted to race. Bitches in Season should be kept well away from the start / finish area and not taken on or near the course if brought to the event.
Dogs must be kept on the lead at all times during the race and should not be run in a slip lead, check/choke chain, head collar, flexie lead or any collar that restricts breathing, if a muzzle is required it should be of the wire greyhound racing style. For your dogs comfort we suggest they run in a suitable harness, some equipment may be available for sale or hire on the day.
Dogs should not be brought to the event if they are coughing or have recently been in contact with infectious disease. It is the owners responsibility to ensure their dog is fit and healthy before racing. If in doubt consult your vet.
A dog may only run in one 5k event per day. If a dog runs the junior 2.5k class or short course and the owner is happy with the dogs fitness it may also run in the 5k class.
Note you may run a different dog each day.
AGE GROUPS Are for runners age on day of race, the organiser has the right to split or combine age gender/groups/classes based on numbers entered. To split an age group, gender or class at least 6 entries required in each category.
Our age groups, subject to entries should be: 7-10, 11-15, 16-24, 25-39, 40+, 50-59, 60+, 2 dog - male and female if enough entries are recieved to merit a split. A 15 year old may opt to run the 5k but may not then revert to junior for all future races.
*LOCAL an extra set of medals 1st - 3rd will be awarded to runners who live on the island, male and female if sufficient entries in each category. Locals are guaranteed a space in the race if the race appears full please contact the organiser.
SEEDED STARTS Race starts are staggered and seeded for safety and to minimise overtaking. Please put your current 5k personal best time on the entry form (if you dont know please estimate). The organisers may alter your start position based on historic results if they feel your position in the start list would mean multiple overtakes are likley. Please give an accurate PB as manual manipulations add to the time it takes to process the race.

PRIZE GIVING Will be held both days approx 3pm Saturday and 12.30pm Sunday.

BORROWED DOGS It is presumed that you are running with your own dog. If you must borrow a dog to race with you may only enter a single dog category, you should be familiar with each other, have trained together prior to the race, the handler should be aware of the dogs behavior in a race environment and be responsible for its care throughout the event. You will not be permitted to race with a borrowed dog that you have only just met.
CHILDREN runners age 7 - 10, on the day of the race, must be accompanied by an adult 18+ WHO IS KNOWN TO THE CHILD and also attached to the dog, on foot (no bikes). 11 - 15 year olds can run alone but may have an adult with them if desired. The adult is there for safety only the child must handle the dog themselves. The child and dog should cross the finish line first, before the accompaning adult. It is presumed that children will be running a family dog, if they must borrow a dog to race with it should be of an appropriate size and strength that the child could handle the dog alone.
All children attending the event to run or spectate must be supervised by an adult at all times and instructed not to approach dogs they do not know. All Children must not be allowed to wander around the venue unsupervised, there are dangers everywhere your children are your responsibility.

KIDS RACES /SHORT COURSE / FUN RUN is a shorter option for adults or for those wanting to have a go at canicross, adults wanting to accompany their 7-10 kids and enter the fun run/short course can do so and are welcome to share a dog. You may run one or 2 dog in adult fun run (put both dogs names in the one file on entry form) NOTE There are no prizes for the Adults Fun Run. Note you must be 18+ to run with 2 dogs.
INSURANCE The race will be covered by event/public liability insurance but all racers and spectators attend the event and run at their own risk. It is recommended that you hold personal liability insurance for canicross racing.
CHANGES TO ENTRIES Changes to entries must be made by email only to canisportsscotland@hotmail.co.uk substituting of dogs is allowed, and can be made on the day, but we are unable to transfer an entry to another runner. If you need to transfer between classes, i.e. one dog to two dog or long course to short course etc., this should be done before entries close and the start the list is published (entries close Sunday 27th September 2020). Start list is published in advance to pick up any minor errors errors only. There is no refund available if you withdraw from the event. If you must withdraw due to injury etc. but marshal instead your entry can be transfered to a future race.

CANCELLATION Should the race have to be cancelled or postponed for reason beyond the organisers control or in the event of bad weather, making the course too dangerous to run on, the organisers reserve the right to take expenses already incurred from entry fees before using any remaining moneys to refund entrants. To claim a refund competitor(s) should send a self addressed and stamped envelope to the organiser within a month of the event date. NOTE it is the entrants responsibility to check the race is still on before traveling, the organisers will, post on facebook, and email all entrants if there are any last minute changes - please check your email before traveling.

FACILITIES Please respect the facilities and venue. Clean up after your dog in all areas and on the course
Toilet areas should not be used to wash mud off legs, children, dogs, shoes etc. Sinks are for hand washing only. Bring suitable changes of clothes, towels wet wipes with you. Keep dogs on the lead in all areas the venue, car park, camping area, near livestock and on the course. Feel free to walk your dog off lead round the public areas of the venue after the event.

FOOD There is a lovely cafe within walking distance of the camping area which serves nice food and cakes, marshals wil be givine a voucher for teh cafe. Tobermory has the usual sit in and takeway restaurants. The breakfasts and food on the ferry are very nice.

CAMPING (please support on site camping as it helps subsidise this event/toilet hire etc). Camping is available on site for racers and supporters on grass fields adjacent to the start area £10 per unit per night, marshals camp free, toilets will be chemical loo, there is a proper toilet in the farmyard and at the cafe. A trailer will be available for tied black binbags to be put in for taking to the tip, all rubbish must be in tied black bags. Water is available up the track by the barn. Marshals camp for free on the day they marshal.
Camping with facilities is available nearby http://www.tobermory-campsite.co.uk.

SELF CATERING Glengorm Self catering properties available to let out for 3 nights over the weekend if anyone is interested contact via their website.

SAFETY Please listen to the race briefing and marshals instructions. If your dog(s) are likely to be noisy and excited please do not bring them to the race briefing so that everyone can clearly hear safety instructions.
Human and Canine firstaiders are on duty at all events wearing high viz yellow vests, please ask if you or your dog are in need of help.

TRADE STANDS Sponsors Trade Stall for Happy Go Lucky Dog Co Ltd should be available. Trade stalls wishing to attend please contact the organiser.

EMERGENCY VET
Mull and Iona Vets, Lagganulva Farm, Ulva Ferry, Isle of Mull, PA73 6LT
Tel: 01688 500139
____________
Organisers:
Cani-Sports Scotland
RACE DIRECTOR - Karen Connal, 40 Netherhouse Avenue, Lenzie. G66 5NG Tel: 0777 904 1322
Prices
The organiser has included pricing details in the Organiser's Description
For each sign-up, the organiser pays the Service Fee of 4% (min 50p). You pay no surcharge
Dates and Status
Places Available/Total: ??/500
Status: Closed
| Event | Date | Closing Date |
| --- | --- | --- |
| CSS Mull 5k Saturday | 07 Oct 2023 | 01 Oct 2023 08:00 |
| CSS Mull 5k Saturday (without dog) | 07 Oct 2023 | 01 Oct 2023 08:00 |
| CSS Mull 5k Sunday | 08 Oct 2023 | 01 Oct 2023 13:00 |
| CSS Mull Short Course Saturday | 07 Oct 2023 | 01 Oct 2023 08:00 |
| CSS Mull Short Course Sunday | 08 Oct 2023 | 01 Oct 2023 08:00 |
List