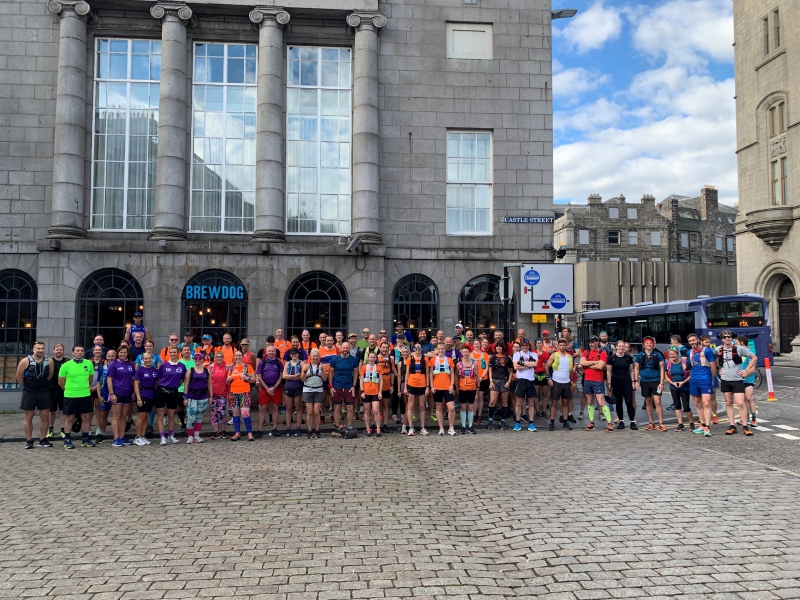 BrewDog Christmas Run 2023 has now closed and you will not be able to sign-up for it. Please check the Organiser's Description for any organiser updates.
Organiser's Description
The BrewDog Christmas Run
Friday 29th December 2023 - 10.30am

Starting at BrewDog Castlegate, running to BrewDog DogTap, Ellon
Distance: Approx 21 miles (34k)
Or alternatively start at Dyce and run 15 miles (24k)
This is a fun run - not a race. We will run at a steady pace, via the Gallowgate, Haudagain, and Dyce, and then along the old railway line to Ellon.
You can expect to take around 3 1/2 to 4 hours to cover the 21 miles.
If the full run seems a bit much, then you can start at Dyce, and reduce the distance to 15 miles (24k). Either join us in Castlegate for the briefing and then hop on a train, or just meet us at the Dyce checkpoint for 11.30am

On arrival at DogTap, we will have the use of the museum room at the back, or if the sun is shining, there is plenty of outdoor space.
You can leave Ellon whenever you want, and arrange a lift back, or take the short walk from Dogtap to the Park & Ride, where there are regular buses back to Union Square.
You will need to be relatively self sufficient during the run, and dress appropriately for the weather, bearing in mind the winter conditions. There will be two drinks stations en route (stocked with beer, snacks and water!)
We will arrange bag transportation from Castlegate and Dyce to DogTap so you can have clothes to change into at the end.
Participants will receive a hand made medal and a great goody bag at the end, containing a special edition t-shirt, beer, snacks, water, and more.
And if you don't want a t-shirt, we'll plant a tree for you instead

Or you can have a t-shirt and a tree for only £6 more.
Entry Fee : £38
(free places available to BrewDog Employees - email fitlikejoggers@gmail.com)
Numbers are limited, and no entries will be taken on the day
For further information check out the Brewdog Run Facebook Page
or contact
fitlikejoggers@gmail.com or 07881 522337
Have a look at some of the pictures from previous BrewDog runs
https://www.fitlikejoggers.com/brewdogrun
Prices
| Until | |
| --- | --- |
| 20 Dec 2023 23:59 | £38.00 |
To sign-up for this event, the Service Fee is 4% (min 50p) for each sign-up
Dates and Status
Date: 29/12/2023
10:30:00 - 15:30:00
Status: Closed
Total Places: 150
Places Available: ??
List
BrewDog Castlegate 5-9 Union Street Aberdeen AB11 5BU