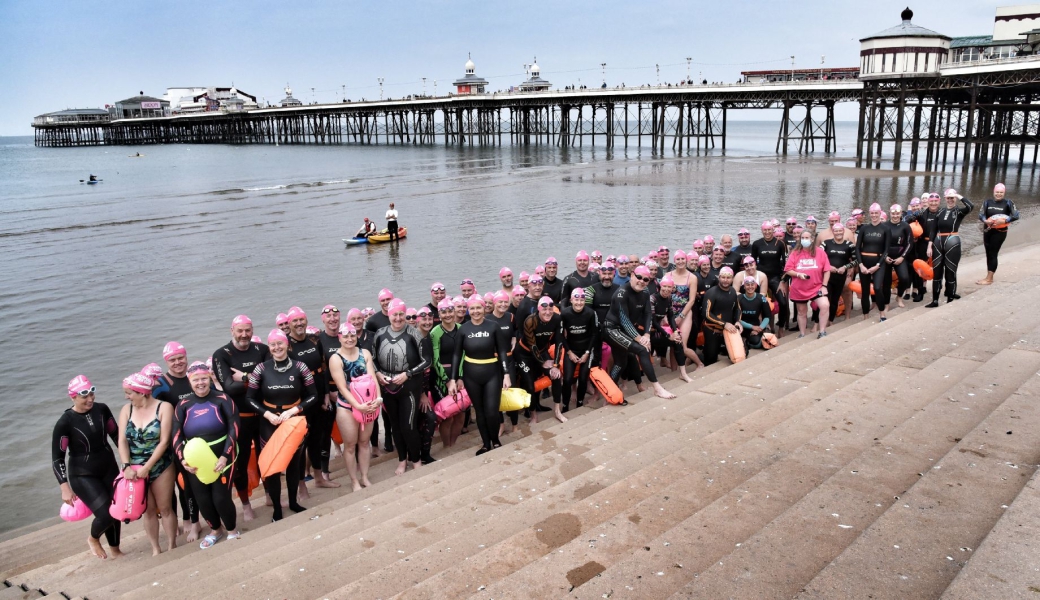 Blackpool Pier to Pier Open Water Swim has now closed and you will not be able to sign-up for it. Please check the Organiser's Description for any organiser updates.
This event is in a testing state, and is not open for public sign-ups until the organiser has launched it.
Organiser's Description
The Annual Official BLACKPOOL Pier to Pier Swim
Saturday 9th September, 2023
This iconic event is a regular event thanks to The Team at Get Set 4 Success Ltd and all the Blackpool Pier Swim stakeholders and supporters. As a result of the huge success the last few years, it has become an annual swim. There is a also a non-wetsuit category.
Swim safely between Blackpool's North and South Pier and have amazing fun. You will also get one of Blackpool's famous Heritage tram rides to the start taking in the attractions as you go along the Golden Mile with the famous Blackpool Tower
Further details can be found below:
Please visit us on: https://www.facebook.com/Blackpool.Pier.to.Pier.Swim/
https://www.getset4success.co.uk/coaching-services/events/blackpool-pier-swim/
The Course
The iconic BLACKPOOL Pier to Pier Open Water Swim is set in the Lancashire Seaside resort of Blackpool, famous for many attractions.
SO WHAT ARE THE BENEFITS TO YOU OF ENTERING THIS ICONIC SWIM?
You will swim between all three piers from North to South Pier and be looked after in the water by the highly experienced Blackpool Beach Patrol. You will take a Tram to North Pier, the start of this swim. As you move along the waters of the Irish Sea, you will be able to sight-'sea' from a distance and pass alongside the Golden Mile and the famous Blackpool Tower. You will finish at the Sandcastle Water Park and even be able to pop along to Blackpool's well-known Pleasure Beach to complete your action packed, fun and enjoyable day. PLUS receive all below *
Location: Sandcastle Water Park, South Beach, Blackpool, Lancs FY4 1BB
Distances and further details:
Approximately 1.6 miles

(Please note that we reserve the right to move the Event to Sunday 10th September 2023 or another date 2024 should the weather and sea conditions be unfavourable for both Saturday and Sunday)
Registration - will open (tbc) on the Promenade next to the Sandcastle Water Park though time/location of briefing and registration may be subject to change and at the organisers discretion given the ever changing situation due to covid. (Use Streetview UK to see location - if link doesn't work insert Sandcastle Waterpark in to the search engine on Streetview) https://www.instantstreetview.com/@53.794001,-3.056417,-85.88h,5p,1z,xZooMbbVpXyq8DO874ceWQ
Information will be posted on the website regularly leading up to the swim. Please keep an eye on this: https://www.getset4success.co.uk/coaching-services/events/blackpool-pier-swim/
Start Times - The Event will be one wave of swimmers (although we reserve the right to split into two waves and in accordance with safety requirements as per Blackpool Beach Patrol). The start time is (Approx & TBC) on Saturday 9th September (the Event Organiser reserves the right to change timings subject to weather conditions). Alternative date for 2023 is Sunday 10th September. Registration from (TBC). Please keep watching the website for updates.
Time Limit - will be 1.5 hours after which time any swimmer will be instructed by the Beach Patrol to get out of the water and will be taken to shore
It is anticipated the Event along will finish approx. 5 hours after registration. Bespoke commemorative souvenirs will be presented to swimmers when they finish their swim, along with t-shirt. These have a very unique image as Get Set 4 Success Ltd continue to have their specially commissioned illustrator designing it.
Entries
Online entry opens: 6pm on Monday 12th December, 2022
Online entry closes: Midnight 28th July, 2023
You must be over 18 years of age on the day of the race to enter the event.
Entry prices
£72.50 (plus Entry Central service fee)
Refund Protection Payment is Optional
* Entry fee includes:
Full water safety cover provided by Blackpool Beach Patrol Service and in liaison with HM Coastguard
Complimentary Tram ride to start at North Pier
Finisher's Bespoke Plaque
Blackpool Pier Swim T-Shirt for everyone who finishes (to guarantee your tee shirt size entries MUST be have been received at least six weeks before the event.)
Commemorative swim hat
An exciting, fun and safe open water swim for all participating
Other 'things' to be announced later
Equipment
Swim hats with numbers must be worn at all times when in the water (provided on the day)
Wetsuits and non wetsuits
Goggles
Safer Swim/Tow floats (not provided). Bright colours such as orange, pink and yellow please! Mandatory for all participants.
Water temperature
Based on average water temperatures for the end of July over the last few years, we expect the water temperature in the Irish Sea to be between 14°C and 16°C for the Blackpool Pier to Pier Open Water Swim Event. The temperature in the sea can vary quite a lot depending on the amount of rainfall and sunshine we have. If you wish to be kept updated on the water temperature in the run up to the event please keep a watch on the website or feel free to drop us an email.
Terms & Conditions
Please note Get Set 4 Success Ltd operates a no refund policy. If the event has to be cancelled and/or postponed for whatever reason, an alternative date will be offered. Should the alternative date be unsuitable, then your entry will automatically be carried over to the following year at no extra cost. (Check website re: consecutive year cancellations for whatsoever reason). Ask the organiser at that time. Thank you.
EVENT RULES, CONDITIONS AND FURTHER INFORMATION:
These will be published near the time on the website so please keep checking :
https://www.getset4success.co.uk/coaching-services/events/blackpool-pier-swim/