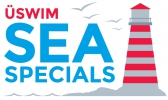 Sea Special (3) - Colwyn Bay
30 Aug 2020
Sea Special (3) - Colwyn Bay has now closed and you will not be able to sign-up for it. Please check the Organiser's Description for any organiser updates.
This event is in a testing state, and is not open for public sign-ups until the organiser has launched it.
Organiser's Description
'SEA SPECIALS' (Colwyn Bay) - 10.30-12.30pm
Colwyn Bay Watersports Centre
£10.00 (£15.00 on day)
In the Summer Uswim heads to the Coast to provide supervised sea training opportunities for triathletes, open water swimmers and water lovers. Expert water safety is provided on a 500m swim course so swimmers can gain the confidence and experience needed to successfully complete their challenges such as Ironman Wales etc.
The 'Sea Specials' are based at the top quality Colwyn Bay Watersports Centre which offers all amenties such as changing, hot showers, cafe etc.
DATES
1) 7 June, 2) 12 July, 3) 30 August
Colwyn Bay Watersports Centre
ENTRY COST: £10.00 (£15.00 on day)
Prices
The organiser has included pricing details in the Organiser's Description
To sign-up for this event, the Service Fee is 4% (min 50p) for each sign-up
Dates and Status
Date: 30/08/2020
Status: Closed
Organiser
David Quartermain
07871268289
Dock 9, Salford Quays, M50 3AZ