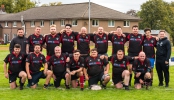 Clydesdale R.U.F.C Virtual 5k 10k & Half marathon
23 Aug 2020
Clydesdale R.U.F.C Virtual 5k 10k & Half marathon has now closed and you will not be able to sign-up for it. Please check the Organiser's Description for any organiser updates.
This event is in a testing state, and is not open for public sign-ups until the organiser has launched it.
Organiser's Description
CLYDESDALE R.U.F.C
Virtual 5k, 10k & half marathon
raising in aid for clydesdale Rugby union football club
cost to enter Virtual event is £7.50
Each person will recieve a custom unique medal and thank you letter for Supporting the Community rugby union club Clydesdale R.U.F.C
Clydesdale RFC are a South Lanarkshire rugby union club who compete in the west regional league west three of the scottish rugby union
£4 from each walker jogger or runner will be donated to
build for the 2020-2021 season ahead

So how does a virtual run work?
1. Sign up
2. Complete Your virtual Race
3. Submit your results
A virtual race is a race that can be run (or walked) from any location you choose. You can run, jog, or walk on the road, on the trail, on the treadmill at the gym or on the track where ever you can do it. You get to run your own race, at your own pace, and time it yourself.