Hereford Duathlon 2023
02 Apr 2023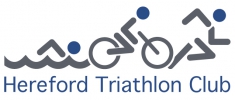 Hereford Duathlon 2023 has now closed and you will not be able to sign-up for it. Please check the Organiser's Description for any organiser updates.
This event is in a testing state, and is not open for public sign-ups until the organiser has launched it.
Organiser's Description
Hereford Duathlon
5K Run 16 Miles Bike 2.5K Run
Hereford Triathlon Club are delighted to be able to bring the Hereford Duathlon back on Sunday 2 April 2023. With Race HQ at the new venue of The Livestock Market, Roman Road, Hereford, the event will offer a safe, traffic free run and a scenic bike route through the beautiful Herefordshire countryside.
This is an ideal race for beginners, novices and also those wanting a super-fast sprint event. With a mass start at 9.00am you'll head out onto the path running alongside the Roman Road and complete a 5k circuit before heading back to the Livestock Market to collect your bike. The 16 mile bike route takes you in the direction of Credenhill and Mansel Lacy before turning off in Norton Cannon and dropping down into Mansel Gamage. Here you'll join the A438 and head back towards Hereford where you'll be directed back to the Livestock Market to undertake the final 2.5k run
Bike route - https://connect.garmin.com/modern/course/134767754
The event will be chip timed and all finishers will receive a unique medal.
Our aim is to make this race as relaxed and friendly as possible. Marshals will be on the bike and run routes to not only ensure your safety, but also give you a cheer.
Hereford Triathlon Club is a local club managed completely by volunteers. We offer weekly coached swimming sessions, a weekly running club and group cycle rides on a weekend. Any profit from this event will be used to help with the club development and annual costs. New members are always welcome, so please get in contact if you're interested in joining us to help your training.
IMPORTANT INFO
The event will be held under the guidance of British Triathlon and we're grateful to have permission from Herefordshire Council, West Mercia Police and the Livestock Market to host this event. In order to keep the competitors, volunteers and local people safe and reassured, it's essential for everybody to abide by the necessary rules and guidance which will be provided in advance of the race.
If you find that you can't take part in the race after submitting your entry, or the race has to be called off due to unforeseen circumstances, we will refund you as much of your entry fee as we can but, we cannot guarantee a full refund.
We strongly advise you to take out personal insurance either through entry central or a separate broker which will provide you with full race cover.
Competitors are not permitted to sell or transfer their entry to another person. Should you be unable to race and wish to transfer your entry, or defer, we are able to do this on your behalf as long as you contact us by email by 17th March 2023. No refunds or deferrals will be given within 14 days of the race taking place.
Entries to the race will close on Wednesday 29 March 2023 – unfortunately we cannot accept entries on the day.
We look forward to seeing you on race day.
Hereford Triathlon Club
We are pleased and thankful to be sponsored for our races by
Re:Water is the world's first spring water that is served in a bottle made from 100% recycled aluminium. You can refill and reuse it and it is 100% recyclable.
www.rewater.co.uk
Instagram - rewateruk
Prices
| Until | Discounted* | Standard |
| --- | --- | --- |
| 30 Mar 2023 23:59 | £25.00 | £30.00 |
*Discounted for members of any of TE WT TS
To sign-up for this event, the Service Fee is 4% (min 50p) for each sign-up
Dates and Status
Date: 02/04/2023
Status: Closed
Total Places: 250
Places Available: ??
List