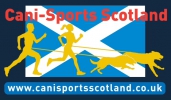 CSS Funky February Virtual Race
10 Jan 2021 - 27 Feb 2021
This Festival is in a testing state, and is not open for public sign-ups until the organiser has launched it.
Organiser's Description
Cani-sports Scotland invites you to
Funky February Virtual Race


25th, 26th & 27th of February 2021
5km for Adults, 2k for Kids & Fun Runners. Open Wheels for Bikejor, Scooter & Wheelchair
Run at a suitable canicross venue near your home. Please stick to current government guidelines for your area. Anyone whose photos or proof images show breaking of Covid guidance will be disqualified.

Die cast Medals for 1st - 3rd in all age classes. Finishers medals to all unplaced finishers. Male and Female overall race winners will receive a voucher prize (CSS or HGLDCL tbc).
Entry fee £7 5k, £4 2k to cover cost of, medals and postage of medals etc.
Option to use a sponsered entry fee place tick box on entry form.
Entries close on the 24th February - NO LATE ENTRIES CAN BE ACCEPTED
Depending on race numbers at closing day we will have classes as follows: Kids 1-6, 7-10, Juniors 11-15, Male & Female 16-24, 25-39, 40+, 50+, 60+, 2 dog & skijor. Open Wheels for Scooter & Wheelchair (max 2 dog) or Bike (single dog only). Once final entry numbers are known the organisers reserve the right to merge or split classes.
SPOT PRIZES/PHOTO COMPETITION Sponsored by The Happy Go Lucky Dog Company Limited:
• BEST FUNKY FEBRUARY PHOTOGRAPH 5k
• BEST FUNKY FEBRUARY PHOTOGRAPH 2k
Judged from Photogrphs posted on the CSS Facebook page
RULES PLEASE READ CAREFULLY BEFORE FILLING IN ENTRY FORM - SEE LIST OF CLASSES BELOW
HOW IT WILL WORK
• Run or Scoot, Bike or Ski* at your chosen route and distance, log your own time, be honest you will only be cheating yourself, it must be done on 25th, 26th & 27th of February 2021 (*Skijore can be done at anytime from now up till the 27th while snow conditions are suitable)
• Email or Message your 5k or 2k time to the organiser: canisportsscotland@hotmail.co.uk BY the end of day on Saturday 27th February to be included in race results, if you do your run later on Sunday your time can still be included just send it in when its done. If you have a strava or similar map/details please send ONE screen grab as proof of run ELAPSED TIME (not moving time). IMPORTANT type your elapsed time - category (run or wheels) in the subject AND text part of the email, only send 1 proof image, all other pictures can be posted on facebook.
• Results will be collated and results will be listed on www.racesplitter.com for all to see by Sunday 12pm.
CANICROSS This is a running with dogs virtual race you should run with a dog unless you think its too warm for your dog (unlikely in February) or too icy for dog paws, then a dogless time will be accepted. Please say when you submit your time that you went dogless.
WHEELS please choose a suitable safe venue and do your ride, if its too icy you may scoot or bike dogless and still receive a finishers medal, please say when you submit your time that you went dogless.
VIRTUAL TEAM Teams dont need to run at the same place/time as its virtual but you may if current guidance allows.
TO ENTER for team, makes sure you have all entered the virtual race and then email me (
canisportsscotland@hotmail.co.uk
) with TEAM ENTRY in the subject with your team members names BEFORE entries close on the 24th February.
CSS VIRTUAL TEAM
• Teams must be 4 or more runners/riders (maximum 6) can be from all over the country or world
• Each team must include 1 short course runner/rider
• One wheels person per team is allowed but not essential
• A person can't be in the same team twice or be in 2 different teams
• Times will be added together and divided by the number of team members to give an average time
• Each team MUST submit a Funky FEbruary themed team photo(s) each team member must be represented in the photo(s) more credit given for creativity,
the winning photo(s) will have 30 minutes subtracted from their team time(s).
• Each winning team member wins Happy Go Lucky Dog Co Limited £15 voucher (emailed)
• An independent, non running judge, will decide and his/her decision will be final.
DOGS must be a year old on the day of the race, bitches in season can run cause they wont upset anyone.
Dogs must be kept on the lead at all times during the race and should not be run in a slip lead, pinch collar, check/choke chain, head collar, flexie lead or any collar that restricts breathing, if a muzzle is required it should be of the wire greyhound racing style. For your dogs comfort we suggest they run in a suitable harness, some equipment may be available for hire on the day (book in advance and pick up before briefing). It is the owners responsibility to ensure their dog is fit and healthy before racing. If in doubt consult your vet.
AGE GROUPS Are for runners age on day of race. Minimum age 18 for 2 dog class and Bikjore.
CHILDREN runners age 1-6, 7 - 10, on the day of the race, must be accompanied by an adult 18+ WHO IS KNOWN TO THE CHILD and also ATTACHED TO THE DOG, on foot or bike if you like. 11 - 15 year olds can run alone but should have an adult nearby for safety. The adult is there for safety only the child must handle the dog themselves.
INSURANCE Run at your own risk. It is advised that you have 3rd party liability pet insurance for your dog that includes canicross or bikejore.
CHANGES TO ENTRIES Changes to entries must be made by email only to canisportsscotland@hotmail.co.uk substituting of dogs is allowed at any time, and can be made on the day, but we are unable to transfer an entry to another runner. If you need to transfer between classes, i.e. one dog to two dog or long course to short course etc., this should be done BEFORE ENTRIES CLOSE and start the list is published (entries usually close the Wednesday before virtual race). Start list is published in advance to pick up any minor errors. There is no refund available if you withdraw from the event. If you must withdraw due to injury etc. but judge the photo comptition instead your entry can be transferred to a future race.
VENUE Please respect your venue. Clean up after your dog at all times. Be courteous to other path users.
PARKING Please do not drive outwith your local authority region to your route as this would break current government guidance. Anyone whose photos or proof images show breaking of Covid guidance will be disqualified.
CAMPING No camping STAY AT HOME
SAFETY Look after yourself and your dog, stay at least 2 meters away from anyone you meet, give way to other path users, be courteous. Stick to all Government COVID-19 Guidance for your area, no unnecessary travel.
Emergency Vet Tel: Your own vet
____________
Organisers:
Cani-Sports Scotland
RACE DIRECTOR - Karen Connal, 40 Netherhouse Avenue, Lenzie. G66 5NG
Tel: 0777 904 1322
Prices
The organiser has included pricing details in the Organiser's Description
The organiser has included pricing details in the Organiser's Description
The organiser has included pricing details in the Organiser's Description
For each sign-up, the organiser pays the Service Fee of 4% (min 50p). You pay no surcharge
Dates and Status
Closing Date: 24 Feb 2021 23:59
Places Available/Total: ??/1000
Status: Closed
| Event | Date |
| --- | --- |
| CSS Funky February Virtual Race - 5k | 27 Feb 2021 |
| CSS Funky February Virtual Race - 2k Skijor | 27 Feb 2021 |
| CSS Funky February Virtual Race - 2k Kids and Fun Run | 27 Feb 2021 |
List