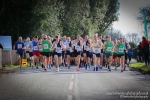 Dave Wrights Colchester 15 and 7.5 mile
14 Mar 2021
Organiser's Description
Dave Wrights Colchester 15 and 7.5 mile road race
Sunday 14th March 2021 first wave starting at 8:30am, last wave 12:30 pm.

If you want to run with your club friends you will be able to do so in groups of 6. If your chosen time slot is full, please scroll down to the next available one. I feel this is the way forward, having staggered start times to guarantee events going ahead for the forthcoming year with COVID regulations. I have already hosted 2 events in 2020 with these new staggered starts, fully complying to COVID regulations and it has worked very well with no mass gatherings, as people come and go throughout the event, keeping us all in a safe environment but also keeping us out there running.
The 15 mile race consists of 2 laps around the quiet countryside of Langham and Boxted.
The 7.5 mile event is 1 single lap of the same course.
This is a cracking location on some lovely quiet rural roads.
Race HQ is located at the Langham Community Centre, School Road, Langham, Colchester, Essex, CO4 5PA.
Toilets and car park are all available at the above location.
Race entry is £22.50 and all finishers will get a tech t-shirt and a cracking medal.
Confirmation of entry will be sent to you by email (if supplied) to the address provided on the entry form.
Results will be posted on the Facebook page - Craig's Event page.
Online entries close 14th February 2021.
Prices
For each sign-up, the organiser pays the Service Fee of 4% (min 50p). You pay no surcharge
Dates and Status
Date: 14 Mar 2021
Closing Date: 14 Feb 2021
Status: Closed
Event
Available/Total
DW Colchester 15 and 7.5 mile - 08:30 am

??

/6
DW Colchester 15 and 7.5 mile - 08:35 am

??

/6
DW Colchester 15 and 7.5 mile - 08:40 am

??

/6
DW Colchester 15 and 7.5 mile - 08:45 am

??

/6
DW Colchester 15 and 7.5 mile - 08:50 am

??

/6
DW Colchester 15 and 7.5 mile - 08:55 am

??

/6
DW Colchester 15 and 7.5 mile - 09:00 am

??

/6
DW Colchester 15 and 7.5 mile - 09:05 am

??

/6
DW Colchester 15 and 7.5 mile - 09:10 am

??

/6
DW Colchester 15 and 7.5 mile - 09:15 am

??

/6
DW Colchester 15 and 7.5 mile - 09:20 am

??

/6
DW Colchester 15 and 7.5 mile - 09:25 am

??

/6
DW Colchester 15 and 7.5 mile - 09:30 am

??

/6
DW Colchester 15 and 7.5 mile - 09:35 am

??

/6
DW Colchester 15 and 7.5 mile - 09:40 am

??

/6
DW Colchester 15 and 7.5 mile - 09:45 am

??

/6
DW Colchester 15 and 7.5 mile - 09:50 am

??

/6
DW Colchester 15 and 7.5 mile - 09:55 am

??

/6
DW Colchester 15 and 7.5 mile - 10:00 am

??

/6
DW Colchester 15 and 7.5 mile - 10:05 am

??

/6
DW Colchester 15 and 7.5 mile - 10:10 am

??

/6
DW Colchester 15 and 7.5 mile - 10:15 am

??

/6
DW Colchester 15 and 7.5 mile - 10:20 am

??

/6
DW Colchester 15 and 7.5 mile - 10:25 am

??

/6
DW Colchester 15 and 7.5 mile - 10:30 am

??

/6
DW Colchester 15 and 7.5 mile - 10:35 am

??

/6
DW Colchester 15 and 7.5 mile - 10:40 am

??

/6
DW Colchester 15 and 7.5 mile - 10:45 am

??

/6
DW Colchester 15 and 7.5 mile - 10:50 am

??

/6
DW Colchester 15 and 7.5 mile - 10:55 am

??

/6
DW Colchester 15 and 7.5 mile - 11:00 am

??

/6
DW Colchester 15 and 7.5 mile - 11:05 am

??

/6
DW Colchester 15 and 7.5 mile - 11:10 am

??

/6
DW Colchester 15 and 7.5 mile - 11:15 am

??

/6
DW Colchester 15 and 7.5 mile - 11:20 am

??

/6
DW Colchester 15 and 7.5 mile - 11:25 am

??

/6
DW Colchester 15 and 7.5 mile - 11:30 am

??

/6
DW Colchester 15 and 7.5 mile - 11:35 am

??

/6
DW Colchester 15 and 7.5 mile - 11:40 am

??

/6
DW Colchester 15 and 7.5 mile - 11:45 am

??

/6
DW Colchester 15 and 7.5 mile - 11:50 am

??

/6
DW Colchester 15 and 7.5 mile - 11:55 am

??

/6
DW Colchester 15 and 7.5 mile - 12:00 pm

??

/6
DW Colchester 15 and 7.5 mile - 12:05 pm

??

/6
DW Colchester 15 and 7.5 mile - 12:10 pm

??

/6
DW Colchester 15 and 7.5 mile - 12:15 pm

??

/6
DW Colchester 15 and 7.5 mile - 12:20 pm

??

/6
DW Colchester 15 and 7.5 mile - 12:25 pm

??

/6
DW Colchester 15 and 7.5 mile - 12:30 pm

??

/6
List
Organiser
Craig Mitchell
07725040176
Langham Community Centre School Road Langham Colchester Essex CO4 5PA