Fusion Triathlon Club Go Tri Event
14 Jun 2020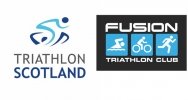 Fusion Triathlon Club Go Tri Event has now closed and you will not be able to sign-up for it. Please check the Organiser's Description for any organiser updates.
This event is in a testing state, and is not open for public sign-ups until the organiser has launched it.
Organiser's Description
Go Tri with Fusion Triathlon Club
The Go Tri event is part of the Scottish National Youth Triathlon Champships Triathlon festival organised by Fusion Triathlon Club. It is a fun event set in the grounds of Glasgow's Bellahouston Park. The event is aimed at all abilities as well as hosting the National Championships and is an ideal introduction to the sport of Triathlon. The course is on traffic free park roads with the run course mostly on grass. All entrants will receive a goodie bag with race day momento's.
Age 16+: 400m Swim / 10km Bike / 3000m Run
The bike sections are on tarmac and 100% traffic free. The run course is mostly grass.
Registration and transition is open from 12Midday - 13.00pm. The Go Tri event will begin at approximately 13:30pm immediately after the compulsory race brief.
For more details, travel information etc. See Club Races on: info to follow
This race is held under the rules of TriathlonScotland and the British Triathlon Federation - see http://www.britishtriathlon.org/events/page.php?article=&category=/events/&folder=rules/
Event Protect
This event is protected with Event Protect
Event Protect is the industry standard in event cancellation for Primary Ticket Agents, Secondary Ticket Agents, Events, Travel Package Providers, Venues and Sports Teams. Seeing the Event Protect trademark logo means that if the event is cancelled / postponed / abandoned or curtailed due to circumstances outside of our control, Event Protect will provide ticket holders with a quick refund directly to their chosen bank account, no matter the financial state of the Event Organiser or Ticket Agent. This includes booking fees and any extras if booked as part of an event package. To find out more information about Event Protect, please visit our website
Prices
| Until | Discounted* | Standard |
| --- | --- | --- |
| 23 Mar 2020 | £18.00 | £20.00 |
*Discounted for members of any of TS TE WT
To sign-up for this event, the Service Fee is 4% (min 50p) for each sign-up
Dates and Status
Date: 14/06/2020
Status: Closed
Total Places: 60
Places Available: ??
List