Monifieth Triathlon Club - Swim Block booking 1
27 Feb 2020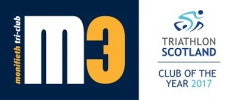 Monifieth Triathlon Club - Swim Block booking 1 has now closed and you will not be able to sign-up for it. Please check the Organiser's Description for any organiser updates.
This event is in a testing state, and is not open for public sign-ups until the organiser has launched it.
Organiser's Description
This is the payments facility for a Monifieth Triathlon Club (M3) Swim Block One (January 2nd 2020 - Feb 27th 2020)
Dundee and Angus College. Gardyne Rd. Dundee
Thursday's 19.30-20.30
Block Booking
Price: £16.00 or (£2.00 per session) - no refunds will be given for unattended sessions.
Note: Please remember these sessions are on a first come first serve basis each week - and having booked the session in a block does not give precedence over members who are paying per session for the training. In the very unlikely event of the sessions being overcrowded and there is no additional occupancy left in the pool a refund will not be provided for that week.
Please read the disclaimer.
Prices
To sign-up for this event, the Service Fee is 4% (min 50p) for each sign-up
Dates and Status
Date: 27/02/2020
Status: Closed
Total Places: 200
Places Available: ??
List