M3 Youth Open Water
18 Jun 2019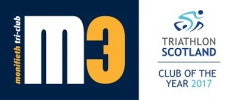 M3 Youth Open Water has now closed and you will not be able to sign-up for it. Please check the Organiser's Description for any organiser updates.
This event is in a testing state, and is not open for public sign-ups until the organiser has launched it.
Organiser's Description
SWIM BLOCKS ONE AND TWO COMBINED
NEW DATES 11TH JUNE & 18TH JUNE
IF YOU'D LIKE TO BOOK PLEASE
Open Water Swim Block Two
This is the payments facility for two Youth Open Water Swim sessions at Monikie with Monifieth Triathlon Club M3.
Dates: 11th and 18th June (Two Weeks)
Price: £10
Location: Monikie Country Park
Times:

18:00 Meet in front of ranger building at Monikie
18:05 Change in wetsuits
18:15 Start the swim session
18:50 Change and sign out
19:00 Head home

Requirements:


Age: 8-16
Swim ability: Must be able to swim 50m and be confident in deep water.
A wetsuit is essential (They can be hired from Monikie Country Park - Please make your own arrangements foir wetsuits)
Any further infromation contact : M3schools@outlook.com
Event Protect
This event is protected with Event Protect
Event Protect is the industry standard in event cancellation for Primary Ticket Agents, Secondary Ticket Agents, Events, Travel Package Providers, Venues and Sports Teams. Seeing the Event Protect trademark logo means that if the event is cancelled / postponed / abandoned or curtailed due to circumstances outside of our control, Event Protect will provide ticket holders with a quick refund directly to their chosen bank account, no matter the financial state of the Event Organiser or Ticket Agent. This includes booking fees and any extras if booked as part of an event package. To find out more information about Event Protect, please visit our website
Prices
The organiser has included pricing details in the Organiser's Description
For each sign-up, the organiser pays the Service Fee of 4% (min 50p). You pay no surcharge
Dates and Status
Date: 18/06/2019
Status: Closed
Total Places: 15
Places Available: ??
List