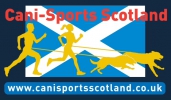 Rebecca Johnson Memorial Virtual Race
06 Jun 2020
This Festival is in a testing state, and is not open for public sign-ups until the organiser has launched it.
Organiser's Description
Cani-sports Scotland invites you to
Rebecca Johnson Memorial Virtual Race


Saturday 6th June 2020
5km for Adults, 2k for Kids & Fun Runners. Class for Scooters and Bikes
Run at a suitable canicross venue near your home, do not to drive to get to your route as this would break government guidelines. Please do not organise to run together in groups unless you live in the same house (max 2 at a time). Please stick to current governmet guidlines.
We suggest an early mornning run to get cooler weather and to avoid pedestrians etc.
Prizes 1st - 3rd in all age classes. Finishers medals to all unplaced finishers. Male and Female overall race winners will recieve 2 x free entry vouchers for CSS races (value £30), 2nd and 3rds x 1 voucher (value £15).
Entry fee £5 5k, £2.50 2k to cover cost of prizes, medals and postage of medals, any profits will be donated to Malamute Matters
Option to deffer payment till better times.
Option to help out a fellow canicrosser.

Depending on race numbers at closing day we will have classes as follows: Kids 1-6, 7-10, Juniors 11-15, Male & Female 16-24, 25-39, 40+, 50+, 60+, 2 dog. Open Wheels for Scooter (max 2 dog) or Bike (single dog only). Should numbers be low the organisers reserve the right to merge classes.
Age group winners receive the usual CSS Die Cast Medals.
SPOT PRIZES Sponsored by The Happy Go Lucky Dog Company Limited:
• BEST PHOTOGRAPH 5k
• BEST PHOTOGRAPH Kids 2k
• BEACH PHOTOGRAPH (use your imagination)
• MOST INTERESTION ROUTE/MAP
Judged from posts on CSS Facebook page and Events Page
RULES PLEASE READ CAREFULLY BEFORE FILLING IN ENTRY FORM - SEE LIST OF CLASSES BELOW
HOW IT WILL WORK
• Run or Scoot or Bike at your chosen route and distance, log your own time, be honest you will only be cheating yourself, it must run done on 6th June 2020. Please do not organise to run together in groups unless you live in the same house.
• Email or Message your 5k or 2k time to the organiser: canisportsscotland@hotmail.co.uk BY end of day on Saturday 6th June. If you have a strava or similar map/details please send ONE screen grab as proof of run. IMPORTANT type your time - category (run or wheels) in the subject AND text part of the email, only send 1 proof image, all other pictures can be posted on facebook.
• Results will be collated and an online presentation of prizes done live via on Facebook page at 12.30pm on Sunday 8th June, medals will then be posted to winners the following week, finishers medals posted as soon as we have them. Results will be listed on www.racesplitter.com for all to see.
CANICROSS This is a running with dogs virtual race you should run with a dog unless you think its too warm for your dog then a dogless time will be acepted. Please say when you submit your time that you went dogless.
WHEELS We have included a wheels class, please choose a suitable safe venue and do your run early or late enough to get a temperature suitable for your dog, if its too warm you may scoot or bike dogless and still recieve a finishers medal, please say when you submit your time that you went dogless.
TEMPERATURE its June it might be warm so run very early or very late if you need to or run dogless.
DOGS must be a year old on the day of the race, bitches in season can run cause they wont upset anyone.
Dogs must be kept on the lead at all times during the race and should not be run in a slip lead, pinch collar, check/choke chain, head collar, flexie lead or any collar that restricts breathing, if a muzzle is required it should be of the wire greyhound racing style. For your dogs comfort we suggest they run in a suitable harness, some equipment may be available for hire on the day (book in advance and pick up before briefing). It is the owners responsibility to ensure their dog is fit and healthy before racing. If in doubt consult your vet.
AGE GROUPS Are for runners age on day of race. Minimum age 18 for 2 dog class.
CHILDREN runners age 1-6, 7 - 10, on the day of the race, must be accompanied by an adult 18+ WHO IS KNOWN TO THE CHILD and also ATTACHED TO THE DOG, on foot or bike if you like). 11 - 15 year olds can run alone but should have an adult nearby for safety. The adult is there for safety only the child must handle the dog themselves.
INSURANCE Run at your own risk.
CHANGES TO ENTRIES Changes to entries must be made by email only to canisportsscotland@hotmail.co.uk substituting of dogs is allowed at any time, and can be made on the day, but we are unable to transfer an entry to another runner. If you need to transfer between classes, i.e. one dog to two dog or long course to short course etc., this should be done before entries close and start the list is published (entries usually close the Monday before each race). Start list is published in advance to pick up any minor errors. There is no refund available if you withdraw from the event. If you must withdraw due to injury etc. but marshal instead your entry can be transfered to a future race.
VENUE Please respect your venue. Clean up after your dog at all times. Be courteous to other path users.
PARKING Please do not drive to your route as this would break government guidlines.
CAMPING No camping STAY AT HOME
SAFETY Look after yourself and your dog, stay at least 2 meters away from anyone you meet, give way to other path users, be courteous.
Emergency Vet Tel: Your own vet
____________
Organisers:
Cani-Sports Scotland
RACE DIRECTOR - Karen Connal, 40 Netherhouse Avenue, Lenzie. G66 5NG
Tel: 0777 904 1322
Prices
The organiser has included pricing details in the Organiser's Description
The organiser has included pricing details in the Organiser's Description
For each sign-up, the organiser pays the Service Fee of 4% (min 50p). You pay no surcharge
Dates and Status
Date: 06 Jun 2020
Closing Date: 03 Jun 2020
Places Available/Total: ??/500
Status: Closed
List