SRAC Virtual Race League
31 Dec 2020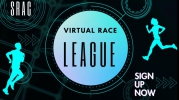 Organiser's Description
Sign up for our new Virtual Racing League!
SRAC Virtual Race League rules:
The races are open to anyone (not just SRAC members)
All current government guidelines regarding Social Distancing must be strictly adhered to. Any changes to these guidelines before the run should be followed.
Results:
If possible please upload your run to Strava or Garmin Connect, making sure the activity is set to PUBLIC then send a link to results@srac.org.uk.
If you don't have Strava or Garmin, please send a screenshot/photo of your watch or phone that shows at least: run time, distance, date/time completed.
We will use the elapsed time of your run rather than moving time.
Please send your results from the email address you registered with, include your full name and which distance you attempted.
Results must be submitted by the deadline.
Prices
For each sign-up, the organiser pays the Service Fee of 4% (min 50p). You pay no surcharge
Dates and Status
Date: 31/12/2020
Status: Open
Total Places: 1000
Places Available: ??
List