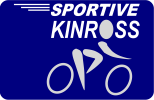 Sportive Kinross Complementary Entry
27 Apr 19
Sportive Kinross Complementary Entry has now closed and you will not be able to sign-up for it. Please check the Organiser's Description for any organiser updates.
This event is in a testing state, and is not open for public sign-ups until the organiser has launched it.
Organiser's Description
If you were offered complementary entry into the 2019 Sportive Kinross, Please sign up by clicking the button above.
entries are free of charge, however you must still sign up before the 5th April 2019 @23:59

To Sign up you must log into your Entry Central (EC) account or Register (create) an account with EC if you don't already have one. Create EC Account
Please note: an Sportive Administrator will need to check & approve your complementary entry before you can be considered to be "on the Start List".
Once you are approved, only you (the EC account holder) can change the Route, Emergency Contact or Emergency Contact's phone number. These changes do not need prior admin approval.

These changes can be be made up until the Entry Central closing date (5th April 2019 @ 23:59 ). We close it 3 weeks before the Sportive to allow us to create the final rider lists for the Timing Chip company and for the "on-the day" registration team.
The event is a cyclo sportive for both experienced and developing amateur cyclists:
Choice of three categorised routes, 44 miles, 67 miles or 88 miles (See Sportive Kinross Website for details)
All routes will be comprehensively and clearly way-marked.
Electronic timing chips.
Route sheets and entry numbers will be emailed in advance.
Two well-stocked feeding stations on the route.

Short route option of 44 miles has one feed stop.

Broom wagon and First aid are available.
Individual times and certificates available from the website to download after the event.
Full results list available from the Sportive Kinross Website after the event to download.
Savoury food and event souvenir at the finish for all riders (included in price).
Pre and post ride changing, shower and toilet facilities.
Ideal training event for the Etape Caledonia or an early season test.
We are supporting Childrens Hospice Association Scotland CHAS Website
The minimum age for entry is 16 years of age.
For all participants under the age of 18 the entry must be completed by a parent or guardian
REGISTRATION: Between 08:00 and 09:30 on the 27th April 2019 at Loch Leven Community Campus, Muirs, Kinross, KY13 8FQ
START: Between 08:30am and 10:00am. The Event will close at 17.00
Prices
For each sign-up, the organiser pays the Service Fee of 4% (min 50p). You pay no surcharge
Dates and Status
Date: 27/04/2019
Status: Closed
Total Places: 28
Places Available: ??
Loch Leven Community Campus Muirs Kinross KY13 8FQ