Monifieth Triathlon Club - Youth Section
28 Mar 2019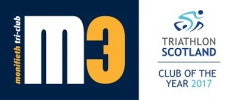 Organiser's Description
This is the payments facility for a Monifieth Triathlon Club (M3) Youth Section Block one (January 10th 2019 - March 28th 2019)
YOUTH Triathlon session (8-16 YEARS)
Dundee and Angus College. Gardyne Rd., Dundee
Thursday's 18.15-19.30
Price:
Block Booking
Jan 10th - March 28th £40 for 12 sessions (£3.33 per session)
Feb 1st - March 28th £28 for 8 session (£3.50 per session)
Monthly
Jan - £15
Feb - £15
March - £15
I you have not done so please visit our website, download & complete a copy of the 'PARENTAL CONSENT' form and return it to a member of the committee at or before your first training session. We can not allow a youth member to train unless we are in receipt of this form.
We welcome youth triathletes wanting to try out our sessons as "tasters". We would like to invite our trailists who enjoy the experience (and who wouldn't) to join Monifieth Triathlon club to continue to benefit form these coached sessions. Just click here!
We encourage all M3 members to join Traithlon Scotland. To obtain your full TriathlonScotland membership for individual benefits such as race entry discounts and personal insurance you need to take out British Triathlon Scottish individual membership here.
please read the disclaimer
Prices
| Until | |
| --- | --- |
| 31 Jan 2019 | £40.00 |
| 28 Feb 2019 | £28.00 |
| 28 Mar 2019 | £14.00 |
For each sign-up, the organiser pays the Service Fee of 4% (min 50p). You pay no surcharge
Dates and Status
Date: 28 Mar 2019
Event
Available/Total
Status
Closing Date
Monifieth Triathlon Club - Youth Section (Feb)

??

/8
Waiting List
27 Mar 2019
Monifieth Triathlon Club - Youth Section (Jan)

??

/9
Open
27 Mar 2019
Monifieth Triathlon Club - Youth Section (March)

??

/8
Open
27 Mar 2019
Monifieth Triathlon Club - Youth Section (Block Booking Jan- March)

??

/18
Waiting List
28 Mar 2019
List